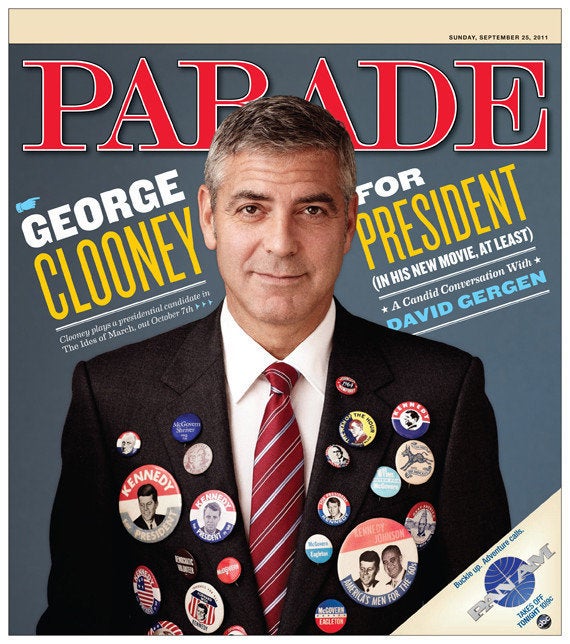 George Clooney is a notorious on-set prank artist, having spent the last twenty-plus years playing jokes on his friends and co-stars. There's the story of the "Small Penis On Board" bumper sticker he put on Brad Pitt's car, the M&Ms he filled a producer's pants with after he passed out drunk, the photos of sunglasses on his penis that he used to take on his friends' cameras. (Hmm, sensing a theme?).
"There's good fun in watching those play out. And, hey, my friends are rough on me, too," he says to the magazine. "Brad Pitt's brutal, and Matt Damon. My friends used to change my outgoing phone message all the time. This was the old days, when you had a phone machine. They would change the message to something horrible and there was nothing I could do to change it back. That was always brilliant."
Speaking of "Ides," the political thriller he wrote, directed and stars in, Clooney tells the magazine that he had to wait a few years to make the film -- people were too happy to accept it back when he intended to produce it.
"We were in preproduction on this film in 2007, before the Obama election," he says. "And then we realized that a good portion of the country was elated with what happened in that election, so we had to shelve the movie until people were cynical again. I didn't think it would be quite this quick. [laughs]"
Calling all HuffPost superfans!
Sign up for membership to become a founding member and help shape HuffPost's next chapter