It's no secret that George Clooney isn't a fan of former White House chief strategist Steve Bannon (or of President Donald Trump, for that matter). This weekend, while speaking to journalists at the Toronto International Film Festival, the actor let loose with his true feelings again.
Speaking to Vanity Fair's Krista Smith, Clooney called Bannon "a schmuck who literally tried everything he could to sell scripts in Hollywood." Bannon famously wrote a screenplay for a rap musical update of Shakespeare's "Coriolanus," titled "The Thing I Am."
"It's like a rap Shakespearean thing about the LA riots. It's the worst script you've ever read," Clooney said of Bannon's creation. "But he was trying to get it made in Hollywood. And had he, he would still be in Hollywood making movies and kissing my ass to make one of his films. That's who he is."
Those remarks echo Clooney's comments to a separate group of journalists the previous day, according to Entertainment Weekly.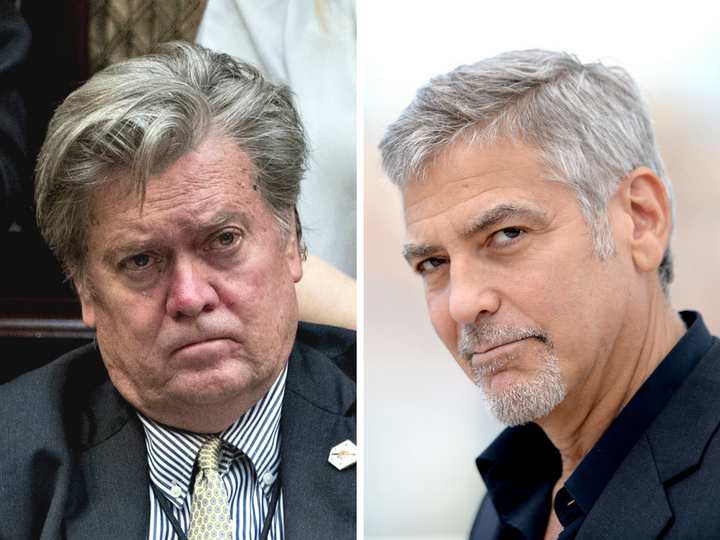 "I like picking fights. I like that Breitbart News wants to have my head. I'd be ashamed 10 years from now if those weaselly little putzes, whose voices are getting a lot higher every week as this presidency starts to look worse and worse, weren't still [after me]," Clooney said. "Steve Bannon is a failed fucking screenwriter, and if you've ever read [his] screenplay, it's unbelievable."
The Oscar winner similarly noted that if Bannon, who is now back as executive chairman of Breitbart, were still in Hollywood, he'd be "licking my ass to get me to do one of his stupid-ass screenplays."
"Steve Bannon is a failed film writer and director. That's the truth. That's what he's done," Clooney said, adding, "He made a lot of money off of 'Seinfeld.' …He's elitist Hollywood, I mean, that's the reality."
Still, the "Suburbicon" director remains somewhat optimistic about America's future. 
"Particularly with our country, we work things out," Clooney told Vanity Fair. "Winston Churchill's statement on America was, 'You can always count on America to do the right thing after they've exhausted every other possibility.' And I feel like that's us a lot."
Calling all HuffPost superfans!
Sign up for membership to become a founding member and help shape HuffPost's next chapter
BEFORE YOU GO
PHOTO GALLERY
George Clooney Sure Knows His Color