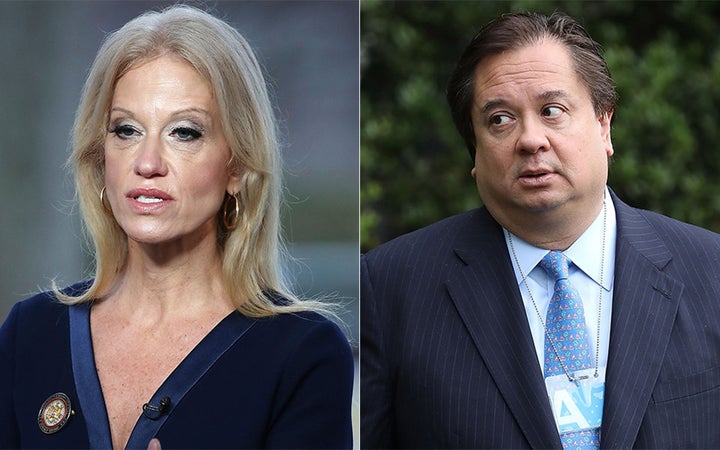 Conway, who is married to White House counselor Kellyanne Conway, was until last week reportedly the front-runner to become assistant attorney general of the Justice Department's civil division, a prominent role that involves defending and representing the Trump administration in court. Conway was never formally nominated and said last week he had "reluctantly concluded" that "this is not the right time for me to leave the private sector and take on a new role in the federal government."
A tweet from Conway on Monday suggested one of the factors that may have contributed to his decision to drop out. Conway referenced a tweet from Trump on Monday morning in which the president said the Justice Department "should have stayed with the original Travel Ban, not the watered down, politically correct version they submitted" to the Supreme Court.
"These tweets may make some [people] feel better, but they certainly won't help [the Office of the Solicitor General] get 5 votes in [the Supreme Court], which is what actually matters," Conway tweeted. "Sad."
Trump himself signed the very "watered down" executive order he referred to in his tweet on Monday. Trump's tweets and anti-Muslim rhetoric have repeatedly been cited by federal judges who ruled against the administration's executive order, which would halt immigration from several Muslim-majority countries. 
In other tweets, Trump referred to the executive order as a "TRAVEL BAN" and said the Justice Department "should ask for an expedited hearing of the watered down Travel Ban before the Supreme Court ― & seek much tougher version!" The tweets were evidently inspired by the terror attack in London over the weekend.
Earlier on Monday, Kellyanne Conway said the media had an "obsession" with covering Trump's tweets. George Conway, on the other hand, acknowledged the effect that Trump's tweets could have. 
George Conway's Twitter account had been dormant since December 2015. Neither Conway nor a spokesman for his law firm immediately responded to HuffPost's request to confirm that the Twitter account belonged to Conway, but the account's first follower was his wife, and George Conway confirmed the legitimacy of the Twitter account in an email to a Washington Post reporter.
George Conway later tweeted a link to a Washington Post story on how Trump's tweets could hurt the administration's efforts to restore the travel ban. Conway said he still "VERY VERY STRONGLY" supports the administration, and that every sensible lawyer in the White House and Trump political appointees at DOJ would agree with him:
This article has been updated with additional posts from George Conway's Twitter account.
Calling all HuffPost superfans!
Sign up for membership to become a founding member and help shape HuffPost's next chapter