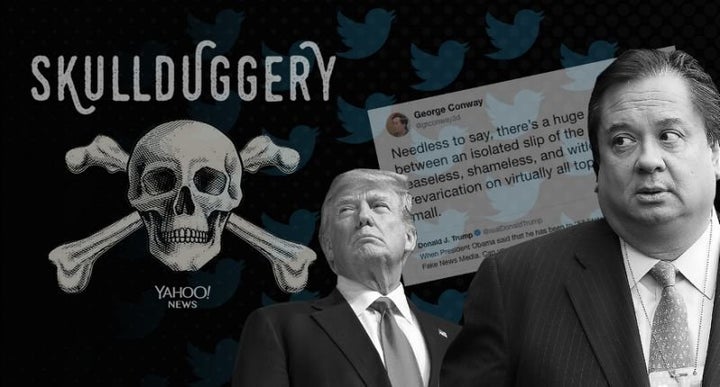 WASHINGTON — George T. Conway III, the husband of White House counselor Kellyanne Conway, said the Republican Party has become "a personality cult" under President Trump and that he would "move to Australia" rather than vote for the president again.
"I don't feel comfortable being a Republican anymore," Conway said in an exclusive interview for the Yahoo News podcast "Skullduggery" about his decision to drop his party registration earlier this year. "I think the Republican Party has become something of a personality cult."
Asked if he thinks the president is fully stable, Conway responded: "No comment."  
Conway's comments came just days after spearheading the formation of a new legal group, called Checks and Balances, set up to provide a platform for conservative lawyers to speak out against what he sees as Trump's violations of "timeless principles" and constitutional norms.
He cited as a prime example: a recent Trump tweet criticizing then Attorney General Jeff Sessions for bringing indictments against two "very popular" Republican congressmen — Duncan Hunter and Collins — on corruption charges "just ahead of the midterms."
The idea that the president would be commenting on legal indictments in such crass political terms stunned Conway. "I was appalled," he said. "It was appalling. We're talking about someone who has sworn an oath to uphold the constitution and laws of the United States, and to criticize the attorney general for permitting justice to be done without regard to political party is very disturbing."
Conway's emergence over the past year as a persistent Trump critic on Twitter and in newspaper op-eds has become a subject of public fascination given his wife's role as a senior White House official and the president's most aggressive defender on cable television.
Asked how his wife has reacted to his public attacks on her boss, Conway replied: "I don't think she likes it. But I've told her, I don't like the administration, so it's even."
"If I had a nickel for everybody in Washington who disagrees with their spouse on something that happens in this town, I wouldn't be on this podcast," he added. "I'd be probably on a beach somewhere. And the fact of the matter is, when it comes down to things we disagree about, we agree on most policy things. … So this is the one we really disagree about."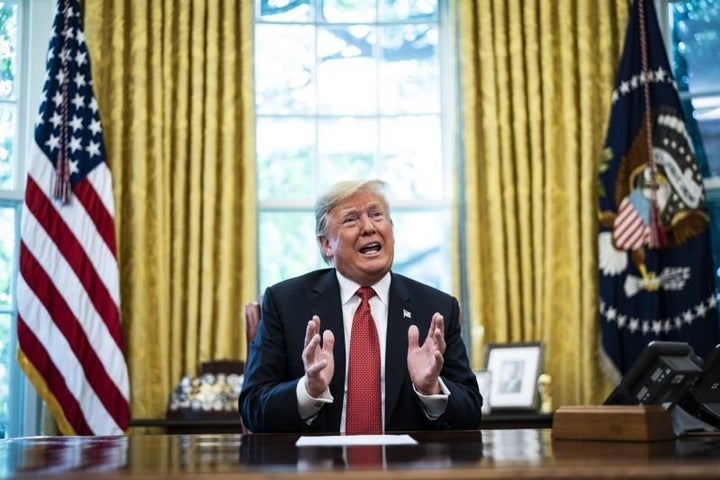 George Conway's personal evolution is especially striking given that, on election night two year ago, he acknowledges he wept with joy and pride in his wife's accomplishment in helping to engineer Trump's upset victory over Hillary Clinton.
"Look, my wife did an amazing thing," he said. "She basically got this guy elected. She steadied that boat. … He was in the crapper when she took that campaign over." As for Trump himself, Conway said "My view is, he was the lesser evil" compared to Clinton. Asked if he still felt that way, Conway hesitated. "I don't know. I don't know," he said. "If faced with the choice again, I'd probably move to Australia."
A star litigator for a New York law firm, Conway in the early days of Trump's presidency was offered a top job at the Justice Department as chief of the civil division — a post that would have put him in charge of defending the administration in lawsuits throughout the country.
But in June of last year, he pulled out, saying only that "this is not the right time to leave the private sector." (He also added then, "Kellyanne and I continue to support the president and his administration, and I look forward to doing so in whatever way I can from outside the government.")
In fact, as Conway revealed in the "Skullduggery" interview, he already had ample doubts about the president's relationship with the Justice Department — and what was going on with the administration.
"I'm filling out the financial forms and it's like — I forget what part time of year it was, it was like late April — man, I'm thinking. I'm watching this thing and, it's like the administration is like a s***show in a dumpster fire. And I'm like, 'I don't want to do that. I don't know.'"
He continued: "And then you got the Comey firing, and then you got [Trump] going on TV saying, 'I had Russia on my mind,' and it's like, 'Oh, no.' And then I'm driving home one day from from New York and it's like 'Robert Mueller appointed special counsel,' and then I realized, this guy is going to be at war with the Justice Department."
More "Skullduggery" from Yahoo News:
Calling all HuffPost superfans!
Sign up for membership to become a founding member and help shape HuffPost's next chapter