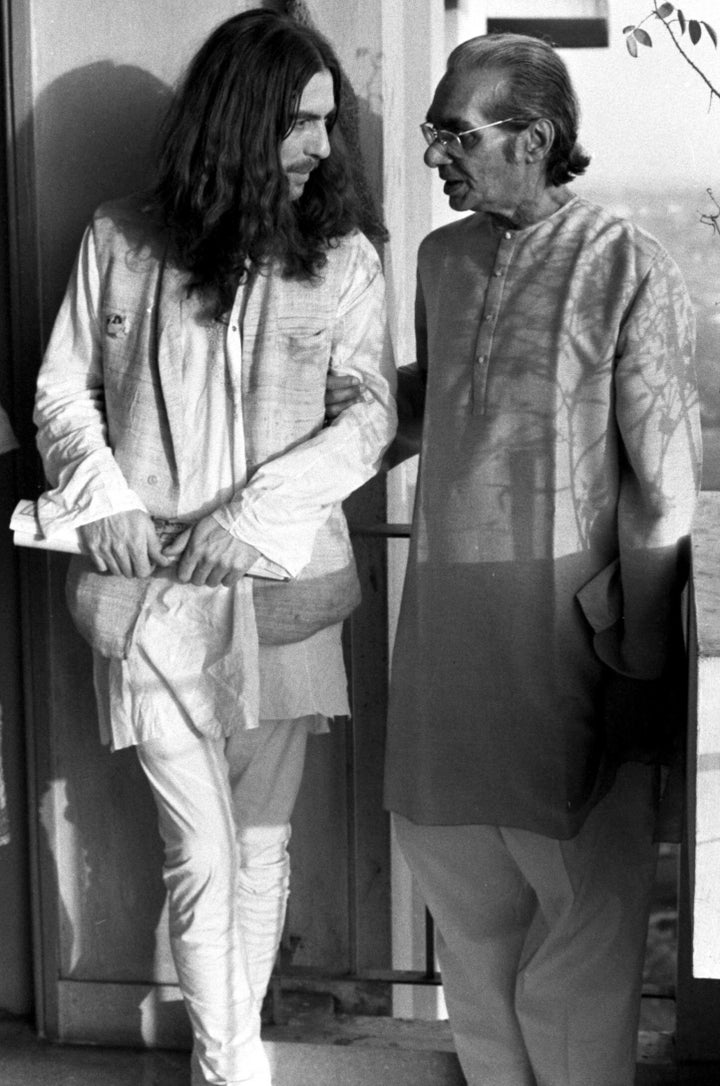 Martin Scorsese's epic three-and-a-half-hour documentary, "George Harrison: Living in the Material World," is a tender exploration of what sets George Harrison apart, both in his work and life.
Widow Olivia Harrison is a co-producer on the film, so perhaps it's no surprise that Harrison's legacy remains untarnished; there are no new damning revelations. Unlike the 10-hour-plus "Anthology" documentary from 1995, this is not an exhaustive perspective on the rise and fall of The Beatles. Instead, it's a chance to get to know George Harrison as his close friends once did.
The documentary features new interviews with key figures from Harrison's life, including his widow, his son, Ringo and Paul, and Eric Clapton. Recollections of intimate, sometimes seemingly minor, encounters with Harrison make up much of the movie. While the film is not heavy-handed in its artistry, it's clear that the interviewers spent considerable effort getting these people to come up with memories that only his loved ones could have had.
Olivia Harrison's retelling of George Harrison's stabbing is detailed and harrowing. An old friend talks about what Harrison said in a call after Lennon's murder, prefacing it with, "I don't even know if I should be telling you this." Dhani Harrison, George's son, recalls running out into the garden and frolicking with his dad. He also recounts the time he realized his dad was cool, when Harrison told some cops to "fuck off" after Dhani got in some trouble. This is not a George Harrison you are likely to get from broader Beatles lore.
Not that there aren't precious discoveries for Beatles fans. Photos of the early group, gussied up, standing in the stodgy English drawing rooms of their families, are incredible, as is footage from very early concerts in crowded, tiny venues. Harrison's older brothers describe an incident where John Lennon pours a pint on an old lady's head at a family dinner, with the proclamation, "I now anoint thee David."
While Scorsese touches on the more troubled parts of Harrison's life (his problems with drugs, his declining critical success, the breakup of his first marriage), he doesn't linger there. The film is unabashedly a celebration, and can be viewed as a fresh framework with which to approach Harrison's music.
Harrison himself is allowed ample time to show off the acerbic wit and generous spirit that endeared him to so many. The documentary goes through general Beatles history -- for instance, their stay in the training grounds of Hamburg and their switch from Teddy Boy bouffants and suits into leather jackets and heeled boots. But it's primarily the story of Harrison's artistry coming of age. The breakup of The Beatles, as seen here, was pretty much inevitable from the time George decided that he, too, wanted to be a songwriter.
While Lennon and McCartney -- shown as older, better-developed talents who were able to use each other to fuel their writing -- dominated the band's output, Harrison quietly devoted himself to getting better. During that time, he compiled a backlist of songs rejected for The Beatles that eventually helped fill his first, three-disc solo record.
The story of Harrison's post-Beatles life shows us a man who kept searching for an artistic family. Harrison formed the super group Traveling Wilburys with Jeff Lynne, Tom Petty, Bob Dylan and Roy Orbison, because, as Petty says, "He liked to surround himself with people who were good at something." He also saved the Monty Python production "Life of Brian" when it lost funding due to its provocative content, mortgaging his house in the process and helping form a production company, Hand Made.
The title of the documentary, and to a large extent its subject, is "Living in the Material World." Harrison's spiritual conversion to transcendental meditation is presented as a dominating force in his life.
Harrison's response to Eric Clapton's famous statement, "I'm in love with your wife" -- to which Harrison reportedly said, "Go on take her," and, "Can I have yours?" -- is recast as having emerged out of this anti-material mindset. Harrison was obsessed with the idea that the way you leave your body at death is crucial, and was angered by Lennon's murder for the way it robbed him of his chance. He prepared for his own death most of his life.
The result was apparently somewhat supernatural. His widow, Olivia, telling the story to the filmmakers, says, "You wouldn't have needed to light the room if you were filming it -- he lit the room."
The first installment of "George Harrison: Living in the Material World" premieres Wednesday night, Oct. 5 on HBO at 9 p.m. ET, with the second installment to follow on Oct. 6.
Related
Popular in the Community