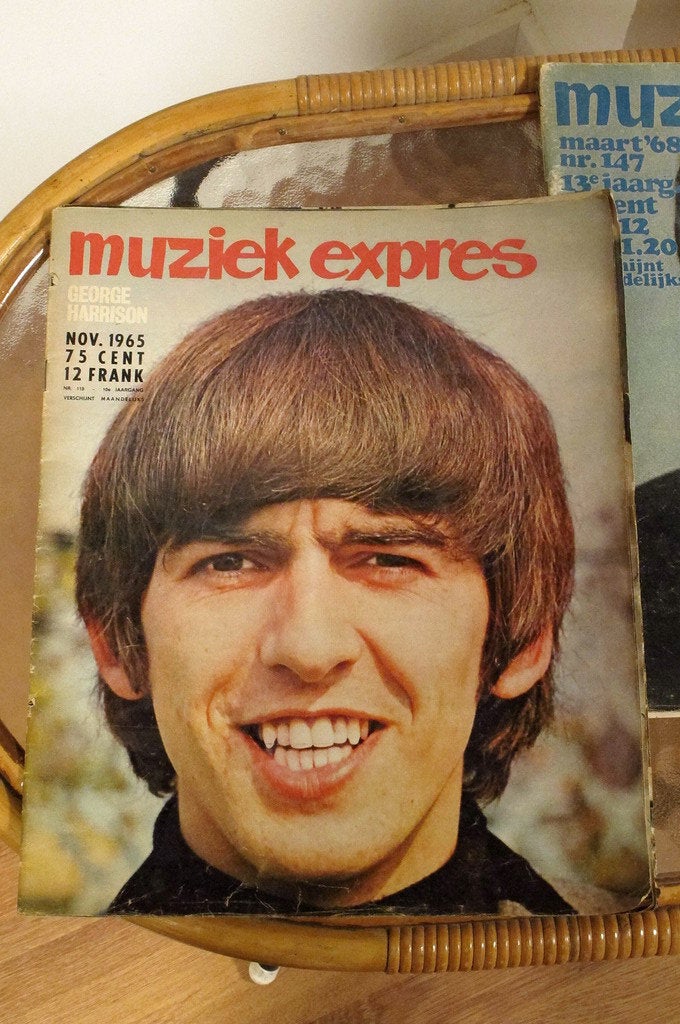 Martin Scorsese's stunning documentary, "George Harrison: Living in the Material World," will air on HBO Oct. 5-6. Among the locations selected for preview, Scorsese and Olivia Harrison chose a small Iowa town whose theatre audience was comprised of 500 meditators. Why?
The exclusive screening -- held Sunday evening in Fairfield, Iowa -- was a gift supporting the David Lynch Foundation's initiatives to teach Transcendental Meditation to veterans, inner-city school kids, homeless people, prisoners, Native Americans and other at-risk populations.
Fairfield is known as a middle-America oasis of progressive thought, entrepreneurship and sustainability -- dubbed "Silicon Valley of the Corn Belt" for its concentration of high tech businesses. The town boasts a community of over 2,000 meditators, and is home of the university founded by Maharishi Mahesh Yogi, who taught meditation to The Beatles.
Although George Harrison was a spiritual eclectic, ever exploring various disciplines and traditions, one element that remained consistent for him over the years was the meditation technique he learned from Maharishi, which he practiced throughout his life.
Scorsese's connection to Harrison is through more than love of music: The award-winning director is a meditator, too.
At a benefit gala held in New York City last year for David Lynch's foundation, Scorsese said: I wanted to offer my support and encouragement to help children and veterans -- anyone who needs the help -- to overcome stress through meditation.
Describing the benefits of meditation in his own life, Scorsese shared, "I can only mention a few words: calm, clarity, balance and at times a recognition. It has made a difference."
The Beatles Discover Meditation
In 1967, George's first wife, Patti Boyd, learned Transcendental Meditation in London while George was away on tour with The Beatles. "I loved meditating and found the effects remarkable," she said. "The benefits are cumulative. It did what it said on the bottle -- it was life-changing. I couldn't wait to tell George."
Beatles aficionados know what happened next. The band returned to London and at Patti's urging attended a Maharishi lecture. They learned meditation and soon embarked on their journey to Maharishi's academy in Rishikesh, India -- where, in spare time between meditating and attending lectures, they created some of the most acclaimed music of their career.
Yet, fewer Beatles enthusiasts know the true story of what happened in Rishikesh, or how the band's continued involvement with meditation impacted their life and music.
George's Transcendental Side
Allusions to transcendence -- the experience gained during meditation when the mind goes beyond thinking to experience pure awareness -- began appearing throughout Harrison's lyrics. One overt example is his faux raga, "The Inner Light:"
Without looking out of your window
You could know the ways of heaven
It was as if the bottom had fallen out of George's younger, boy-wants-girl Beatle songs ("I Need You," "You Like Me Too Much") and the songs were now ballads of spiritual yearning and awakening ("All Things Must Pass," "Let It Roll," "My Sweet Lord").
Scorsese's film underscores Harrison's inner quest, yet deals honestly with his struggle to balance staggering fame and material success with his desire to live a truthful life. Scorsese shows Harrison caught between the spiritual and material, as the former Beatle portrays himself in the title song of his 1973 album "Living In The Material World."
For stability amid the turmoil, Harrison always returned to meditation.
"I still practice Transcendental Meditation," said George in his later years. "Maharishi only ever did good for us, and though I have not been with him physically, I never left him."
During the 1990s, George met again with Maharishi at the international Transcendental Meditation campus in Holland. Shortly thereafter, Harrison performed a benefit concert in London to support Transcendental Meditation and related "consciousness-based" programs throughout the United Kingdom -- his last full concert.
The Meditation Connection Lives On
In April 2009, Paul McCartney and Ringo Starr played a benefit concert at Radio City Music Hall to teach Transcendental Meditation to one million school kids. One of the evening's most touching moments was Paul and Ringo's salute to George -- while a gigantic picture of Harrison in Rishikesh appeared on the above-stage screen. It was the first time the two surviving Beatles had performed together since the 2002 concert for George.
"The idea of putting this into schools I think is a fabulous thing," says McCartney. "When you actually put it in the mainstream, then people can say, ah, in Detroit, where the David Lynch Foundation has put the program into schools, the results are these. People don't need high-minded talk so much as results."
Yoko Ono attended the benefit. She told Rolling Stone: John would have been the first one now, if he had been here, to recognize and acknowledge what Maharishi has done for the world and appreciate it.
Spiritual Town In A Material World
"Many people in this town feel a deep kinship with George Harrison," says Fairfield Mayor Ed Malloy, an oil broker who attended the sold-out preview. "That deeper purpose of life that George sang about, the transcendent experience, is very intimate and real to meditators."
Margaret Costello is an accountant who relocated to Fairfield wishing to live in a community that shared more of her interests -- not only meditation, but also sustainability and organic food. After the film, she was teary-eyed. "I remember as a teen buying George's album and listening to "Material World" and feeling determined not to let materialism get the best of me. His music really made an impression."
When David Lynch first visited Fairfield, the creativity, vibrancy and integrity of the meditating students inspired him to establish the foundation to help bring Transcendental Meditation to school kids everywhere.
It is fitting that in a town where meditation is used not as an escape, but as a tool to propel students into their careers with greater creativity and clarity, the "quiet Beatle's" legacy continues to support and inspire "Quiet Time" meditation programs.
"Everybody's looking for something ... We don't have to look anywhere -- it's right there within ourselves."
-- George Harrison, Press Conference, Los Angeles, 1974
VIDEO: Watch The Trailer For "Living In The Material World"