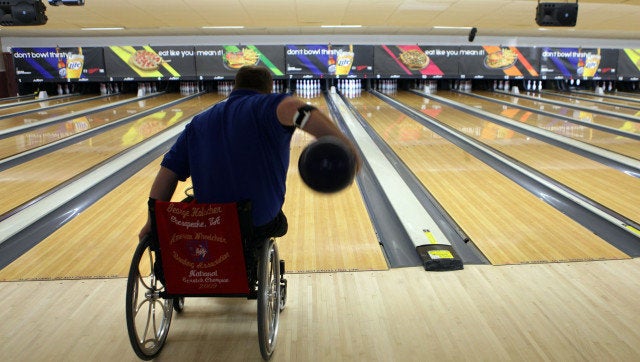 Much has been made of the healing power of sports, and it's no surprise that people use athletics to aid them on their road to recovery from serious trauma.
After severing his spine in a car accident in 1990, George Holscher turned to sports to help cope with his new circumstances. He picked up wheelchair basketball, tennis, and billiards before settling on bowling, The Virginian-Pilot reports. Focusing on athletics helped him deal with being paralyzed from the waist-down and gave him the confidence to move on with his life.
"When my doctor told me I'd never walk again, that was the worst five minutes of my life," Holscher said. "And that's about as long as I let it last."
As The Virginina-Pilot points out, bowling without the use of his legs forced Holscher to compensate with his arm strength. In the years since his accident, he worked tirelessly on improving his average score from 72 to 192, culminating in his victory in the 2009 American Wheelchair Bowlers Association National Championship. As if that weren't inspiring enough, Holscher achieved the most elusive feat in bowling last month, throwing a perfect 300 at Virginia Beach's Indian River Lanes on Nov. 26.
This is only the second perfect game bowled by a disabled person; the first occurred in May at the hands of Shawn Beam, according to the AWBA.
"There are not a lot of sports for people in wheelchairs where you can feel like you can compete on the same playing field as everyone else, and that has always been the big draw for me," Beam was quoted as saying in a press release. "I've never let my chair keep me from doing what I want to do. Wheelchair basketball guys will never be in the NBA, but you can compete with anyone in bowling."
Players with other disabilities have also been able to bowl perfect games.
"When I got to the tenth frame, I said 'Lord, let me throw three more good balls.' When I did, people on other teams were yelling and cheering. A few guys were hugging me and almost broke my skinny bones," Dale Davis told the newspaper. According to the report, the veteran lost most of his eyesight to macular degeneration several years back.
PHOTO of George Holscher: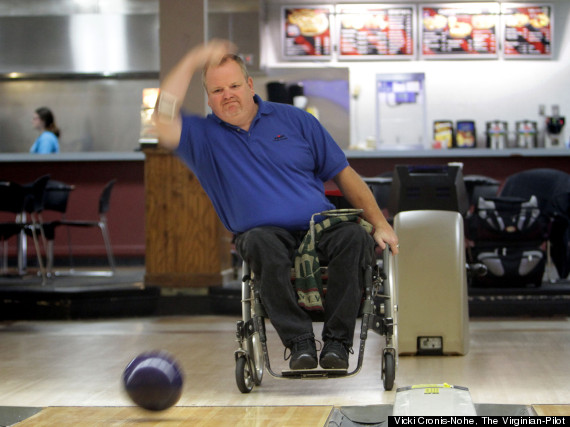 George Holscher heaves his bowling ball down an alley at Indian River Lanes in Virginia Beach on Nov. 28, where he bowled a perfect 300. He is the second man in history to bowl a 300 from a wheelchair.
Calling all HuffPost superfans!
Sign up for membership to become a founding member and help shape HuffPost's next chapter
BEFORE YOU GO