A woman who witnessed George H.W. Bush groping a fellow actress says the cast was warned that the former president could get "handsy."
Emma Sohlberg, 24, was an ensemble member in the 2016 performance of the "Hunchback of Notre Dame" at the Ogunquit Playhouse in Maine when Bush and his wife, Barbara, attended a performance. During the show's intermission, the couple came backstage to take photos with the cast. Sohlberg said that's when the former president grabbed Jordana Grolnick, another actress.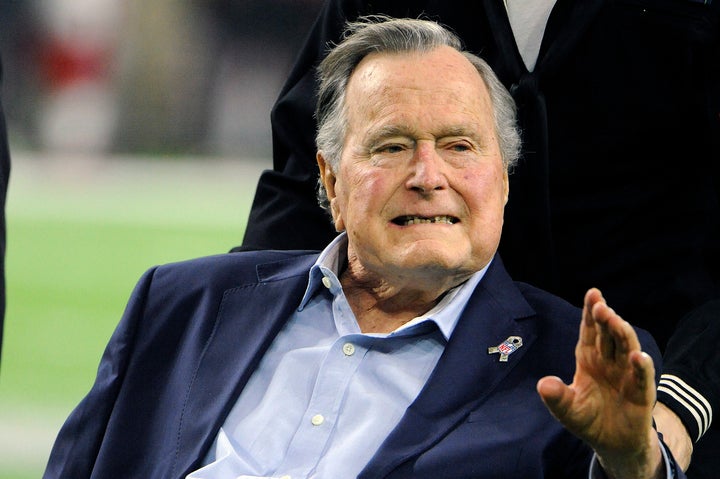 Grolnick told Deadspin that "he reached his right hand around to my behind, and as we smiled for the photo he asked the group, 'Do you want to know who my favorite magician is?' As I felt his hand dig into my flesh, he said, 'David Cop-a-Feel!'"
Solhberg confirmed Grolnick's account, saying that Bush's behavior didn't shock her because other theater staffers "always complain that he's kinda creepy." 
"They warned us, he gets pretty handsy," she said, adding that "everybody in the room nervously laughed" after Bush "grabbed [Grolnick's] ass."
"It was a classic case of not gonna say anything because he's literally a president," she said, noting that "Barbara was very aware of it and said something like, 'Oh keep your hands where I can see 'em, George.'"
The Bushes are frequent patrons of the Ogunquit Playhouse, and photos showing the couple backstage with cast members date back years. According to a local tourism website, the former president and first lady visit the theater at least once during each of its shows' runs.
The theater did not respond to a request for comment. A spokesman for Bush referred to a comment given to Deadspin:
"At age 93, President Bush has been confined to a wheelchair for roughly five years, so his arm falls on the lower waist of people with whom he takes pictures. To try to put people at ease, the president routinely tells the same joke — and on occasion, he has patted women's rears in what he intended to be a good-natured manner. Some have seen it as innocent; others clearly view it as inappropriate. To anyone he has offended, President Bush apologizes most sincerely."
At least three other women have come forward this week with similar allegations.
Amanda Staples, a former Maine Senate candidate, wrote in an Instagram post that Bush groped her in 2006, according to the Portland Press Herald.
Bush "grabbed by butt and joked saying, 'Oh, I'm not THAT President,'" wrote Staples, whose Instagram account is set to private. "I rationalized in my mind that he had become a dirty old man in his later years."
"If I had a daughter, I would never tell her to shrug it off because he was the President," she added. "I can only imagine how many women have had their butt grabbed in a photo op."
"He touched me from behind from his wheelchair with his wife Barbara Bush by his side," Lind wrote in a now-deleted Instagram post. "He told me a dirty joke. And then, all the while being photographed, touched me again."
Christina Baker Kline, a novelist who was invited to Houston for a fundraiser hosted by the Barbara Bush Foundation in 2014, wrote in Slate on Thursday that the former president also groped her during a photo-op.
"President Bush put his arm around me, low on my back. His comic timing was impeccable," Baker Kline wrote. "'David Cop-a-feel,' he said, and squeezed my butt, hard, just as the photographer snapped the photo. Instinctively, I swiped his hand away."
A photo published by Slate shows the encounter, and Bush's hand can be seen wrapped around Baker Kline's waist. In her account, Baker Kline said she told her husband about the incident while in a car driven by a Bush family friend, and that the driver said she hoped Baker Kline would be "discreet."
This article has been updated with allegations from Amanda Staples. 
Calling all HuffPost superfans!
Sign up for membership to become a founding member and help shape HuffPost's next chapter