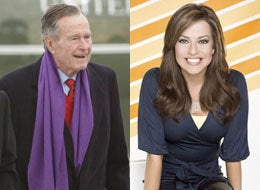 George H.W. Bush will celebrate his 85th birthday Friday afternoon with another bout of skydiving. In a twist, this year Bush Sr., a veteran skydiver who made his first jump as a 20-year-old Navy pilot in World War II who was shot down over the Pacific, will make the jump in tandem with HLN anchor Robin Meade. Meade will interview Bush Sr. before they make the jump.
Press release from HLN is below.
HLN (formerly Headline News) today announced that Robin Meade, anchor of Morning Express with Robin Meade, will participate in a tandem parachute jump with President George H. W. Bush this Friday, June 12. The U.S. Army Parachute Team, the "Golden Knights," will be conducting the jump, which will take place in Kennebunkport, Maine, as family and friends gather to observe the former president's 85th birthday.

"It's not every day one gets the chance to tandem jump alongside a former president, with the Army's Golden Knights; it is both a thrill and an honor," commented Meade. "Anchoring four hours of live television is an adrenaline rush most days, but this tandem jump with President Bush will be a new level of excitement, I'm sure."

CNN, HLN, and CNN.com will all feature coverage of the jump, including an exclusive interview Meade will conduct with former President Bush before they embark on the jump.
Related
Popular in the Community