Many significant artists and great media minds today worship at the Church of George Lois, the legendary art director who captured the turbulent 1960s on the covers of Esquire magazine. Don't credit the rich material, iconic characters of the decade Lois had to work with; it was his disdain for bullshit and love of cutting to the truth of a subject. This made the Lois Esquire covers worthy of joining Monet and Picasso in the permanent collection of the MoMA, shown-off, and available now, in a soon-to-be-classic coffee table book by Assouline.
These covers--Andy Warhol drowning in a Campbell's tomato soup can/his own fame; Muhammad Ali, shot-up with arrows, as Saint Sebastian when the country hated him for his anti-war stance and Muslim faith; a dolled-up blond model shaving her face as the women's movement was heating up; the all-American face of the 100th G.I. to be killed in Vietnam--captured issues people were being forced to pay attention to.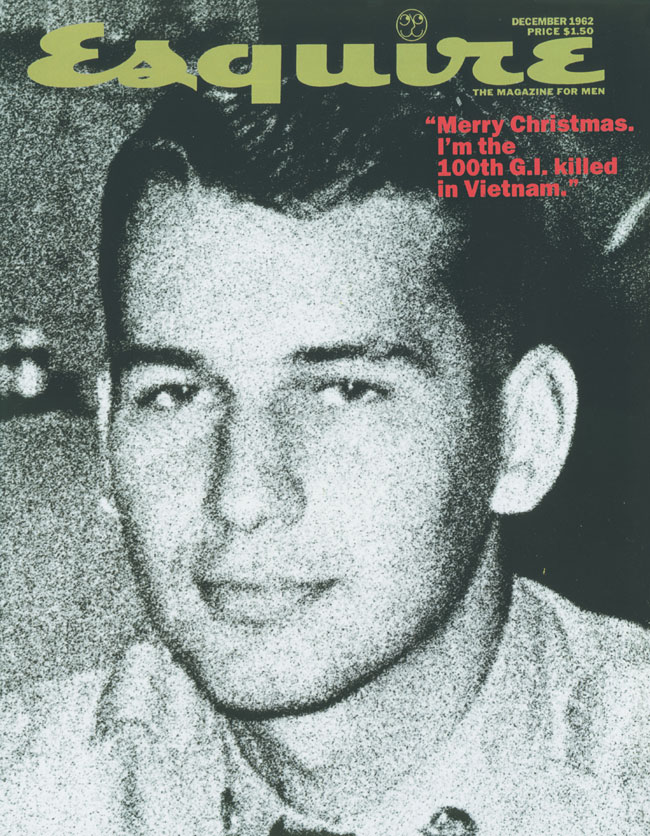 Lois tapped into history as it was about to be made. There is a George Lois formula that you can apply to your business, be it a magazine or iPad video or Etsy profile. He assures that it's quite simple and too often misunderstood. Let's look at a case study to understand the George Lois secret sauce and why we need it now more than ever.
"People like Graydon Carter and Kurt Andersen, when they were doing Spy, would call me up and say, 'I did a George Lois cover.' I'd say, 'Maybe,'" Lois told me by phone this week. "They'd send it to me and I'd say, 'I don't think so. It's too complicated. Look at my images. They're so simple.'"
I flipped through my copy of Spy: The Funny Years to compare the magazine covers to those in George Lois: The Esquire Covers @ MoMA. From knowing Lois--our interviews always turn into Rachel Maddow discussions about what's wrong with our government and the world today--he's filled with compassion--you see it in his work. The Spy covers are cynical: Hillary Clinton as a busty dominatrix, as a cracked-out doctor, as a black widow with a penis. The cover of Pee-wee Herman and Justice Clarence Thomas in a movie theater, presumably watching porn, is pretty awesome. But overall, the Spy covers reek of mocking and sexy bare midriffs and cleavage while Lois stands up for people unjustly shunned by society and puts on trial those who need to be tried.
Compassion, Lois proves, is a winning business model that helps you make a statement that needs to be made.
When Lois put boxer Sonny Liston as Santa Clause on the cover as black militants were organizing, even his white liberal friends in New York expressed concern that he'd gone too far. Lois told me, "If I were a black guy back then I would have been a terrorist! I showed the meanest mother fucker, the nastiest man who ever lived, scowling at the camera in a Santa Clause outfit. The last man America wants to see go down a chimney is Sonny Liston!"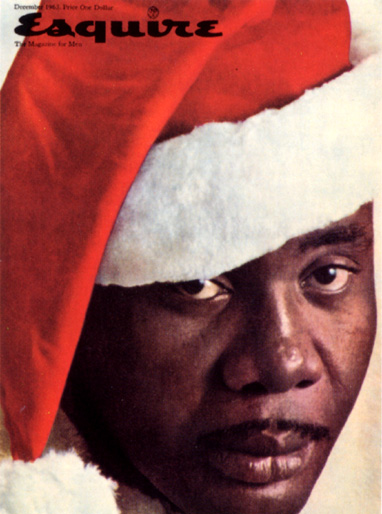 Dozens of Congressmen made a stink about the cover, screaming from the Congressional floor that Esquire was exacerbating racial tensions. The magazine lost an estimated $750,000 in ad sales. But people remembered the indelible image of Sonny Liston as the first black Santa Clause, including Lois's biggest fans--kids at colleges and universities--the hotbeds of social change. He gave people of that generation light bulb moments: Martin Scorsese told Lois he remembers where he was when he first saw the cover of Muhammad Ali as Saint Sebastian.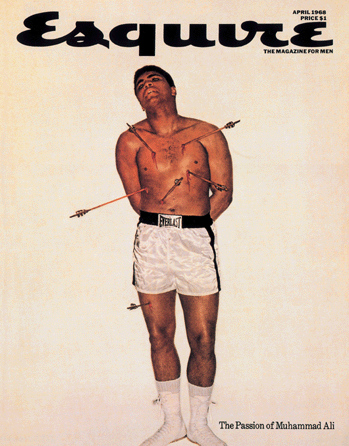 Lois made the magazine far more money than he lost it. At the start of the decade, Esquire was stale, dead in the water, with staffers afraid they wouldn't see another paycheck. Harold Hayes, the battle-hardened, young, newly ordained editor-in-chief, a former marine and liberal southerner, took the unusual step of hiring an adman, Lois, to design the covers. Circulation reached 900,000 by the fall of 1963, raking in millions. Hayes/Lois became the Lennon/McCartney of magazines.
"I was looking for a magazine cover that was going to knock you on your ass," says Lois. "My job was to do covers that immediately dramatized the magazine's attitude, what their point of view was." But he wasn't a shock jock like those Spy guys; his work also carried with it, compassion.
Last night, at the book party for Lois in the Ace Hotel, I stopped his son and partner-in-crime, Luke Lois, and said, "I figured out the formula: compassion!" Luke jumped back as if to say, "Well, yeah. It's simple!"
George Lois is a salt-of-the-earth person. The three times I've interviewed him, he's always expressed concern, after out interview, for how I was doing, how was my job, was it secure, joy for any good news I had to share. Coming from a hard-working Greek family in the Bronx, he doesn't have a single pretentious bone in his body, but he does have the booming voice and big smile to lend warmth to anyone who does.
He told me he learned to bet on himself in high school, as a student at the High School of Music & Art founded by Mayor Laguardia. In a class assignment to turn a blank 18 x 24 piece of paper into a work of art, Lois simply sat there for an hour-and-a-half, he says, doing nothing while the other kids put together tributes to Russian constructivism. The teacher, furious, demanded that Lois turn something in. He quickly signed the corner of the paper and gave it to him.
"What I was saying is, this here is the ultimate rectangle design: I've done all my rectangle designs, I'm now giving you a pure one. It was my way of making a surprising solution to a problem," says Lois. The next day at school, word had spread among the other teachers, and Lois was being heralded as a genius.
"If you look at every Esquire cover I did, every time somebody saw something on the newsstand, it was, 'holy shit.' Everything I ever tried to do, in order to make something memorable, it has to be surprising when you first see it."
Today, Lois complains, magazine covers are all the same, including Esquire's. "There's a celebrity or somebody who wants to be a celebrity and there are blurbs all over it. Zero ideas."
Lois believes that if you put one of his Esquire issues on newsstands today, people would gravitate to it. And I agree.
One of the strangest experiences I ever had happened while waiting in line at the grocery store, grabbing a rare respite from my busy work as a community organizer in the 2004 election. I was trying to politically empower people who had their paychecks and health insurance chipped away, who were homeless, who feared voting because their bosses might fire them, who wanted to marry the love of their life and legally couldn't -- real issues that impact families and dinner table discussions. While waiting in line, I stared at the magazines on the newsstand covered in plastic celebrities and cluttered with shallow headlines, and I got the strangest sense of vertigo that the media was on another planet. Lois was and still is on our planet. Here is his latest work, for Sequoia Restaurant in Washington, DC.
Resent how women's magazines try to make you feel fat and only sell you a million different ways to apply eyeshadow? Lois ran a cover of a glamorous model, her head all done up in a box, and outside of the box is what she really looked like: wearing dirty old sneakers, an ashtray of cigarettes and a Pepsi bottle by her side.
"Everything you do has to be a unique surprising solution. The bigger the idea, the more shocking and memorable it will be. It's really simple." Yes, but where others have tried and failed, they're missing the secret ingredient: compassion for what we're going through. I don't have time to look like a Vogue cover model but I do relate to those sneakers.
Calling all HuffPost superfans!
Sign up for membership to become a founding member and help shape HuffPost's next chapter