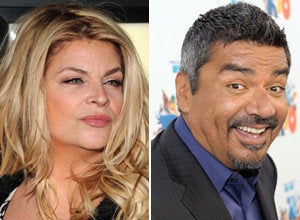 It started with hooves. Now, the knives -- and perhaps scalpels -- are coming out.
On Thursday evening, Lopez made an attempt to apologize, but Alley was having none of it. It's not words she wants, it's body parts.
"I misjudged the joke. No malice was intended and I apologize to Kirstie," Lopez tweeted. In response, Alley wrote, "@georgelopez I don't need or want ur apology...I want your kidney dude..on behalf of ur X and all the women uv insulted...give it back."
Yikes. It's a back and forth that has escalated from a harsh commentary from Lopez. "She did a nice job, her little hooves tapping away," Lopez said on his show. "Before the show she went to the market, then she had roast beef, and this is her going all the way home," he continued before cutting to a video of a pig squealing, from a recent Geico commercial.
Alley at first took a semi-high road; her response Thursday read, "Don't worry about George's comments...just remember what happens to the big bad, drunk woolf...falls in a boiling pot of vodka.Piggy laughs."
Any civility between the two, it seems, is on its way out.
WATCH
:
Calling all HuffPost superfans!
Sign up for membership to become a founding member and help shape HuffPost's next chapter