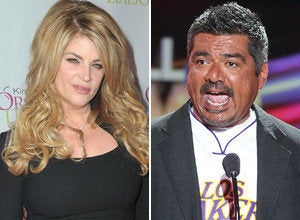 Lopez should thank his florist.
"[It was] poor judgment. As they say in my world of golf, 'bad form on my part,'" Lopez told "The Billy Bush Show" on Friday. "I've apologized. I think she's accepted my apology, I wish that she had and that she would be guest on 'Lopez Tonight.' I would love to have her on."
At first, Alley seemed to want no part of his mea culpa, tweeting, with gusto, "I don't consider "I misjudged the joke" an apology. sorta like a husband saying"I misjudged putting my dick in a whore" ...sorry hon..hehe."
Then, the actress had a change of heart, starting a long stream of Twitter messages:
"take life as lightly as u can and then move on ...even u George ....u are forgiven.....:)..." Alley began. "It always makes me laugh to see who's team people are on.. We are creatures of competition... Myself included.
"God I love it when women get riled up!!! Hell, we can rule the damn world when we get a purpose ... And when we're pissed!!... Hehe," she continued. And after a few off-topic tweets, she finally delivered the big e-handshake Lopez had been looking for.
"In fairness.. Mr. Lopez sent me a HUGE Slew of flowers today... I formally accept your flowers and your regards...heres yur kidney back..;)" Alley wrote.
That tweet came in response to Lopez's first apology, a rather matter-of-fact tweet on Wednesday that claimed he misjudged the joke. To that, Alley compared Lopez to the Big, Bad Wolf and said she would laugh as he suffered in boiling water.
Luckily, no war crimes, body boiling or organ excavation, were committed in this ugly battle.
Popular in the Community