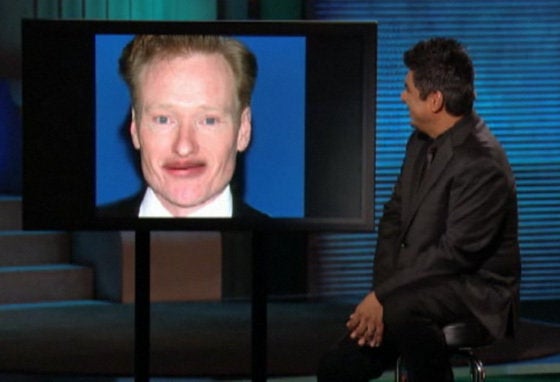 The big news in the Conan world is the former "Tonight Show" host will be returning to television this fall on TBS. There, he'll be joining George Lopez on their late night roster. Lopez opened his show last night by welcoming O'Brien with open arms:
"If you haven't heard by now, Conan O'Brien will be joining us on late-night on TBS. Welcome!, Welcome! I want to say this, I want to say that I am completely 100% on board with this move. I talked to Conan on Wednesday and I talked to him last night and I said I welcome you into my deep loving embrace. Then I said let's take the party and make it bigger and take it into the next generation of late-night TV. Lets do that! Lets do that! Lets do that! Everybody's heard of 'I'm with CoCo' but now everybody can 'Go LoCo'."
Lopez took it a step further, interviewing "Conan" in an homage to a classic "Late Night" bit. The nod to Conan's run across the country (the great opening to his "Tonight Show" stint) was a nice touch as well.
Related
Popular in the Community