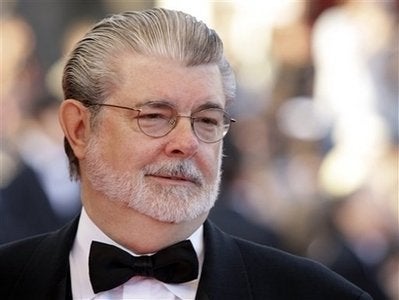 George Lucas tells me it's more than a strong possibility there will be a fifth "Indiana Jones." He says that he and director Steven Spielberg have left the door open for a sequel to "Indiana Jones and the Kingdom of the Crystal Skull."
Lucas, looking dandy with slicked-back gray and white hair in a snappy tuxedo, was a guest Thursday night at Paramount/DreamWorks's party for "Kung Fu Panda" at the 61st Cannes Film Festival...
"I haven't even told Steven or Harrison this," he said. "But I have an idea to make Shia [LeBeouf] the lead character next time and have Harrison [Ford] come back like Sean Connery did in the last movie. I can see it working out.
"And it's not like Harrison is even old. I mean, he's 65 and he did everything in this movie. The old chemistry is there, and it's not like he's an old man. He's incredibly agile; he looks even better than he did 20 years ago, if you ask me."
....
"Star Wars" continues to thrive. In August, Lucas says, he's releasing an animated 90-minute "Star Wars" movie to theaters via Warner Bros. called "Clone Wars." It will be followed in September by an animated series on the Cartoon Network and TNT.
"No one wanted it," he told me. "Every studio rejected it, including Fox, and I'm very loyal to them. They have right of first refusal. Eventually I brought it to Warners. It's the first time that three components of the studio have acted together. It's very exciting.
"But the story is that everyone said, 'No one gets this. It's just ... 'Star Wars.'' I said, 'That's right, It's just 'Star Wars.' Just like this is ... 'Indiana Jones.''"

Read whole story here, scroll down