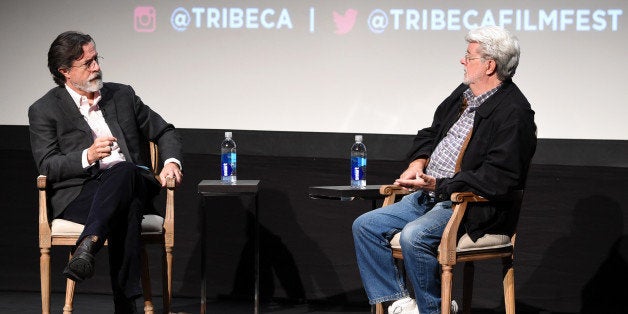 The chance to see George Lucas discuss his career ranked fairly high in our Tribeca Film Festival priorities, especially with Stephen Colbert conducting the interview. Apparently we weren't alone: The festival sold out one of its largest flagship auditoriums for Friday's hour-long panel, part of the Tribeca Talks series, and spectators lined up with posters and DVDs for the "Star Wars" overlord to autograph. Inside, it took no time at all to realize there is very little the 70-year-old Lucas hasn't already been asked about his well-documented career.
Even an adept moderator (and "Star Wars" obsessive) like Colbert couldn't squeeze out many fresh tidbits from the talkative director, though he did display his signature wit throughout, particularly when Lucas sneezed and Colbert responded by saying, "May The Force be with you." These guys! So silly!
But even the nerdiest of "Star Wars" fans can stand to revisit morsels about the iconic franchise -- and hey, maybe there's even something in here that you didn't already know. Here are nine quickies from Friday's conversation:
1. George Lucas is not a fan of being a celebrity. He's happy to wear sneakers and avoid Hollywood galas, which has prompted some in the industry to liken him to the reclusive Howard Hughes.
2. There's at least one downside to directing "Star Wars." "The one thing I regret about doing 'Star Wars' is I never got to see it," Lucas said when asked whether he's anticipating "The Force Awakens," which opens in December. "I never got that thrill."
3. "American Graffiti" started as a dare from Francis Ford Coppola. The duo became pals after Lucas won a scholarship in film school that allowed him to work on a Warner Bros. project of his choosing. He selected "Finian's Rainbow," Coppola's 1968 musical starring Fred Astaire and Petula Clark. (Coppola was 29 when "Rainbow" opened; Lucas was 24.)
In 1969, the directors opened their own studio, American Zoetrope, which released Lucas' infamous 1971 sci-fi flop "THX 1138." (It was a joint venture with Warner Bros., which "told Francis Ford Coppola and me, 'We want our money back,'" Lucas said. In order to pay off that $350,000, Coppola made a little film called "The Godfather.") Coppola then told Lucas to lay off the experimental "robot" stuff, daring him to write a comedy instead. Confident he could do it, Lucas channeled his California youth to write "American Graffiti," which went on to earn five Oscar nominations and become 1973's third-highest grossing movie across North America.
4. Lucas is fully aware of what you think about his most recent "Star Wars" scripts. "I'm notorious for wooden dialogue," Lucas said, presumably referring to criticism that defined the franchise's second trilogy. Frankly, he doesn't care, largely because dialogue, in his mind, is secondary to visuals and sound. In keeping, he considers "Star Wars" a silent film that generates meaning from its movement. "You could be 2 years old and not understand what anyone's saying, but still understand the movie," he said.
5. The only one of Lucas' director friends who supported "Star Wars" was Steven Spielberg. Lucas' posse includes Brian De Palma and Martin Scorsese, but Spielberg was the only one who said "Star Wars" would be a hit after Lucas screened it for his buddies. De Palma, who released "Carrie" a year before 1977's "A New Hope" opened, instead asked, "What the hell is The Force?"
6. Lucas learned of the "Star Wars" momentum from a news report. Alan Ladd Jr. was the producer who gave "Star Wars" the green light, and he remained Lucas' only supporter when 20th Century Fox wanted to nix production due to escalating budgets and location snafus. Lucas insisted Ladd wait a few weeks after "A New Hope" opened to gauge its performance, once the movie could transcend the fanatics who will show up for any sci-fi flick. A week after the movie hit theaters, Lucas was on vacation in Hawaii when he saw a CBS news story showcasing the fandom that had already erupted -- it was then that he grasped its proliferating impact.
7. But Lucas never wanted to make Hollywood blockbusters. He was interested in experimental films, à la "THX 1138." Today, he says he's retired and tinkering around with the type of movies that studios didn't want him to make. "They'll probably never get released," he joked. "I'm just screwing around in my garage." He can afford to screw around because he worked to secure "Star Wars" sequel rights from 20th Century Fox after "A New Hope" became a hit. "That's how I got to be rich," he said, smiling.
8. As of Friday, Lucas hadn't seen the latest "Force Awakens" trailer. And he has no idea what the new movie is about, despite receiving a "creative consultant" credit. (He didn't watch the first teaser until almost two months after it debuted.) "I'm excited, I have no idea what they're doing," he said. The original, however, remains a family saga -- his intent was to make a movie about "the father, the children, the grandchildren."
9. Lucas thinks Colbert should replace Jon Stewart. "Don't you think the perfect choice to replace that Jon Stewart fella would have been you? And now you're working at 'Late Show,' where nobody sees you," Lucas quipped, to which Colbert responded by saying that he was previously on at 11:30 p.m. and will now be on at 11:35. He never wanted to take Stewart's gig because he would forever live "underneath his shadow."
Calling all HuffPost superfans!
Sign up for membership to become a founding member and help shape HuffPost's next chapter
BEFORE YOU GO
PHOTO GALLERY
Tribeca Film Festival 2015