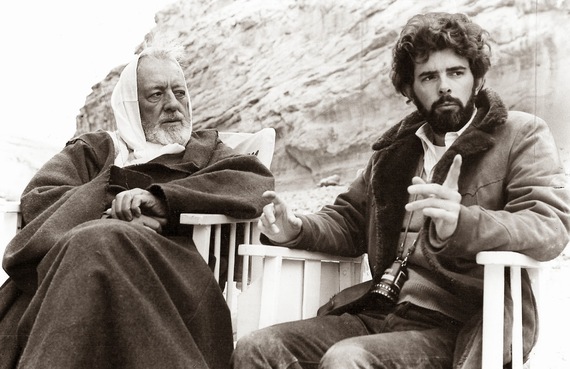 Everyone knows the name George Lucas. An iconic figure in his own right, Lucas will be receiving the Disney Legend Award this year at the upcoming D23 Expo in Anaheim. This is, quite simply, a well-deserved award for a true visionary in cinema, one who has had such a strong influence on so many.
For many filmmakers my age, the original Star Wars is what inspired us to become directors. I was five years old when I saw the film for the first time, and I was so overwhelmed by the overall experience that, from that day forward, I became fascinated -- and a little obsessed -- with filmmaking. Being the pioneer that he was, George Lucas didn't want to keep his secrets, well, secret (not all of them, at least). So he did a TV special, entitled "The Making of Star Wars" that aired in 1977, in which he revealed to audiences the magic of the movie. He put it out there for all to see -- the techniques used to bring Star Wars to life. It blew my mind! That was the first time I, and many other filmmakers just like me, were taught all about the technical aspects of filmmaking: special effects, sound design, music, costumes, sets, wardrobe and camera work.
George Lucas created more than just a film, more than a world, even. What he gave to the moviegoer, to those dreaming to be filmmakers, and to pop culture alike was that ripple effect, that lasting impression -- he created ways to experience the film long after you left the theater. The toys that were released around the film brought children right back into that galaxy far, far away and continued to spark their imaginations. The Tie Fighter and Millennium Falcon spaceships looked just like they did in the movie. Some toys even resembled actual environments from the films, like the ice planet Hoth and the swamp planet Dagobah, where you could place your action figures or dock your ships. It was like having a mini-Star Wars set in your own home! With this, kids could not only recreate the movie, but create new stories and situations with the characters themselves. The sky was, after all, the limit!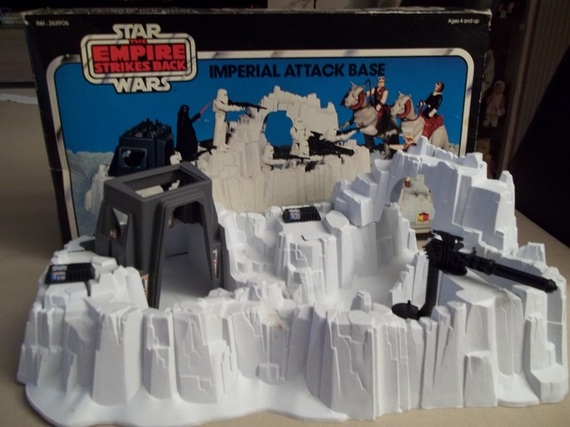 Those toys and models made it possible for many kids to make their very own Star Wars movies. Back in the late 1970s and early 1980s, most of us didn't have video cameras or computers yet, so young wannabe filmmakers had to shoot on Super 8mm film. For anyone who has done this, you know how tedious a process it can be -- using the toys and models, shooting everything practically, loading and developing actual film. Sure, we used the techniques learned from Star Wars, like using models and camera tricks for our homemade special effects or making our own shoddy handmade sets and costumes. The homemade films may have looked awful, but we got the thrill of seeing our imaginations brought to life -- all because of how George Lucas inspired us as children. 
After years of making my own films, I finally got the chance to interview George Lucas -- the man himself! -- for a documentary I directed called Drew: The Man behind the Poster, about Drew Struzan, an amazing Lucasfilm artist. After all the Super 8mm films I made as a child, there I was, sitting face-to-face with the man who inspired me to become a filmmaker way back in 1977. It was very overwhelming and also what you would expect while sitting in front of the creator of Star Wars: pure magic. Of course, I didn't tell him how he inspired me in person; I figured he had heard that a million times. But it was a true honor to talk with the man who created such an amazing universe. I have been lucky enough to spend time at the amazing movie facilities that he created, Industrial Light and Magic (ILM) and Skywalker Sound. It inspired me to see firsthand how one man's film lead to continued innovations in the artistic fields of special effects, sound design, and filmmaking technology.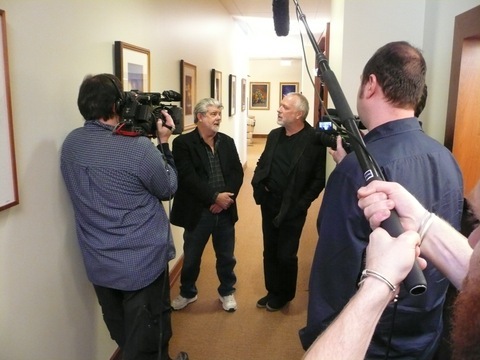 And I'm not the only one so deeply inspired by this man's vision. The superstar director behind the forthcoming set of Star Wars films, J.J. Abrams, has many times cited the original Star Wars as a major influence on him as he was growing up -- he was even a member of the Star Wars fan club as a child! Other talented filmmakers like Kevin Smith, Simon Pegg and Jon Favreau have also referenced the original Star Wars as being a pivotal early influence on them.
Like most people, I'm excited to see where J.J. Abrams takes the new Star Wars film. He is a true visionary who redefined what you could do on television with shows like Alias and Lost, while also reinventing Star Trek for the big screen. And let's be real here: The trailers for the new Star Wars film have been fantastic, invoking all the things my generation loved about the original films -- my inner child, the young Super 8mm film director is giddy. And in our culture, we all love the next new thing, but I think it's important to pay tribute to the man who started it all -- George Lucas. Star Wars will continue to grow in new films with new visions, but it is George Lucas, his imagination and talent, who created the whole thing in the first place. It's important we not forget that. It was his original vision that changed cinema forever and inspired so many of us kids to pick up Super 8mm cameras and make our own films, and I am glad to see Disney honoring him for the legend he is.
In fact, here is my own personal Star Wars-inspired Super 8 movie, "Junk Food Wars," that I made back in 1985 when I was just 13 years old. Thank you, Mr. Lucas, for all the inspiration!
Calling all HuffPost superfans!
Sign up for membership to become a founding member and help shape HuffPost's next chapter