A pastor in Indiana says that police handcuffed and threatened him with a stun gun after he waved hello.
Madison was pulled over riding his bike at about 3:30 p.m. Tuesday afternoon after he ran a stop sign at an Evansville intersection.
Madison told WFIE that he was waving at the officers -- identified by the traffic report as Darin Clifton and Jason Clegg -- but they thought he was flipping them off. The report merely states that Madison "raised his right arm in a apparent aggravated manor (sic)" after he blew past the sign.
Madison told the Courier & Press that one of the officers approached him, yelling, "What are you doing throwing your hands up at us?" Madison then grabbed his cell phone to try and call Police Chief Billy Bolin, who is a friend of his.
According to the report, Officer Clegg told Madison to put the phone down and Madison asked Clegg to "hold on a minute." Madison said he hesitated, though the police report states "Mr. Madison postured up and pulled his arm back in an aggressive manor [sic]." Either way, by all accounts Clegg responded by activating his Taser.
"I remember looking down the barrel of a Taser, because [the officer] was gritting his teeth and saying, 'Don't make me pull this trigger,'" he told the Courier & Press.
Madison says he was then handcuffed and thrown on the ground. The report states that Clifton was cuffed "for safety reasons."
A photo of Madison sitting handcuffed was snapped by a passerby and went viral earlier this week after being posted to Facebook.
Police Chief Billy Bolin stated that the department was investigating the incident.
Related
Before You Go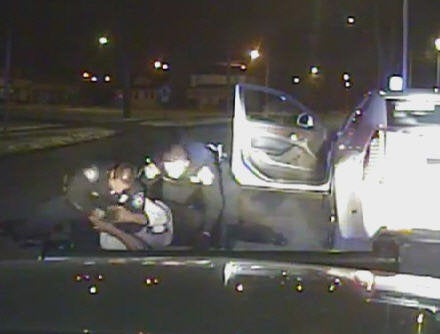 Police Brutality Incidents
Popular in the Community