With her successor as Secretary of State being confirmed this week, chatter abounds regarding Hillary Clinton's legacy. Of course such an assessment may swing dramatically decades into the future, as it did with President Harry Truman, hero recut from a country bumpkin's burlap.
Truman's own secretary of state, George Marshall, is remembered for redefining security with his post-WWII gamble that strengthening economies could stabilize a continent. A salient element of Hillary Clinton's legacy will surely be her redefining security to include 51 percent of the world's population as the most effective and efficient stealth weapon ever.
A woman, even the most powerful in the world, spends political capital when she focuses on a marginalized group: women. But transformational leaders like Marshall and Clinton press through social bias and other barriers. They engage followers because of their own confidence in deeply held ideals. Among Clinton's core values is clarity of commitment to what we call "inclusive security." Extremism won't be defeated by guns, bombs, or drones. A bad idea must be countered with a good idea, and her idea was to confront extremism at its first volley: the suppression of women.
The Secretary has said repeatedly that security is not won when warlords stow their guns under the negotiating table as they divide up a country's resources. According to the Institute for Inclusive Security, in the past 10 years, worldwide a paltry 5 percent of peace talk participants were women. It's no surprise that a stunning percentage of agreements fail when they don't represent "we the people." According to Clinton, "The sad fact is that the way the international community tries to build peace and security today just isn't getting the job done." The good news is that we aren't tapping all our resources -- in fact, not even half.
What difference does difference make? Researchers and policymakers say when women decision-makers are present in critical mass (around 30 percent) they build bridges across political and ethnic divides; provide fresh ideas and perspectives; add deeper understanding of ground-level reality; shift budgets away from guns to education, health, and environment; create a more civil political sphere; and govern with greater transparency and less corruption.
Clinton's emphasis on women has not been tabulated by the legacy judges, nor can it be at this point. Just as Marshall in his term did not see results of his bold, provocative Plan, Clinton's vision will bear fruit in seasons to come. Still, despite her 60 Minutes duet with President Obama, she is currently being dismissed by talk show hosts and columnists as having lacked real power while the White House and Pentagon ran traditional wars in Iraq and Afghanistan, and a continuously boiling "war on terror." Part of the charge against her is that she reigned with an empty purse. Yet Clinton, ever the team player, developed a close partnership with Secretary of Defense Robert Gates, advancing her civil society agenda with Pentagon funding, even at the height of military engagement.
Not "peacenik," but "hawkish" is the word often applied to Clinton's policy and personality. (A tweet last week joked that Secretary of Defense Leon Panetta realized, watching Clinton's fiery Congressional testimony on Benghazi, that women can, indeed, serve in combat.) Remarkable, then, that she consistently carved out precious time in D.C. and abroad to meet with female politicians and civil society leaders, gleaning their knowledge as she raised their status back home and internationally.
In newborn democracies, especially post-Arab Spring, she admonished men rushing in to fill power vacuums not to push aside women from constitutional commissions, parliamentary lists, and ministerial posts. And even as Afghanistan's fragile political system hangs in the balance, her continued insistence that women be part of major international gatherings to determine the country's future set a precedent that their ideas should be featured in all deliberations.
But Clinton's genius was systemic policy-level change beyond her persona or personal priorities. "This is not just a woman's issue... it truly does cut to the heart of our national security and the security of people everywhere," she declared in 2011, having inspired President Obama's executive order affirming essential roles of women ending war, and calling for an on-going national action plan reaching across the government. At the State Department and U.S. Agency for International Development, she integrated into every cranny measurable accounting of actions to advance women in stopping conflict. She also created an ambassador-at-large for global women's issues, reporting directly to her. And seeding the future even more, she a launched the Women in Public Service Institute, collecting scores of top young women leaders annually to learn from the American experience and each other.
In some ways, to wonder about the legacy of Secretary Clinton seems ludicrous. Americans have named her in Gallup polls the most admired woman in the world for 17 of the past 20 years. But being an inspiration today is different from shaping the world to come. Beyond endless transactions of her broadly varied career, Hillary Clinton led the transformation of the global security paradigm.
The legacy of Secretary Clinton will not be a dictator dead, air assault over Libya, or de-escalation in Gaza. Instead, like Nobel Peace Laureate George Marshall, she leaves behind a world more stable because she added women's force as indispensable to "smart power." Like General Marshall, she expanded our understanding of security far beyond bombs and bullets. And like Secretary Marshall, she used not only policy acumen but also an iconoclastic idea that will outlast generations neither she, nor we, will ever meet.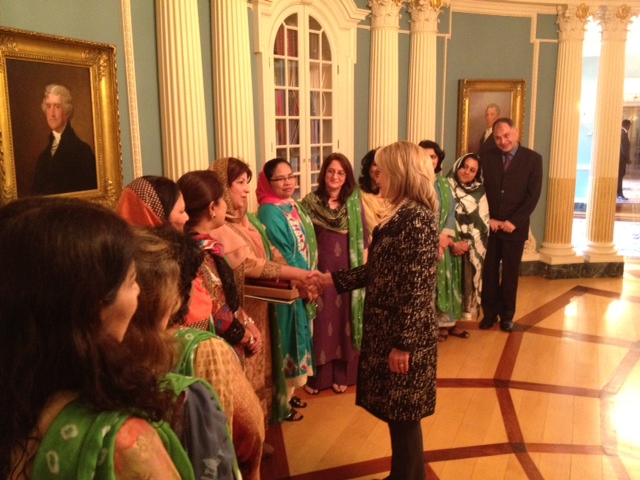 Popular in the Community