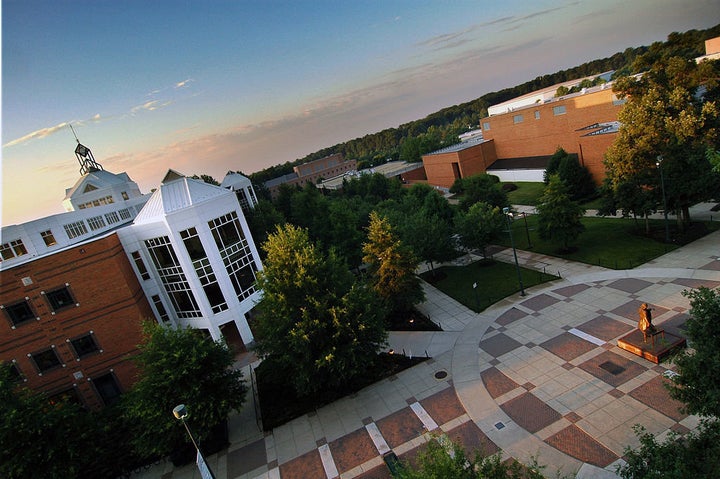 A male student accused of sexual violence didn't get a fair shot at defending himself when George Mason University expelled him, a district court judge ruled.
The student, known in his lawsuit as John Doe, will find out what comes next after oral arguments scheduled for Friday.
But it's not yet clear what the remedy should be, because the Doe's lawyer, Justin Dillon, says this is the first time a student accused of sexual assault has won a lawsuit in summary judgment on claims that his school violated his due process rights.
U.S. District Judge T.S. Ellis III wrote in a Feb. 25, 2016 opinion that university officials lead Doe to believe he was accused of sexual violence for one specific incident, while actually punishing him for other allegations -- thus denying Doe a chance to adequately defend himself against multiple charges.
What is clear is that Doe must now be reinstated at GMU, a public university based in Fairfax, Virginia. But beyond that, it's unknown what will come next. Ellis barred Doe from collecting any monetary damages in the suit.
Dillon is proposing that GMU should not be allowed to level new disciplinary charges at Doe for anything the university could have charged him with before. GMU wants to hold a new hearing on disciplinary charges, arguing in court papers that the university had additional information suggesting Doe posed a threat to students on campus when he was expelled.
When contacted this week, GMU spokesman Michael Sandler stated the "case is still active and the court has not issued a final order," but declined to state what disciplinary charges Doe would face if the judge allowed a new hearing.
If GMU gets its way, Dillon suggested it would make Doe's legal victory almost meaningless.
"It's so much harder to settle here if you go through the time and extraordinary expense of litigation," Dillon told The Huffington Post on Monday. "It'd be absolutely devastating for students whose rights are violated."
Colleges and universities have recently come under tremendous pressure to improve their handling of sexual assault cases. The gender equity law Title IX requires them to address reports of sexual assault and harassment, and activists charge that schools nationwide mistreat victims. Currently, the U.S. Department of Education has more than 200 investigations open on such claims.
Yet dozens of men have sued schools in the past couple of years, saying they were treated unfairly once they were accused of sexual violence. Last year, Doe made the Title IX claim that GMU discriminated against him based on his gender because the school's sexual misconduct policies disproportionately affect men. But like other judges, Ellis said Doe failed to show there was motivation to discriminate based on his gender, and his Title IX claim was dismissed -- as suits from students accused of or punished for sexual misconduct typically are.
Now, however, Doe has scored a rare legal victory with his claim that he faced a biased procedural process that violated his First Amendment rights.
John Doe's Problems As A Freshman
Doe had several run-ins with university officials as a freshman at GMU. According to court documents, a school official saw him carve "kill them" into his knuckles, and he was also caught with a knife and a "blackjack," a leather-wrapped slapping weapon. After disrupting a class, he faced sanctions and the school ordered him not to contact the professor again. But he remained a student, living in a GMU dorm in his sophomore year.
In 2013, he developed a relationship with a Jane Roe, and the two engaged in consensual, sadomasochistic sex.
On Oct. 27, 2013, court papers state that Roe and Doe were engaged in sexual activity when Roe said she didn't know if she wanted to proceed. However, because she didn't use their safe word, "red," Doe continued. Roe cut off communication with him after that night for several months.
In May 2014, Roe told GMU police that Doe had abused her, and in July she recorded a conversation in which Doe admitted to continuing sexual activity after Roe used the safe word, according to court records. Around this time, Roe was also communicating with Brent Ericson, an assistant dean of students.
Roe pursued disciplinary charges against Doe in August 2014, using the recorded conversation as evidence. She cited multiple incidents and continuing harassment -- but according to court documents, school officials led Doe to believe that the charges were only related to what happened on Oct. 27, 2013.
A Failure To Tell Doe What He Was Defending Himself From
The university held a 10-hour hearing in September 2014 that focused on the Oct. 27 encounter, finding Doe not responsible on all counts. According to the judge's opinion filing, Roe appealed, and Ericson assigned himself the case, despite his previous communications with Roe.
Ericson conceded that by the time he met with Doe during the appeal process, he'd already determined he would find him guilty. On Oct. 10, 2014, Ericson announced that Doe had been found guilty and would be expelled. Doe appealed to the dean of students, who upheld Ericson's decision.
But the discovery process in the lawsuit showed that Ericson was expelling him not only for the alleged sexual misconduct on Oct. 27, 2013, but for prior incidents as well. Doe didn't have an opportunity to defend himself against those other accusations, Ellis said, which amounted to a violation of his due process rights.
Even if Doe was expelled because his previous misconduct showed a pattern of threats to campus safety, the judge pointed out, he never got an adequate chance to defend himself against the charges or know what his expulsion was based upon.
Brett Sokolow, who advises colleges on handling sexual misconduct cases as president of the NCHERM Group consulting firm, said he doesn't know of any other cases in which an accused student has won a summary judgment against a university.
"It's significant as such, but comes with pretty egregious facts," Sokolow told The Huffington Post. "That will make it an outlier until another egregious set of facts arises."
Judge Ellis wrote that GMU could have easily avoided this legal outcome by notifying Doe that his charges weren't confined to that one night in October 2013.
"This was a strong warning to schools that you have to have a disciplinary process that is free from bias," Doe's lawyer, Dillon said, "which is not a lot to ask."
CORRECTION: A previous version of this article said George Mason University is located in Alexandria, Virginia; it has several campuses, but is based in Fairfax, Virginia.
Popular in the Community