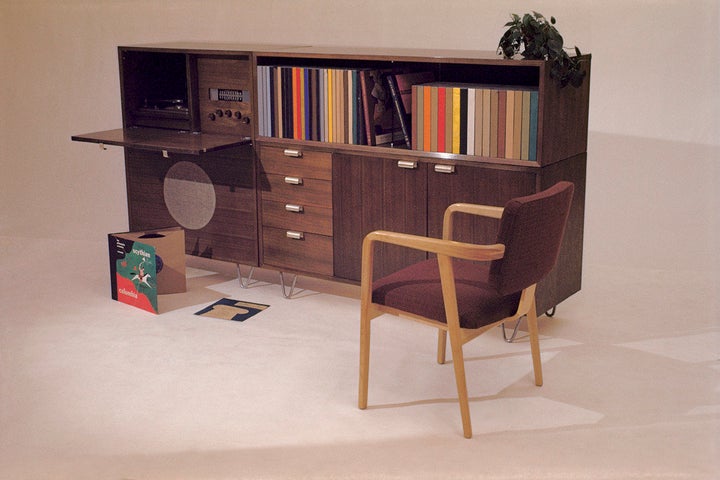 The (certainly small) Detroit-area group of architecture and design enthusiasts will be jumping at the bit to check out the work of an often-overlooked figure in the history of Modernist design.
But we're willing to bet they won't be the only ones who can recognize the furniture on display in the new exhibit at the Cranbrook Art Museum.

Beginning Saturday, the work of mid-century modernist George Nelson will be shown at Cranbrook in Bloomfield Hills, Mich., in the "George Nelson: Architect, Writer, Designer, Teacher" exhibit. It is the first extensive look back at Nelson's work as a designer of classic office and home furniture with company Herman Miller. It's also a showcase for Nelson's writings, curation work and other ephemera.
"In my mind, he is one of the most important designers of the 20th century," said Greg Wittkopp, director of the Cranbrook Art Museum.
According to Wittkopp, the designer's influence is so pervasive that his genius may not immediately be obvious to someone looking at pieces in the exhibit.
"There were a couple of ideas of his that people are going to come and look at them, and some are going to scratch their heads and say, 'So what, there's an L-shaped desk, aren't all desks L-shaped'? Well, he's the person who came up with that idea," he said.
(SCROLL DOWN FOR PHOTOS)

Nelson had an influence on interior workspaces and also invented the space-saving storage wall. An avid writer, his work was grounded in research and reflected cultural changes after World War II, and again in the 60s, when he designed the Action Office, a style that can be seen in today's corporate office design.
The retrospective of his work, organized by the Vitra Design Museum in Germany, is divided into sections showing his home design, office design, corporate design with Herman Miller, his exhibition design, particularly of the 1959 American National Exhibition in Moscow, and his work as an author and editor.
"During his own lifetime he was often referred to as a 'Renaissance Man,'" Wittkopp said. "His curiosity went in so many directions."
While Nelson didn't have a direct relationship with Cranbrook, during his years as the Design Director at classic furniture company Herman Miller on the west side of the state, he played a role in getting two of the Academy's distinguished faculty, Charles and Ray Eames, to work with him at Herman Miller.
The museum has a complementary exhibit running at the same time, "Vision and Interpretation: Building Cranbrook, 1904-2012," which aims to show the history and development of the school's design (created in part by modernist architect Eliel Saarinen) through the eyes of founder and amateur architect George Booth.
"In many ways, Cranbrook is the birthplace of mid-century modernism, so it's a perfect place to welcome back the career of someone like George Nelson," Wittkopp said.
To get a sneak peek at some of Nelson's notable designs, check out the gallery below.
The "George Nelson: Architect, Writer, Designer, Teacher" exhibit was organized by the Vitra Design Museum in Weil am Rhein, Germany, and has shown in the U.S. at the Bellevue Arts Museum and Oklahoma City Museum of Art before it opens at the Cranbrook Art Museum, 39221 Woodward Avenue, Bloomfield Hills on Saturday, June 16 through October 14. "Vision and Interpretation: Building Cranbrook, 1904-2012" runs concurrently, and throughout the exhibit, Cranbrook will hold tours of the grounds every Sunday from 1 to 2:30 p.m. For more information, see the museum's website.
PHOTO GALLERY
''George Nelson: Architect, Writer, Designer, Teacher' Exhibit Opens At Cranbrook
Calling all HuffPost superfans!
Sign up for membership to become a founding member and help shape HuffPost's next chapter
BEFORE YOU GO