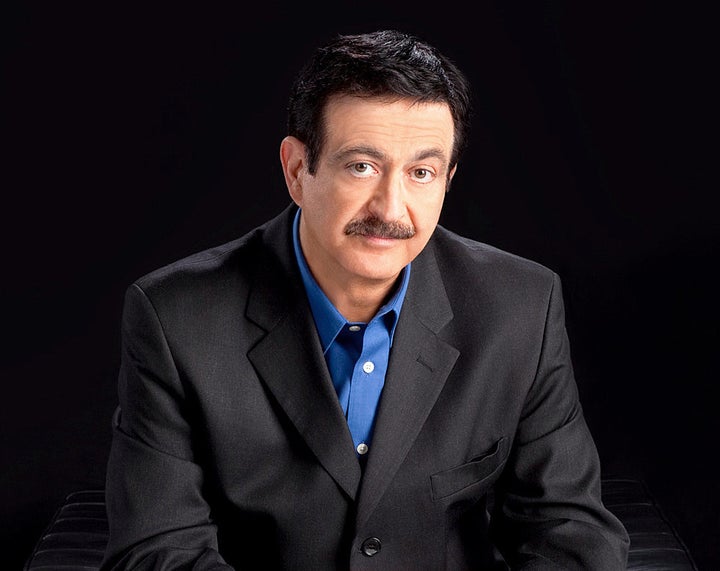 When Donald Trump speaks out about the threat of undocumented aliens, he's usually ranting about Mexicans. 
 When George Noory speaks out on aliens, he's talking about extraterrestrials and government conspiracies over UFOs.
 Noory --  the host of "Coast to Coast AM," the biggest overnight radio program in North America -- hasn't formally announced his candidacy, but he's declared that he's willing to accept a draft to run for the Oval Office in 2016.
"I think our amazing country is in deep trouble in nearly all areas," Noory told The Huffington Post in an email. "We need leadership that first and foremost develops policy to help Americans. It's time."
Noory boasts a weekly listenership of just under three million, according to Talkers magazine. But how would his Bigfoot-hunting audience react to his candidacy?
"My audience is in the millions. Alone, it won't propel me into the White House, but it sure is a great start!"
Noory is already making statements about eliminating income tax and abolishing the IRS.
"We need a dramatic change to revising our income tax," he said. "I would go to a fair tax based on a sales tax, and give Americans 100 percent use of their money and cash vouchers to those who aren't making a certain amount, to aid them."
So, just how does a popular overnight radio talk show host go about entering the presidential race? Noory says he'd consider accepting a draft to run for the highest office in the land.
"Am I running? I have no plans to run. But enough people have come forward to say, 'With your vast support, with your knowledge of affairs domestically and internationally, this may be the best time for you to make a run for the White House," Noory told independent news organization WND.
Noory, 65, would run as a Democrat, but told WND he wants to work with all political factions.
"I would have Democrats, Libertarians and Republicans in my cabinet. I want the best people for the job, because that's good management."
It's not just the weird and unusual topics that have given Noory a large radio audience and loyal followers -- he also cuts a wide swath of issues like international economics, global recession, foreign policy and nuclear weapons.
A Noory presidential candidacy wouldn't be the first by someone from the world of entertainment.
Certainly, the best example was actor Ronald Reagan, who, after governing California, went on to serve two terms as president of the United States.
Then Jesse Ventura came along. The outspoken former actor and pro wrestler won the 1999 election as governor of Minnesota. The Associated Press has suggested Ventura might consider the presidency next year.
In 2012, comedian and actress Roseanne Barr ran for president and, according to the New York Post, "came in sixth in the general election, despite only being on the ballot in three states." The Post hints that Barr may yet consider another run in 2016.
Even if Noory enters the race for the White House, how feasible is it? He's contracted with Premiere Radio Networks to continue hosting "Coast to Coast AM" through 2020. It doesn't leave a lot of time to do both jobs.
And he'd still have to find a way to entice all the people who don't listen to late night radio.
"Based on all the current candidates, I think non-'Coast to Coast' listeners would find me refreshing -- if I ran," he told HuffPost.
"My first responsibility is to my audience and my show. But who knows? I'll put a studio in the White House and do 'Coast to Coast' from there!" 
PHOTO GALLERY
Politicians and UFO Sightings
Calling all HuffPost superfans!
Sign up for membership to become a founding member and help shape HuffPost's next chapter