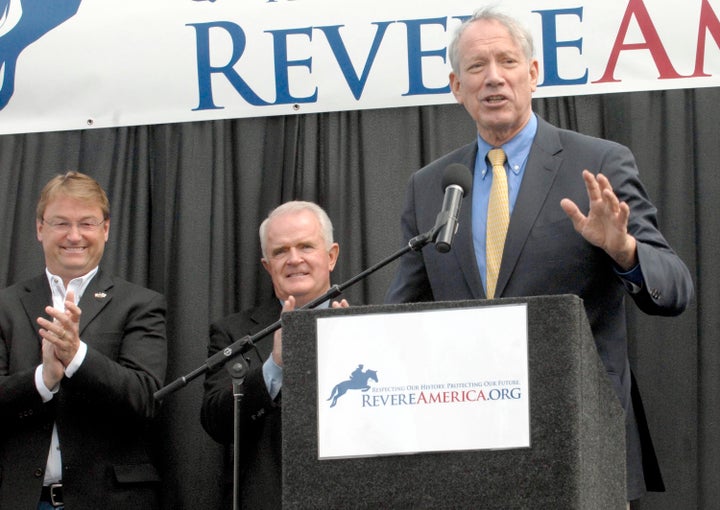 Everyone who is anyone can tell you that the GOP base doesn't care for the current slate of candidates on offer. Or, at the very least, they can tell you that elite GOP pundits and thought-havers who like to project their imaginings onto the electorate don't care for the current slate of candidates. (They like "electable" people who aren't named "Mitt Romney.")
But no one's riding in on a white horse to save the race! Paul Ryan won't do it. Chris Christie won't do it. Marco Rubio won't do it. Rudy Giuliani...welllllllll, he might do it. But at the moment, there's no savior to be had. Or so we think? Can I interest anyone in some George Pataki? Guys? Anyone?
Yes, from time to time during 2012's young campaign season, George Pataki has stumbled from the ether of obscurity, mumbled about maybe running for president, sniffed out the pungent aroma of extreme disinterest and circled back, looking for another opportunity to plant his seeds. Well, at long last, George Pataki's efforts to make George Pataki happen are getting kicked into high gear. Or, a higher gear, at least. Let's say, "second gear." Here's Michael Falcone with the scoop:
Pataki has signed on to attend a Polk County Republican Party picnic in Des Moines on Saturday and Darrell Kearney, a spokesman for the county party told ABC News late Monday night that "based on conversations with Pataki staff there is a strong possibility Gov. Pataki will get in the race, and the announcement may come Saturday."

Pataki sources did not immediately return messages seeking comment on this newest development, but earlier on Monday, a spokesman for the moderate former Republican governor had this to say about Pataki's thinking.

"I can confirm that Governor Pataki is seriously considering getting into the race," spokesman Dan Catalfamo said. "He is deeply disappointed by the failure of leadership by President Obama on the debt issue and in the lack of serious solutions being offered by the current Republican field."
So, with exquisite timing, George Pataki might do some presidenty stuff in Iowa this weekend, two weeks after most of the national political press decamped from the state at the conclusion of the Ames Straw Poll and its attendant festivities. There, he will finally offer Republicans a candidate who will talk about President Obama, and the debt!
Pataki's grand political deal was one of classic labor bargains: He engineered the conversion of Empire Blue Cross and Blue Shield in a way that would provide $1.8 billion in raises to members of the state's most powerful union, SEIU 1199.
Aw, heck, let me see if I can pick out two more things!
And he was an eclectic Blue State Republican on an earlier model than even the more orthodox Tim Pawlenty: He was as staunch a supporter of abortion rights as any Democrat, and worked as hard as any Democrat to reduce carbon emissions.
Yep. This is a campaign that might, if everything breaks its way, cut into the support that's already been generated for Jon Huntsman and Thad McCotter. That's why I hope that if this Pataki 2012 website launches, it borrows from an earlier Ben Smith post to come up with the campaign's most appropriate slogan: "George Pataki 2012: It's hard to see how this works."
Calling all HuffPost superfans!
Sign up for membership to become a founding member and help shape HuffPost's next chapter