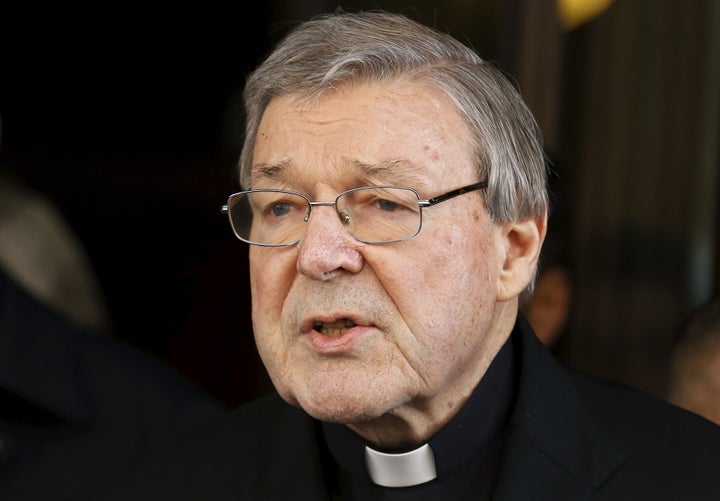 SYDNEY ― Australian Cardinal George Pell, the third-ranking official in the Vatican, has been charged over "multiple" historical sex offenses, authorities in the Australian state of Victoria said Thursday.
Pell, the most senior-ranking Catholic of Australia and the former Archbishop of Melbourne, is a top adviser to Pope Francis and is the de facto head of the Vatican's finances. Victoria Police served his legal representatives with the charges and ordered him to appear before a magistrate next month. He has lived at the Vatican since 2014.
"Today Victoria Police have charged Cardinal George Pell with historical sexual assault offenses," Shane Patton, the deputy commissioner for Victoria Police,  said at a media conference. "Cardinal Pell has been charged on summons and he is required to appear at the Melbourne Magistrates Court on 18 July this year for a filing hearing."
He continued: "The charges were today served on Cardinal Pell's legal representatives in Melbourne and they have been lodged also at the Melbourne Magistrates Court. Cardinal Pell is facing multiple charges in respect of historic sexual offenses. There are multiple complainants relating to those charges."
On Thursday, Pell held a news conference at the Vatican and denied the allegations.
"I look forward to finally, to having my day in court. I'm innocent of these charges. They are false. The whole idea of sexual abuse is abhorrent to me," he said.
Earlier this year, Pell upheld his innocence after police said they were considering whether to file charges against the cardinal over his time as a priest in the rural Australian town of Ballarat. At the time, he told reporters he would be willing to "cooperate fully" if asked to return to Australia. 
"I'd just like to restate my innocence," Pell told reporters in Rome in May, according to The Guardian. "I stand by everything I've said at the royal commission and in other places. We have to respect due process, wait until it's concluded and obviously I'll continue to cooperate fully."
At Thursday's media briefing, police declined to take any questions, and said they would not be providing further updates to the investigation.
"It is important to note that none of the allegations that have been made against Cardinal Pell have obviously been tested in any court yet," Patton said. "Cardinal Pell, like any other defendant, has a right to due process and so therefore, it is important that the process is allowed to run its natural course."
"Preserving the integrity of that process is essential to us all and so for Victoria Police, it is important that it is allowed to go through unhindered and allowed to see natural justice is afforded to all the parties involved, including Cardinal Pell and the complainants in this matter. "
Pell has been slammed for his behavior while in leadership roles in the Catholic Church, while child sexual abuse was rampant. During a recent government inquiry into child abuse within the church, he was accused of overlooking instances of abuse committed by members of the clergy.
He admitted during the inquest he was "very strongly inclined to accept the denial" of priests who disputed allegations of abuse made against them. He also said he did not remember if any children came to him personally with complaints.
"I don't remember any such thing happening and therefore I don't believe it did but my memory is sometimes fallible," he said in 2016.
Pell controversially gave video evidence from Rome instead of appearing in person in Australia during the inquiry, arguing he was too ill to travel.
REAL LIFE. REAL NEWS. REAL VOICES.
Help us tell more of the stories that matter from voices that too often remain unheard.