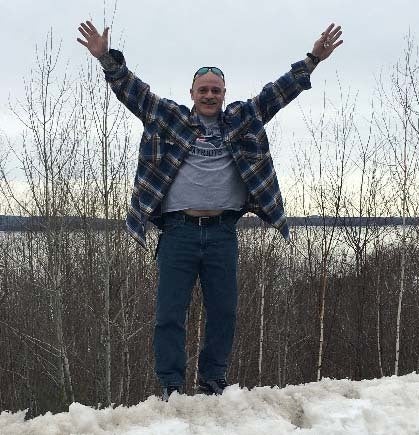 Flawed FBI forensics hair case enters fourth decade
WALTHAM, Mass. — Feb. 10 marks one year of freedom for a man who served 30 years in prison before his conviction was overturned in a nationally significant case involving flawed FBI forensics and one strand of hair. But while he works to rebuild his life, George D. Perrot continues to feel "tortured" by prosecutors, who quickly announced they would appeal the decision that set him free.
As the one-year deadline to appeal Massachusetts Superior Court Judge Robert J. Kane's decision to grant Perrot a new trial neared, Hampden County prosecutors asked the Massachusetts Appeals Court for an extension, and received a three-month extension to April 10.
One year after Perrot walked out of a New Bedford courthouse with his mother at his side, he remains in legal limbo. "This past year has been challenging," he says.
"I am still adjusting to life outside of a cage," Perrot told the Schuster Institute for Investigative Journalism. "Life as I knew it when I was locked up at 17 is nothing like life today." The Institute first began investigating Perrot's case in 2011 after, Perrot said, his numerous requests for help from various legal projects were turned down.
Between 1985 and 2003, Perrot, who was accused of raping an elderly Springfield woman, was tried, convicted, and granted a new trial twice. In both trials, the victim, who lived in the same neighborhood as Perrot, testified that he was not her assailant. Prosecutors appealed and a judge reinstated Perrot's second conviction. He was sent back to prison and spent the next 13 years, often on his own, challenging the conviction.
Perrot's fortunes changed in early 2016. In what was widely hailed as a national "first," Massachusetts Superior Court Judge Robert J. Kane overturned Perrot's rape conviction, citing new scientific evidence that an FBI analyst's testimony against Perrot, which was based on microscopic hair analysis, was erroneous and would not be admissible today because there is now scientific consensus that this method is deeply flawed. The FBI analyst had linked a single hair prosecutors said police found at the scene to Perrot. On Feb. 10, 2016, Kane released Perrot on personal recognizance.
Despite serious questions raised by scientists over many years, the FBI routinely used this method for several decades. In 2000 the FBI began to use the much more reliable mitochondrial DNA testing to identify crime scene hairs. By the time Perrot requested DNA testing of the hair in his case, officials declared the single strand in question had been lost.
Experts believe Kane's ruling marks the first time a U.S. court has made a decision based solely on the unreliability of microscopic hair analysts' testimony that went beyond the limits of science. The ruling is expected to influence jurists across the country looking at similar cases.
Perrot says he now takes advantage of the simple pleasures he desperately missed while behind bars for three decades – spending time with his mother and enjoying nature. He got his driver's license and is learning how to navigate new technology, which he describes as "an ongoing battle." In April he traveled by plane – his first flight ever – to the Innocence Network Conference in San Antonio, Texas, where he was honored along with more than 100 others whose convictions have been overturned.
While waiting for the prosecutors' next move, Perrot drives to see his parole officer twice a month and submits to drug tests. His only plans are "just to continue adjusting. I don't really think that far out."
"I do my best to put it out of my mind, but it is obviously hard," he said. "They stole the best years of my life. They know I am innocent and yet they continue to torture me. I am thankful for my team who continues to fight for me and an end to this living nightmare."
James Leydon, spokesman for Hampden County District Attorney Anthony Gulluni, did not respond to requests for comment.
Early last year, Perrot's own lawyers filed notice that they would appeal part of Kane's decision. While the judge allowed Perrot's motion for a new trial on the major charges that had led to two life sentences at his second trial in 1992, Kane denied another motion to overturn separate burglary charges from the same trial.
Kirsten V. Mayer and Christopher J. Walsh of Ropes & Gray, Perrot's pro bono attorneys, declined to comment on the appeals or estimate how long they might take.
At Perrot's 2016 bail hearing, Kane made a point of telling prosecutors he was "reasonably sure" his decision overturning the rape conviction would hold up under appellate review. He also expressed "deep skepticism that the Commonwealth's case, built on circumstantial evidence, will even withstand review under a directed verdict standard," suggesting that prosecutors lack legally sufficient evidence for a trial judge to send the case against Perrot to a jury.
Perrot says he doesn't think he'll ever truly get justice.
"They took too much," he said. "I fought for my life literally every day for years. (The inmates) tried to kill me in Walpole," a maximum security prison now known as Massachusetts Correctional Institution – Cedar Junction.
"I lost years with my family and loved ones that I will never get back. I will never have a career, kids, or a lot of other things. I just want to be left alone. I want to live my life, what I have left, without chains."
In the past four years, the FBI, the Department of Justice, the National Association of Criminal Defense Lawyers (NACDL) and the Innocence Project have reviewed close to two-thirds of the 3,000 cases the FBI identified in which FBI examiners may have submitted reports or testified in trials using microscopic hair analysis.
They uncovered erroneous testimony by FBI analysts in over 90 percent of transcripts in which analysts' testimony was used to suggest a defendant's involvement in a crime, according to NACDL attorney Vanessa Antoun. Half of the lab reports reviewed contained at least one erroneous statement, Antoun said, and 26 of the 28 FBI examiners who testified in criminal trials about their analysis of hair samples made errors, either in testimony or in an accompanying lab report.
The review includes cases from all 50 states, the District of Columbia and the U.S. Virgin Islands.
Of 35 death penalty cases reviewed by the FBI, 33 contained errors. Nine people had already been executed, and five had died waiting on death row.
"We hope that people continue to look to the Court's reasoning when addressing this (type of) evidence," Antoun said, even in jurisdictions where courts are not bound to follow Kane's ruling in the Perrot case.
"The impact of Mr. Perrot's case hopefully will continue to be felt as these cases continue to be litigated," she said.
A case timeline, court documents, video of evidentiary hearings and more information are available on the Schuster Institute website.
Popular in the Community