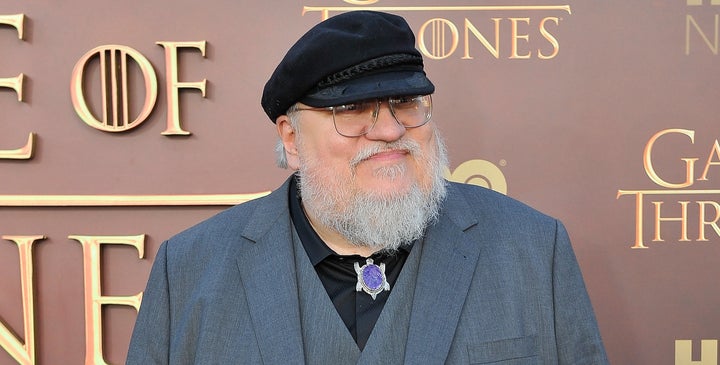 "For me, Lady Liberty and the words on her base represent the best of what this nation of immigrants is all about," Martin wrote.  
"One has to wonder if all the governors (including our own governor here in New Mexico, I am ashamed to say) and congressmen voting to keep out the Syrian refugees have ever visited the Statue, or read the words on her base," he continued. "If so, they surely failed to understand them."
Martin also specifically called out Donald Trump, who has been one of the most outspoken opponents of taking in refugees over the past month, saying that he and the 31 governors who agree with him "have it wrong, wrong, wrong."
"The Syrian refugees are as much victims of ISIS as the dead in France," he wrote.
But Martin's feelings on this issue clearly go deeper than that; he's been exploring similar ideas in his fiction for years. (Spoilers ahead!)
One of the major debates Jon Snow faces in A Dance With Dragons -- and on Season 5 of HBO's hit show -- is whether to allow the Wildlings into Westeros. As Lord Commander of the Night's Watch, he favors letting them through and allowing them to settle in The Gift, a sparsely populated region directly south of the Wall that's owned by the Night's Watch. But many of his Night's Watch brothers strongly disagree, arguing that the Wildlings are too dangerous and unpredictable to live in the Seven Kingdoms. 
The Wildlings' desire to move south, unlike Mexican immigrants' desire to move north, isn't really motivated by economics. They want to escape the White Walkers, just as Syrian refugees want to escape ISIS. And the objections of Ser Alliser Thorne and his cronies are, likewise, more about security concerns than about economics. Almost no one lives in The Gift, which is pretty barren to begin with. 
To be sure, the two situations are different in plenty of ways. The Seven Kingdoms never purports to be welcoming to immigrants, for example.
Still, Jon Snow's most persuasive argument in favor of granting amnesty to the Wildlings could also be helpful in the real world. He argues that letting the Wildlings go south of the Wall could actually make the people of Westeros safer by reducing the number of people available for the White Walkers to turn into ice zombies Wights. By the same token, letting more Syrian refugees emigrate to the United States could prevent some of them from being tempted to aid ISIS.
The point that Trump and Ser Thorne are missing, but that Martin and Snow express so eloquently, is that the refugees aren't the real enemies. The real enemies are the merciless forces that the refugees are fleeing. 
PHOTO GALLERY
Images Show How Syrian Refugees Live And Why They Left
Calling all HuffPost superfans!
Sign up for membership to become a founding member and help shape HuffPost's next chapter