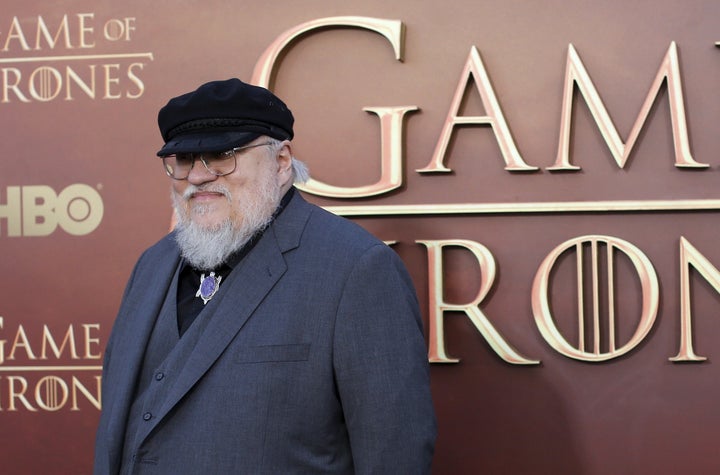 A new tale of Westeros is coming ― but not the one many fans have been waiting for.
An Amazon listing has been created for a fantasy anthology, The Book of Swords, edited by Gardner Dozois, slated to publish in October. The still-slight description of the book advertises "[f]ifteen original tales celebrating fantasy's golden age of sword and sorcery," and specifically promises a tale from "George R.R. Martin set in the world of A Game of Thrones!"
Sounds like a cool bonus ― an unexpected original story for A Song of Ice and Fire buffs. Just one problem: Readers are still waiting, some more patiently than others, for Martin to deliver the next volume in the Song of Ice and Fire series, The Winds of Winter. Apparently, though, he took a bit of a break to contribute a story to The Book of Swords. The last published installment of the series, A Dance With Dragons, came out in 2011.
Martin comes by his tantalizing pace honestly; though the first three books in the series were published in the space of four years, five years passed before the fourth book appeared, and another six years before A Dance With Dragons. But Martin has also teased fans with occasional hints that the new book would soon be finished ― only to repeatedly announce delays on the book's delivery. Earlier this month, he revealed that he thought the book would "be out this year," adding, "(But hey, I thought the same thing last year)."
In the past, Martin and his fans have clashed over his seemingly interminable writing schedule. He has blamed distractions such as junkets, increased demands on his time due to his fame, and writer's block for his slow pace. Accordingly, some readers have closely observed his travel schedule and other commitments for evidence that he's being pulled away from writing their long-awaited book.
So what's with Martin contributing a story to an anthology instead of pouring 110 percent of his time and energy into The Winds of Winter? Everyone, stop asking him to do other things ― he's made it pretty clear he's not a great multitasker. No more invitations to Dubai, no more Jets training camp, no more cool anthologies or convention appearances. Let the poor guy buckle down and finish that book.
And in the meantime, at least we can all enjoy some fresh Game of Thrones content, thanks to this anthology. Now, to wait for October to come.
UPDATE: On Tuesday, Martin posted an update to his LiveJournal addressing the news about his upcoming anthology story, writing that it will be "[a] history rather than a traditional narrative. [...] But if you're fascinated by the politics of Westeros, as many of my readers seem to be, you should enjoy it."
He explained that the story, entitled "The Sons of the Dragon," "chronicles the reigns of the second and third Targaryen kings, Aenys I and Maegor the Cruel, along with their mothers, wives, sisters, children, friends, enemies, and rivals."
Martin also defended his role in the anthology, which will, barring any surprises, come out prior to The Winds of Winter, as a minor role. Contrary to any rumors, he wrote, he did not co-edit The Book of Swords with Dozois, with whom he has edited several other collections. "The anthologies, much as I loved them, were taking too much of my time," he wrote, "so I stepped back from them ... until I finish The Winds of Winter."
REAL LIFE. REAL NEWS. REAL VOICES.
Help us tell more of the stories that matter from voices that too often remain unheard.
BEFORE YOU GO
PHOTO GALLERY
If Politicians Were 'Game Of Thrones' Characters