The National Bobblehead Hall of Fame and Museum store in Milwaukee recently announced it's selling two versions of Rep. George Santos (R-N.Y.) — a regular one and a second featuring the compulsive liar with the long nose that Pinocchio, the classic fairy-tale character, grew whenever he lied.
The store has been inundated with calls for a George Santos bobblehead, and some are already calling it an "early candidate for Bobblehead of the Year," store co-founder and CEO Phil Sklar goofed in a statement to HuffPost.
The Santos bobbleheads will play clips of some of Santos' biggest lies in his own words, promises Sklar.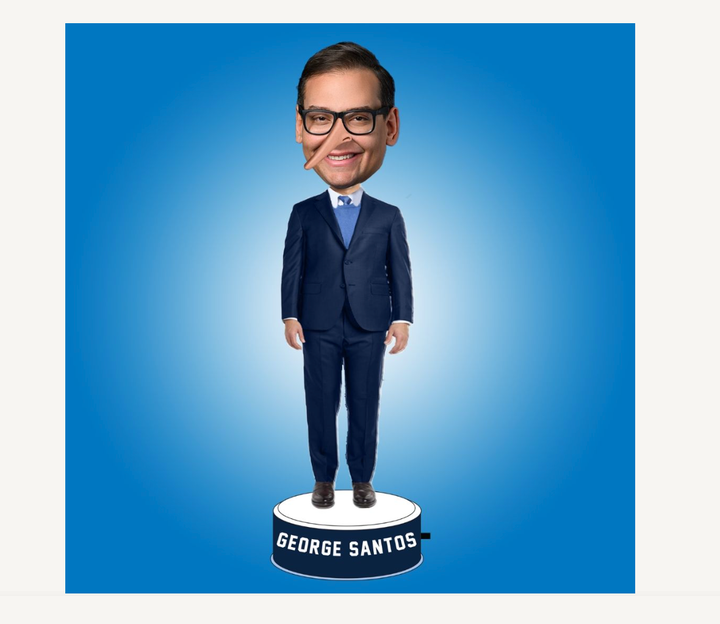 Santos has lied about his heritage, family, education and work experience, and has provided suspicious information about campaign finances — which now appear to be the focus of an investigation by the U.S. Justice Department.
He has ignored calls for his resignation, even from Republicans in his district, and has claimed he merely "embellished" his résumé.
Sklar insists that the Hall of Fame Santos bobbleheads — expected to be ready for shipping in May — are the first featuring the controversial lawmaker.
The operation has promised to donate $5 of every $30 Santos bobblehead sold to "dog-related GoFundMe campaigns." That's because Santos has been accused of taking off with funds he helped raise for surgery to save the life of the service dog of disabled Navy veteran Rich Osthoff.
Without the donated funds, Osthoff could not afford the surgery, and his dog died. Santos has denied the accusation, but the FBI is investigating.
Popular in the Community