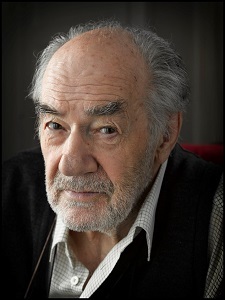 Conjure up the subtle combinations of Dutch and French accents spoken in his excellent English, peppered with the grainy mustard of age and the knowingness of time. His storytelling, no less rich in detail than his filmmaking, referencing memories of his past like pages from a book. I have known George for years during my time entering, exiting, and re-entering the film business, but will know him better than all the years accumulated in the next four hours as he tells me about many things. And when I say goodbye, after taking him by wheel chair to his hotel room, where he will say something charming and beautiful to me, I will be very sad, feeling a burden in my heart. Will I see him again?
Death can be so sudden, as it was for 23-year-old River Phoenix. He was in the middle of shooting "Dark Blood," in the beginning of a terrifically good burgeoning acting career. A story of a rich and famous movie couple who get stuck in the desert in their Bentley, only to be kidnapped by River Phoenix's psychotic, sexually-obsessed, reclusive character as he becomes wildly infatuated with the wife, played by Judy Davis, while trying to do away with Johnathan Pryce, her husband.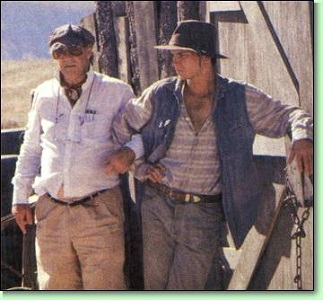 One evening during the shoot in 1993 while at a party of a friend, someone slipped drugs into River Phoenix's drink which killed him; at the time he was the breadwinner in the family. Leaving "Dark Blood" in the RED, filming shut down and the insurance company took over, thinking that they would be able to get the money back from Phoenix's estate within a few weeks. Considered unfinishable without one of its leads, the film was put into storage for a long, long time...
Born in France in 1932 of Dutch Jewish and Norwegian Christian parents, George Sluizer is a war child; like so many war babies he lived in a dangerous world. Once, as a small boy, he kicked a Nazi who had grabbed him on the street, and ran away, escaping what could have been his own too early demise.
His family was forced to move at least 10 times and his father helped many Jews escape from Holland and Belgium to Portugal where they could board a ship to America or England. As things became worse George's father was forced to flee across the Pyrenees. He was able to finally bring his family over to England where George would have to suffer, in what he calls "his own private concentration camp," at the hands of teachers who could not be fired for lack of replacements because of the war. There was the horrendous head mistress who would hold young boys' heads under water threatening to drown them during bath time, and his degenerate male teacher who nearly took his head off during a sadistic ear spin around the room. Those are the only ones we discussed, but I am sure there were others. After the war he joined the Merchant Navy at 17. While looking at his handwriting George decided it would be better to use his visual skills and like the rest of his family do something artistic. He initially chose cinematography.
George was accepted into the exclusive Institut des Hautes Etudes Cinématographiques, (IDHEC) in Paris, which later became La Femis. He was taught by some of the most outstanding filmmakers of the last century when, he tells me, "film was about the story, no slick special effects, and the vitality of the story was not compromised by speed." Renoir, Resnais, the mime Marcel Marceau, Yves Allégret, Jacques Becker, and Jean Rouch were just some of his teachers. Only ten French and ten foreign students were accepted in each school year. "No tricks, people living lives reacting to each other, that is my motivation when I do films."
His classmates were Louis Malle and Serge Bouruignon, and he was part of the Nouvelle Vague, also known as the New Wave, in Paris, often inspired by his colleagues Eric Rohmer, Francois Truffaut, Jean Luc-Godard. That time was about being freer, improvising...REALITY. He loved the work of the great Antonioni and subsequently was asked by him to direct a project after the great Master suffered a massive stroke in the 80s. Ultimately it wasn't meant to be. The title of George's "Red Desert Penitentiary" is inspired by Antonioni's film title, "Red Desert."
"'Red Desert Penitentiary' was done purely with amateurs, who were great! We got by on little money. There was a scene in the script of wild horses running through the water, but because we were not near any bodies of water I suggested that the horses run through a swimming pool. People thought this was genius and they read all sorts of meanings into it that were nonsense. But it worked!" George tells me with a smile.
Of the many films which he directed and produced, "Utz" was his favorite because of the cast: Armin Mueller-Stahl, Brenda Fricker, Peter Riegert, and Paul Scofield. Based on the novel by Bruce Chatwin, it was the story of a prodigious deceased fine porcelain collector, Baron Von Utz, and a desperately obsessed porcelain dealer. The way Armin used the figures and the camera embraced the shadows was wonderful. It is a visually charming film."
George is tough and very much a realist. There is no romanticizing of the mystical nature of life and death in his work. Not to say he is not spiritual, as he made clear to me. He is simply not religious, nor does he believe in fairytales. "When you die you die. When I die it will be the same as before I was born, nothing. Don't forget I came from the generation who read Camus and Sartre." He is European and doesn't hold the puritanical, pain-free views of Americans, who need happy endings.
George had an aneurism a few years ago while riding racing bikes with his family in the mountains of France. Suddenly images echoed in front of him: everything morphed into double undulating shapes in his path and he was flat on the ground. Leaving their bikes behind, his son carried him down the mountain and though he was pronounced dead, one young doctor felt he had some light behind his eyes and insisted that he be taken to another facility where they would have an absolutely conclusive verdict. It was Christmas, so the ambulance drivers were not happy they had to take a corpse for a long five-hour car trip for further evaluation. They talked about dumping him by the side of the road. All the while George could hear them.
This is ironical to say the least, easily becoming a real life satire of his 1988 hit thriller, "The Vanishing," a film which Stanley Kubrick called to congratulate him on, to say, "'The Shining' was just child's play" compared to George's film. "He truly succeeded in making something suspenseful," Mr. Kubrick told him, "which I didn't do as well with 'The Shining.'" They talked for weeks on end about film, intimately comparing notes. George would redo the film for Hollywood, which would turn out to be a mistake, as many independent filmmakers often find.
"Once the studio gets involved, the whole thing becomes less about the film and more about the money," he explains with a grimace. Few times have I seen Jeff Bridges on the screen and wanted to turn my head away from embarrassment. "The Vanishing" with a happy ending?! It's like two men dueling for a woman's honor with guns that shoot flags that say "BANG," and no bullets.... So, his 1993 American breakout film was a disappointment, but his Dutch film will always remain genius. Watch them both, then you can evaluate and write the appropriate letter to 20th Century Fox.
George's temperament is not for the faint of heart, he has been called everything from a communist to a fascist to goodness knows what else by his critics and colleagues, even those whom he produced movies for. "Just because someone is a difficult person and politically minded doesn't mean they cannot be brilliant, but that is why sometimes people are hesitant to work with socially troubled people. I am not." He has produced films for just such brilliant directors who nobody else would work with.
Is it any wonder that when he got a call from the warehouse where "Dark Blood" was kept quietly in the shadows for the last 20 years and told it was about to be destroyed that somehow the film disappeared from its Draculean resting place before a match could touch the celluloid? Somehow it ended up in Europe, 600 kilos, (1400 pounds) of film elements, all the way from California to France, a whale-like cargo mysteriously finding its way back to mother. He sold everything, paintings, property, etc., and finished it while ill, all with his own money. Since River Phoenix couldn't finish it, George narrated the missing bits. It seems all the more poignant: time stopped for River Phoenix on Halloween 1993 and picked up once again for premieres on screens in New York and Los Angles in 2013, thanks to an extremely tenacious filmmaker. (Jan Kennis and Gabri Christi of the Dutch Consulate, and old friend producer, Bruce Weiss of Ironworks Productions, all of whom pushed forth like linebackers.)
At 81 years old, I am seriously impressed, not only with George, but with Anne, his extraordinary wife of 60 years, who has endured countless dramas and worked from time to time with him, because she knows he has to do it. Most artists cannot help doing what they do, because something greater than themselves drives them. The resolute ones anyway...
I asked Nick Stilidas of Cinemavault International Releasing, who picked up "Dark Blood" for the international sales market, about his thoughts on the film. "Being involved in 'Dark Blood' is like finding a time capsule that brings me back to a filmmaking era that was special, and River represents all that. George finishing the film has been a labor of love, inspired by that time. Being involved has been therapeutic for me, renewing my indie spirit, and gives me hope that very soon all these various distribution platforms will come together and open the doors for a resurgent indie scene."
I asked George if he thought he would ever make another film. "I doubt it," he said, "illness and age pretty much prohibit that possibility from occurring again." But then you never know: he's still got it. We could meet again.
It's a good film! Unusually well done, without feeling incomplete, it works! See it: "Dark Blood," by George Sluizer, aka "A Labor of Love."
REAL LIFE. REAL NEWS. REAL VOICES.
Help us tell more of the stories that matter from voices that too often remain unheard.