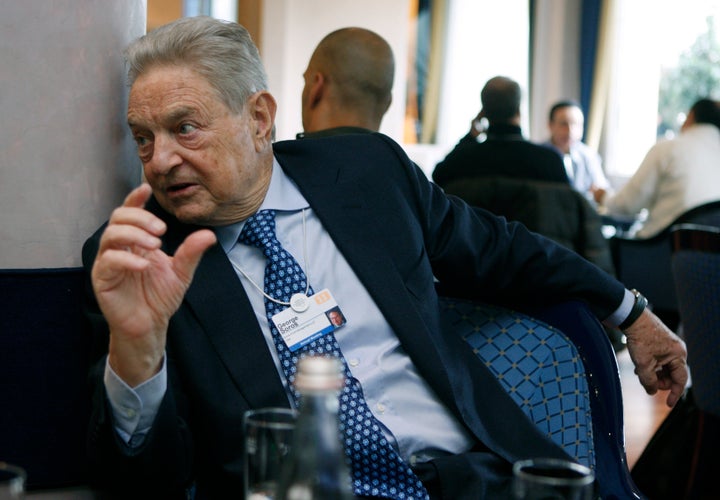 NEW YORK/BOSTON (By Frank Tang and Aaron Pressman) - Billionaire financier George Soros, who called gold "the ultimate bubble," dumped almost his entire $800 million stake in bullion in the first quarter, well before a commodities slump blamed partly on reports he was liquidating his holdings.
Famed gold bull John Paulson held his ground, but Soros was joined in the retreat by several other big names, including Eric Mindich and Paul Touradji, according to 13-F filings with the U.S. Securities and Exchange Commission that provide the best insight into where hedge funds are placing their bets.
Soros, who has been bullish on gold in the past several years, cut his holdings in the SPDR Gold Trust (GLD.P: Quote, Profile, Research, Stock Buzz) to just $6.9 million by the end of first quarter, compared with $655 million in December, becoming the most high-profile investors to turn his back on one of the market's best-performing assets.
He also liquidated a 5 million share stake in the iShares Gold Trust (IAU.P: Quote, Profile, Research, Stock Buzz), the filings showed. His total holdings in gold-backed ETFs was $774 million as of December.
Gold rose for a tenth consecutive quarter in the three months to March, hitting record highs above $1,400 an ounce, buoyed by political turmoil in the Middle East and North Africa and lingering worries about indebted European countries.
The gains accelerated in April, but peaked at the start of this month, reaching a record $1,575 an ounce on May 2.
Prices have since fallen more than 5 percent amid the biggest commodities slump since late 2008, a move partly triggered by a Wall Street Journal report that Soros' $28 billion fund was selling precious metals -- and felling fears other big funds were also seeing a peak.
Eric Mindich, who runs the Eton Park Capital Management, nearly halved his stake in the SPDR gold trust to $326 million for the first quarter, a filing showed on Monday.
Mindich's fund also owned $839 million worth of call options by the end of first quarter, compared with $1.1 billion worth of put options at the end of the fourth quarter.
Touradji Capital Management, one of the world's largest commodities-oriented hedge funds run by Paul Touradji sold 173,000 shares in the SPDR Gold Trust during the quarter. Those shares would be worth about $25 million at current prices.
But John Paulson, who notched the industry's biggest ever payout last year, kept his 31.5 million share or $4.4 billion stake in the SPDR fund, remaining the biggest shareholder of the world's largest gold-backed exchange traded fund for the quarter, according to regulatory filings.
The sales make sense given that Soros said he had bought gold because he was worried about deflation, said Mark Luschini, chief investment strategist at Janney Montgomery Scott in Pittsburgh.
"It's pretty hard to make the case for deflation right now so if that was a reason you were buying gold, you should take this signal from Soros," he said.
Inflation is now the greater concern, Luschini said. So most investors should still keep about 3 percent to 5 percent of their assets in gold to protect against inflation and possible further problems in the world financial system.
Soros also slashed stakes in gold and silver mining companies during the first quarter. The firm owned 1.4 million shares of Kinross Gold (K.TO: Quote, Profile, Research, Stock Buzz) at the end of the quarter, down from 4 million shares three months earlier. Holdings in Novagold Resources (NG.TO: Quote, Profile, Research, Stock Buzz) dropped to 3.5 million shares from 12.9 million.
Gold ended the first quarter little changed, as the spot gold prices were only $10 higher to end at $1,430 an ounce on March 31, and the SPDR Gold Trust was up 1.3 percent.
In the second quarter, gold hit a record high $1,575.79 an ounce on May 2 fueled by the outlook of low U.S. interest rates.
So far in the second quarter, SPDR Gold Trust's bullion holdings gained only about 1 percent to 1,229 tonnes as of Friday, well below its record high at 1,320.436 tonnes set on June 29 last year.
Institutional investment managers are required to file form 13-F with the SEC within 45 days after the end of each quarter.
(Reporting by Frank Tang, editing by Andre Grenon)
REAL LIFE. REAL NEWS. REAL VOICES.
Help us tell more of the stories that matter from voices that too often remain unheard.