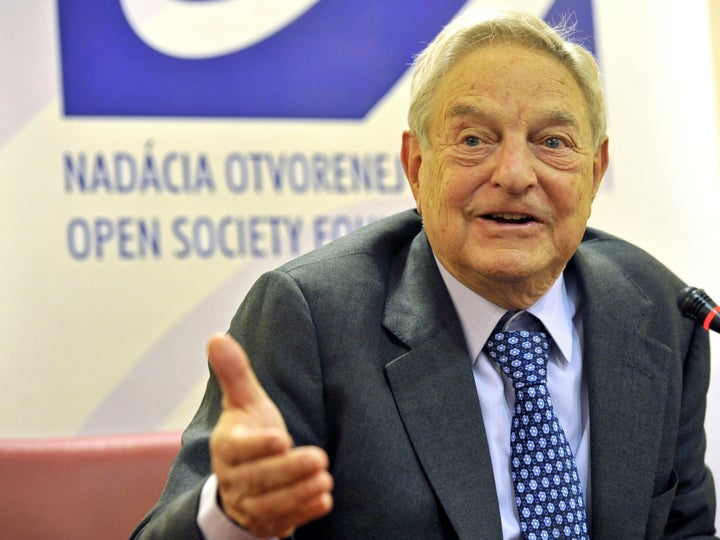 Safe to say George Soros isn't scared off by a little risk.
The billionaire investor bought about $2 billion worth of European bonds formerly owned by now-bankrupt MF Global -- the same debt that pushed the firm to collapse, according to The Wall Street Journal. KPMG, MF Global's bankruptcy administrator in London, offered the firm's leftover European debt to a variety of big investors and most passed, but Soros decided to buy, getting the bonds at below market price.
MF Global filed for bankruptcy on October 31 after its risky position on European debt pushed the firm to collapse. Jon Corzine resigned as the MF Global CEO shortly after its fall and the company got rid of more than 1,000 employees. Corzine ducked responsibility for the collapse in Congressional testimony yesterday, while admitting that he didn't know where customers' missing money is.
This is far from the first big risk taken by the 81-year old Soros. He garnered fame for his risk taking when in 1992 he risked $10 billion on a single bet against the British pound and turned out to be right.
Soros, who has an estimated net worth of $14.2 billion, returned an average 30.5 percent per year on his investments between 1969 and 2000, according to Seeking Alpha. The billionaire investor even took home an 8 percent in 2008, a notoriously bad year for hedge funds.
Investors put such weight on Soros's decisions that his investments have the ability to move markets. He dumped almost all of his $800 million stake in gold in the first quarter of this year as some other hedge funds did the same. A commodities slump followed later in the year, which some blamed in part on reports that Soros was liquidating his holdings.
But Soros isn't the only famous billionaire making seemingly risky bets. Warren Buffett's Berkshire Hathaway invested $5 billion in Bank of America in August in exchange for special shares of stock. After the deal was announced, BofA's stock priced surged, signaling that investors saw Buffett's move as a vote of confidence in the bank.
Calling all HuffPost superfans!
Sign up for membership to become a founding member and help shape HuffPost's next chapter
BEFORE YOU GO