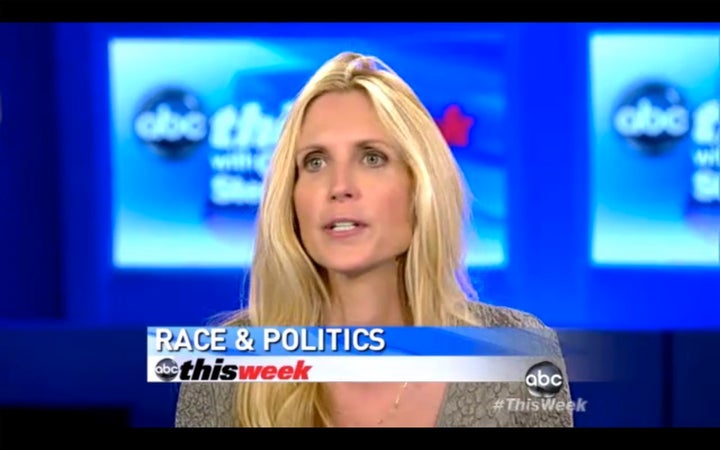 When you put Ann Coulter on TV, she may say something provocative. She is also guaranteed to say something offensive, tasteless, and meant only purely to provoke controversy. These are not the same thing.

George Stephanopoulos, host of ABC's This Week, appears to have forgotten the difference between provocative discussion and straight-up trolling.

Last Sunday, This Week invited Coulter to participate in a roundtable discussion for the third time this year. Reliably, Coulter managed to fit as many ignorant and insulting statements as she could in her time on national television while shamelessly plugging her latest book. She announced that civil rights are only "for blacks" - not for "gay rights groups, those defending immigrants, and feminists." She continued, "We don't owe the homeless. We don't owe feminists. We don't owe women who are desirous of having abortions, or gays who want to get married to one another."

We could spend our time countering Coulter's anti-gay, anti-immigrant, anti-feminist, anti-homeless rant, but that would be a waste of time. Her cheap attempts at provocation have kept her in the public eye for years but have never, as far as I know, led to a productive discussion. Her attacks on 9/11 widows, women voters, abortion providers, Jews and Muslims are not designed to start an honest conversation. Instead, they were shameless attempts at self-promotion at the expense of decency and civility.

Is there any other commentator who's invited to "mainstream" talk shows simply to hurl ignorant insults?

Coulter is the epitome of the false "balance" the mainstream media is trying to bring to political debate, treating right-wing conspiracy theories and animosities as just the "other side" of the news. Coulter's not presenting anyone's "side." She's just talking trash and calling it an opinion.

If Stephanopoulos wants his show to be taken seriously, he should stop inviting Coulter to spew her poison of the day on national TV. I don't know if it helps his ratings. But it certainly doesn't help him present an honest and provocative discussion of the week's news.
Related
Popular in the Community