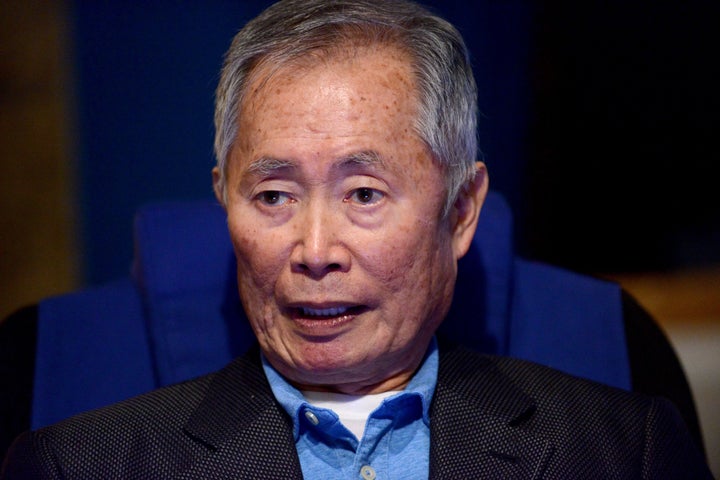 Brunton, then 23, told the news outlet that Takei groped him without his consent during an evening in the actor's condo in 1981. Brunton was just begining his career when he met Takei, who was in his mid-40s, saying the men had exchanged numbers and would occasionally run into each other. After breaking up with his boyfriend, Brunton said, he was invited by Takei to dinner and a show. 
"He was very good at consoling me and understanding that I was upset and still in love with my boyfriend," Brunton told The Hollywood Reporter. "He was a great ear. He was very good about me spilling my heart on my sleeve."
Brunton said he was invited back to the "Star Trek" actor's home for a drink, and that's when Brunton says the assault happen. After Brunton's second drink at the condo, he said, he began to feel disoriented and dizzy, then passed out.
"The next thing I remember I was coming to and he had my pants down around my ankles and he was groping my crotch and trying to get my underwear off and feeling me up at the same time, trying to get his hands down my underwear," Brunton told The Hollywood Reporter. "I came to and said, 'What are you doing?!' I said, 'I don't want to do this.' He goes, 'You need to relax. I am just trying to make you comfortable. Get comfortable.'" 
Takei's representative did not immediately respond to HuffPost's request for comment. Attempts to contact Brunton were not successful.
Brunton said that the incident left him feeling betrayed. He said he told multiple friends about the incident, thinking the media wouldn't believe his story, but thinks things have changed recently.
Brunton's accusations come in the wake of numerous allegations of sexual misconduct by Hollywood celebrities, including industry mogul Harvey Weinstein, actor Kevin Spacey and comedian Louis C.K. The former model says it was actually Takei's comments after the Spacey accusations that made him come forward publicly.
Spacey, as part of his initial statement in response to Rapp's accusation, said he chose to "live as a gay man," a move that Takei and many others saw as an attempt to distract attention from the allegation.
"When power is used in a non-consensual situation, it is a wrong," Takei told The Hollywood Reporter in October. "For Anthony Rapp, he has had to live with the memory of this experience of decades ago. For Kevin Spacey, who claims not to remember the incident, he was the older, dominant one who had his way. Men who improperly harass or assault do not do so because they are gay or straight — that is a deflection. They do so because they have the power, and they chose to abuse it." 
Calling all HuffPost superfans!
Sign up for membership to become a founding member and help shape HuffPost's next chapter
BEFORE YOU GO