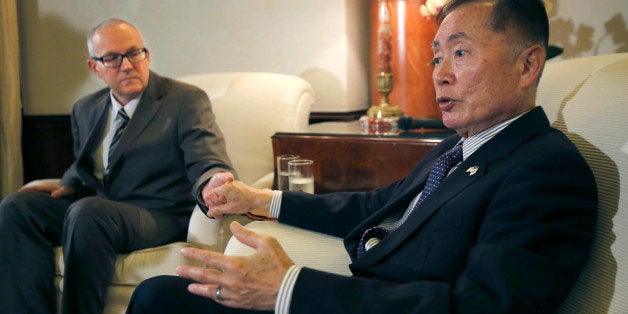 George Takei has apologized for referring to Supreme Court Justice Clarence Thomas as "a clown in blackface."
In a Facebook update posted on Friday afternoon, Takei said, "I owe an apology. On the eve of this Independence Day, I have a renewed sense of what this country stands for, and how I personally could help achieve it."
"He is a clown in blackface sitting on the Supreme Court," a jolted Takei said. "He gets me that angry. He doesn't belong there."
The majority opinion, written by the court's liberal justices Anthony Kennedy, Ruth Bader Ginsburg, Elena Kagan, Stephen Breyer and Sonia Sotomayor, determined that the right to marry is protected under the 14th Amendment.
The dissenters -- Chief Justice John Roberts, joined by Justices Antonin Scalia, Samuel Alito and Clarence Thomas -- disagreed, calling it unconstitutional.
"Slaves did not lose their dignity (any more than they lost their humanity) because the government allowed them to be enslaved," Thomas wrote. "Those held in internment camps did not lose their dignity because the government confined them."
This hit a chord with Takei, whose family was interned by Americans during World War II. Takei clarified that his remarks about Thomas, who is black, were not meant to be racial.
I recently was asked by a reporter about Justice Clarence Thomas's dissent in the marriage equality cases, in which he wrote words that really got under my skin, by suggesting that the government cannot take away human dignity through slavery, or though internment. In my mind that suggested that this meant he felt the government therefore shouldn't be held accountable, or should do nothing in the face of gross violations of dignity. When asked by a reporter about the opinion, I was still seething, and I referred to him as a "clown in blackface" to suggest that he had abdicated and abandoned his heritage. This was not intended to be racist, but rather to evoke a history of racism in the theatrical arts. While I continue to vehemently disagree with Justice Thomas, the words I chose, said in the heat of anger, were not carefully considered.
Takei apologized for personally attacking Thomas instead of the content of his argument:

I am reminded, especially on this July 4th holiday, that though we have the freedom to speak our minds, we must use that freedom judiciously. Each of us, as humans, have hot-button topics that can set-us off, and Justice Thomas had hit mine, that is clear. But my choice of words was regrettable, not because I do not believe Justice Thomas is deeply wrong, but because they were ad hominem and uncivil, and for that I am sorry.

I owe an apology. On the eve of this Independence Day, I have a renewed sense of what this country stands for, and how I...

Posted by George Takei on Friday, July 3, 2015
Calling all HuffPost superfans!
Sign up for membership to become a founding member and help shape HuffPost's next chapter
BEFORE YOU GO
PHOTO GALLERY
Supreme Court On Marriage Equality