As the world commemorates the 69th anniversary of the Hiroshima atomic bombing on Wednesday, activist and actor George Takei is spreading a message of peace.
In the video above, the Japanese-American actor -- known for his past role in "Star Trek" and today as a social media icon -- shares solemn reflections of Aug. 6, 1945. On the day the U.S. dropped the bomb on the Japanese port city, Takei was 8 years old and imprisoned in an internment camp in California. He would later learn he lost relatives in the blast.
He is shown in the video visiting Hiroshima with his husband, Brad Takei, paying his respects.
"It's always compelling, haunting, beautiful and unspeakably sad. It is also a place fervently committed to peace," Takei says.
He pays tribute in the video to the Hiroshima Peace Memorial Museum where, among other displays, there is a wall of letters of protest written by every mayor of Hiroshima since 1968. The letters are addressed to leaders of countries that still possess nuclear arms.
Takei, known for his exploration of technology and trends, points out in the video that the bombing was "man's worst use of technology."
Takei talked about how after Japan bombed Pearl Harbor in 1941, he was one of thousands of Japanese-Americans taken to internment camps across the U.S. simply because of their ethnicity.
He said they were eventually released once the war was over and that he and his family ended up on Skid Row in Los Angeles. Takei said in the talk that his experience helped make the person he has become today:
"I am dedicated to making my country an even better America, to making our government an even truer democracy, and because of the heroes that I have and the struggles that we've gone through, I can stand before you as a gay Japanese-American, but even more than that, I am a proud American."
Clarification: An earlier version of this story said George Takei is Japanese. He is Japanese-American.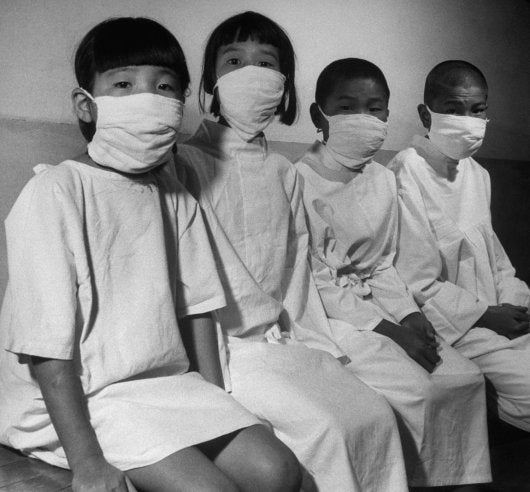 After The Bomb
Popular in the Community