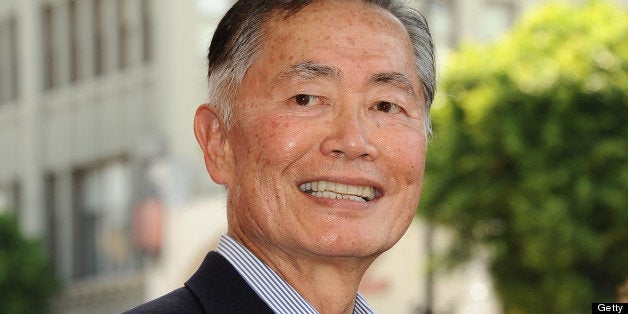 Decades ago George Takei was warping through space aboard the USS Enterprise on the legendary television series "Star Trek."
Lately he's been embarking on some new journeys as an LGBT rights activist and the unofficial "King of the Internet."
With over four million fans on Facebook and over 700,000 followers on Twitter, the beloved actor is a social media force to be reckoned with and he uses his magnificent reach to champion lesbian, gay, bisexual and transgender causes.
In honor of LGBT Pride Month, the Huffington Post caught up with Takei to chat about everything from his time on "Star Trek" to guest starring in a comic book with Archie Comics' first gay character to bringing his new musical to Broadway and more.
The Huffington Post: You wrote a blog about Jodie Foster's speech at the Golden Globes and how celebrities should come out. When celebrities (or anyone, really) talk about coming out they describe it as "liberating." Did you find it that way? How did your life personally and professionally change once you came out?
George Takei: I decided to come out to the press after then-Governor Schwarzenegger vetoed legislation granting marriage equality in California. I was outraged that he would cave to political pressures, but also inspired by the young people I saw demonstrating against his actions. In many ways, my decision to come out changed the course not only of my personal life, but of my professional one as well. As a visible spokesperson for equality, I was no longer simply "that guy from Star Trek" but one of the few out, and outspoken, gay actors of the time. It gained me an LGBT following I didn't formerly have, which together with my sci-fi base, formed a peculiar and wonderful combination. My "nerdy and campy" reputation grew from that.

Your musical "Allegiance," about the Japanese American internment camps, had a successful run in San Diego and is now headed to Broadway. Did you think that it would be such a success? What do you think piques the audience's interest about this "forgotten" chapter of American history?
It has long been a dream of mine that this important story one day would be told on the great American stage of Broadway. In fact, I've dedicated much of the latter half of my life to ensuring the story of the internment is known. I was one of the founders of the Japanese American National Museum in Los Angeles. Four years ago I met the creators of "Allegiance" -- Jay Kuo and Lorenzo Thione -- by complete chance at the theater. When I shared my story with them, I believed they could sense my passion for the subject. They came to Los Angeles and I took them on a tour of our museum, and, together, we embarked upon the development of the show. I never knew for certain that we would be able to bring the show to fruition, but we have moved forward as a team with a strong sense of historical imperative. Last fall, we completed a record-breaking out-of-town tryout at The Old Globe Theater (smashing its 77-year box-office record), and, now, we are steaming on to Broadway. It is exhilarating.
I believe audiences connect with this story because it's a family story. Even though the characters have Asian faces, audiences of all backgrounds relate to their love for each other, their struggle, their triumphs. It's true that many audience members, especially those educated east of the Mississippi, have never heard about this part of our nation's history. But even those who are aware of it actually know very little beyond the mere fact that it happened. We like to say of "Allegiance" that it's "The Story You Never Knew, The Family You'll Never Forget." It is a privilege to help bring this story to light.

It's safe to say you're one of the most popular celebrities on Facebook and Twitter. You've said you love social media -- you even write reviews on Amazon. What is it about social media that you love? Did you ever think that you would become such a celebrity in the online world, even to those who aren't Trekkies?
Social media affords me an opportunity to interact with fans on a daily basis, not just for a few seconds apiece at a science-fiction convention. I started posting online largely in the hope of bringing more attention to my musical "Allegiance" and also to spotlight some causes that are near and dear to my heart, such as LGBT rights and marriage equality. I discovered early on, however, that if I shared some material that I found funny, people came back for more. So the "funnies" became the reason the fan base grew. Was I surprised? Yes. I'm still astonished today at the numbers, but even more delighted that a whole generation of younger fans who never even saw me in the original "Star Trek" series can interact with me on such a familiar, casual level.
What has been your most surprising encounter via social media? Most satisfying?
One encounter that springs to mind is when I posted two pictures of actor Ed O'Neill holding a newspaper. Now, the first picture was from his "Married… with Children" series 20 years ago, and the second was from "Modern Family" airing today. The amazing thing, it was the same newspaper. The props department had been using that same paper -- identifiable by its headline -- for over 20 years. But, that wasn't the end of it. Ed took a picture of himself with an iPad showing my Facebook page, where I'd posted those side-by-side pictures of him. Fans were agog. Ed O'Neill reads GeorgeTakei's Facebook page -- and took a selfie to boot. It was like stepping into an alternate universe. It is the sort of epic thing the internet can do to connect people across time and context.

You are speaking at Elliott Masie's Learning 2013 conference in Orlando in November, along with other speakers such as Hillary Clinton. The conference website says you will discuss how social media has changed storytelling. How do you think social media is influencing or aiding people who are considering coming out?
Back in the day, coming out was something very personal. You began by acknowledging the truth, first to yourself, then to close family and friends. Those of us more in the public spotlight, though, also had to "come out" to the press. Today, with everyone so connected, once you are "out," you are out to the world on places like Facebook, where, once something is shared, it is more or less permanent knowledge. So, today, the act of coming out is not only a personal step, it is far more a public step because of social media. Because of the internet, it is increasingly easier for LGBT people not to feel isolated, and to find other out friends or colleagues online. That inevitably makes the process a bit easier, because one can witness widespread acceptance, even if there is occasional rejection.
This past December you were a guest star in the Archie Comics series, Kevin Keller, as his hero. How do you think Kevin Keller, the first openly gay Archie character, is changing the minds of kids and comic readers?
I am proud to be a part of comic book history. For so long in media, kids have had very few positive role models of gay people. It matters to each new generation that there are folks who are active, participating, contributing members of our society - who happen to be gay. This knowledge helps young people understand that accepting who you are, and living the life you were meant to lead, does not condemn you to live on the margins, shunned by family or friends. Kids who might be of a different sexual orientation or gender identity know from a very early age that they are different from their peers. Giving them even one example where this is just fine, and where it's no big deal in the end, eases their path to their own acceptance.
You're the hero of Kevin Keller, a fictional high school student in the comics, but has the experience also been reflected in real life? Do a lot of young gay kids reach out to you? What do you say to them and what do you see as a main difference between gay kids of today and in the past?
When I was a child growing up, I faced terrible discrimination on account of the fact that my family and I looked like the people who bombed Pearl Harbor. For that "crime," my family and I were locked in two different internment camps for four years. I well understood the pain, and the consequence, of invidious prejudice and ignorance. At that time I also knew that my own sexuality was not something that I could reveal to others without serious consequences, both personal and professional. I kept it mostly hidden although over time I let a few close friends and family members know. My decision to go public, by talking to the press about being a gay Japanese American, occurred in 2005.
I'm heartened to see many young people today able to come out proudly, with nary a bit of drama or pain. That, of course, isn't always the case, and it is still very hard for many to come to terms with their sexuality, whether out of fear of rejection, or the teachings of their particular religion. Just the other day on my Facebook page I shared the story of a high school senior couple, two boys, who were voted by their school as the "cutest couple." It wasn't a question of straight or gay, they were simply a delightful, beloved couple. That never would have been conceivable even 20 years ago, let alone the 60 years that have passed since I was a high school senior. I say to young people, the world is changing, and changing fast. And, for the better. Take heart in that, and be part of that change. It is making a difference.
Aside from Facebook, Twitter, Tumblr, and videos with Conan O'Brien and Funny or Die, is there anything on the Internet that you would love to do that you haven't done yet?
The internet is always reinventing itself, offering new challenges and new methods of bringing people together. I rely on fans to bring me the latest and greatest. One thing I might like to add to the mix is a George Takei App. I'm not sure what it would do yet, but that would be rather nifty.
With Zachary Quinto playing the character Spock in the new "Star Trek" movies and being an openly gay actor, did you ever consider coming out during your time in the original "Star Trek" series of TV shows and films? Did the "Star Trek" cast and crew know you were gay? Were they accepting?
Some of the cast and creatives were aware that I was gay, and I did, on occasion, bring a male date to parties. "Star Trek" creator Gene Roddenberry was aware of my sexual orientation and very supportive. That was the extraordinary thing about "Star Trek." That we were a diverse crew of people representing so many colors, backgrounds and heritages. That was the promise of the future. And, now, in the J.J. Abrams reboot, an openly gay actor is playing a Vulcan in love with an African American. I'm not really surprised by this. "Star Trek" taught us to look ahead to a time where Dr. Martin Luther King, Jr.'s dream was fulfilled. Being a part of that vision was -- and has remained -- a tremendous honor.
Support HuffPost
Every Voice Matters
Popular in the Community