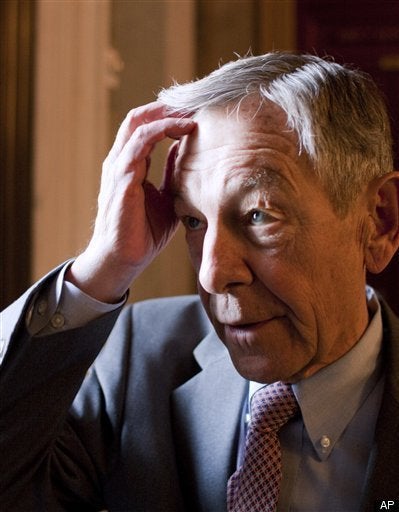 Sen. George Voinovich may switch his vote and help Democrats advance their Wall Street reform bill tomorrow, the Ohio Republican told CNN on Tuesday.
The American people "want us to get something done," Sen. George Voinovich, R-Ohio, said in explaining why he would eventually join Democrats in insisting that the bill be debated on the floor.

Voinovich, who is not seeking re-election in November, would not say exactly how long he would wait before switching his vote but said, "I have an idea of how much time it takes to cut a deal." He also said he expects "a whole bunch" of other Republicans to make the same decision.
As the HuffPost Hill newsletter reported on Tuesday (click HERE to subscribe), another Senate vote on bank reform is expected tomorrow, possibly as early as 10AM ET.
Sen. Bob Corker (R-Tenn.) was unusually pessimistic about a bipartisan deal after Tuesday's vote. "I'm basically pretty skeptical there's going to be a bipartisan deal," he said. "It feels to me like the goal posts continue to move. ... I'm fairly skeptical that progress is being made."
Click here for more updates from Tuesday, including the Republicans' alternative financial reform proposal.
Popular in the Community