CRAWFORD, Texas -- George W. Bush had been riding his mountain bike for almost four hours, and he was out of gas.
I was 12 riders behind the former president as we cycled, single file, along a winding trail cut through Bush's 1,500-acre ranch. We had been riding almost nonstop, in 90-degree heat, for 30 miles, over terrain that was at times technical, challenging and potentially hazardous. Rocky sections delivered a pounding to both bike and rider. Roots threatened to upend us. At one point, a narrow path along a ridge line dropped off steeply to the right, 50 to 75 feet to the gorge below. Bush had called the section "hairy."
It was the second day of Bush's third annual Warrior 100K, a three-day mountain bike ride that he has hosted at different locations since leaving the White House, to which he invites military veterans, many of whom had been seriously wounded in the wars he initiated. It's a ritual of thanks and bonding that might seem fraught from the outside, but that everyone who takes part seems to enjoy.
This year, 75 riders participated in the event over Memorial Day weekend, 13 of them veterans wounded physically or psychologically, or both. The rest of the peloton was made up of a few guests of the veterans, Secret Service agents, mechanics, medics, an assortment of people who have ridden with Bush over the past several years, and a few odds and ends, like me, the only reporter along for the entire ride.
There are 41 miles of mountain bike trail on Bush's property, and ranch staff, along with volunteers, had created 21 miles of those trails in the six weeks or so leading up to this event, his ranch manager told me. We saw most of them that day, and rode another 14 miles the day before and then 21 miles the day after.
Bush, who always rides at the front, pushed the pace, yelling and cajoling his fellow cyclists. At 66, he takes great pleasure in smoking riders who think they can hang with him. "Get moving, Stork!" he shouted at Ed Lazear, using the nickname he had given his former chairman of the Council of Economic Advisers.
At rest stops, Bush was impatient to get going again. He'd pause, drink some Gatorade, chat, grin, bask in the endorphin rush, make a few jokes, and then hop back on his carbon frame Trek Superfly 100 Elite.
"Yah, baby!" he'd exclaim.
By the end, however, he was exhausted. "I was gassed," Bush admitted to me the next day. "Thirty miles is a long way on a mountain bike. I was tired."
Photo by Paul Morse/The Bush Center
Over the last hour of the second day's ride, as we traveled along a singletrack trail that wound through mostly flat, open fields, Bush downshifted to one of his easiest gears, and the pace slowed to a glacial crawl. Riders began to bunch up on each other, wheel to wheel. I heard a little grumbling about the stops and starts. But as was the case all three days, no one dared ride ahead of the former president.
"Did we reach Zen out there?" I asked him after the ride, referencing a conversation he had years ago with an Associated Press reporter who rode with him. Since taking up mountain biking in 2004, Bush has embraced riding hard as a way to leave his cares behind, if only for an hour or two.
"I'm beyond that," he replied, a little groggily. "What does it mean when you're seeing triple?"
He answered the question himself: "Ultra Zen."
Over an hour later, Bush was still standing around, mingling with the other riders and volunteers, taking pictures, signing autographs, but mostly just hanging out. When he talks with folks, Bush still sways his chin back and forth like it's doing a jig. And he still stands with his legs spread apart and his arms out from his sides, like he's getting ready to draw on you.
As he talked to a group of two or three people, he saw Mark McKinnon, the veteran Texas ad maker who worked on his 2000 and 2004 campaigns, walking by. McKinnon is a big supporter of the ride and started mountain biking around the same time as Bush did, often together with the president. He rode all three days with Bush and the veterans.
"MKat, how you feeling?" Bush hollered, using the nickname he long ago bestowed on McKinnon.
McKinnon did a little raise-the-roof gesture.
"No, no," Bush said with faux disapproval.
McKinnon drooped his shoulders and acted like he was staggering.
"Yeah," Bush said approvingly, smiling.
No one was allowed to be less tired than 43.
A lot of people are mystified that Bush has withdrawn from public life so dramatically since leaving the White House. But he described being out of the spotlight, and out of power, as something of a cleansing experience.
"Fame can become very addictive. And I've had all the fame a man could want," he said.
I asked him if he had enjoyed the fame.
"Yeah, to a certain extent. I mean, it wasn't my life. It wasn't the center of my life. But I mean, when you're -- let me rephrase that. I enjoyed being president. And when you're president, you're famous. Now whether I enjoyed fame itself, I just, you know, you'd have to get the psychoanalyst on me," he said.
Bush has been loath to talk about himself since leaving office and has often mocked questions about his motivations as "navel-gazing." Even out of office, it's difficult to get him to admit weakness, because he is not second-guessing the decisions he made and doesn't want to give the impression that he is. But on his home turf, after three days of cycling, he offered a rare glimpse into how he felt the presidency had changed him and why he is glad he's no longer in office.
"I don't long for [fame]. Nor do I long for power. I've come to realize that power can be corrosive if you've had it for too long," Bush said. "It can dim your vision. And so I came to the conclusion that, you know, I don't long for fame. And really, gonna shy away from it. Not shy away from it. Avoid it. I'm not very shy. Avoid it."
It was a classic Rorschach moment. Those who hate Bush will say it shows he was an arrogant president whose power went to his head and he's just realizing it. Those who love him will say it shows a self-awareness and humility for which he was never given credit. Each side will probably be grasping different sides of the same complex soul.
He certainly has almost disappeared from public view since leaving office, especially compared to the way that former President Bill Clinton has stayed in the limelight. Clinton has been equal parts politician and philanthropist. But Bush shows no inclination to stay in the political game. He said he prefers to view events "not from the political side of things, although obviously almost everything is political."
"I tend to look at it from a historical perspective," he said.
So far his post-presidency seems to be on a track more like that of Jimmy Carter, who has largely focused on a few issues dear to his heart, only occasionally making news. Carter has worked on humanitarian causes like Habitat for Humanity and more geopolitical ones like the Middle East peace process. Bush, for his part, has focused on caring for veterans and eradicating HIV/AIDS and other diseases in Africa.
Though he hinted that he may not stay as off the radar in the future, "it's certainly what I feel like now," Bush said.
He revealed that "there's a frustration at the Bush Institute," a public policy think tank he founded in 2009, with his reluctance to speak in public on issues of the day. He said people will tell him, "You need to get out and you need to be out there, you know, opining about this and telling people about that."
"And I don't want to do that," he said.
Bush also said he didn't want to criticize President Barack Obama or the Republican Party. He said he saw Obama's second-term struggles as a result of cyclical forces in any two-term presidency.
"I'm not surprised the president is having a difficult go," Bush said. "It's just amazing how history repeats itself."
Despite his desire not to criticize the GOP, Bush did have a warning about the party's mad dash for immigration reform.
"I think the atmosphere, unlike when I tried it, is better, maybe for the wrong reason," Bush said. "The right reason is it's important to reform a broken system. I'm not sure a right reason is that in so doing we win votes. I mean when you do the right thing, I think you win votes, as opposed to doing something that's the right thing to win votes. Maybe there's no difference there. It seems like there is to me though."
I asked Bush what he thought of Sen. Marco Rubio (R-Fla.), who has put his reputation on the line with the immigration bill and is seen as a likely frontrunner if he seeks the GOP nomination for president in 2016. Bush, who has said he wants his brother Jeb, the former Florida governor, to run, didn't have a lot to say about Rubio.
"Rubio's articulate. I met him once, maybe twice. My brother likes him, so I like him," Bush said.
When his presidential library opened in April, Bush told ABC's Diane Sawyer that he wants to live life to the fullest and "sprint into the grave." Sometimes when he is mountain biking, it might seem like he means that literally.
But life is a lot slower for Bush these days, and while he enjoys not having the pressures of the presidency, he has talked about a drive to continue improving himself and growing as a person.
He rides one or two times a week, and has three small tribes of Texas cyclists -- in Dallas, where he and his wife, Laura, have a house; in Waco, near the ranch in Crawford; and in Austin -- who are willing to ride with him whenever he wants. The riders receive an email, usually a day ahead of time, letting them know where Bush will be riding. Bush rides for 90 minutes to two hours nonstop, some of the riders who go with him said, and then greets members of the public, who have been showing up in the parking lot with increasing frequency. Bush and his fellow cyclists refer to their riding groups as Peloton One.
Bush picked up mountain biking in 2004 when his knees started to go south. Prior to that, he had been an avid runner.
Photo by Layne Murdoch/The Bush Center
"I wasn't a mountain biker when we bought [the ranch]. I was a runner," Bush said at a press conference before the start of the second day of the Warrior 100K. "I know this is going to irritate some running folks, but I ran myself into premature arthritis."
Trek CEO John Burke gave Bush a mountain bike, and one day, one of his daughters told him to go outside and take the bike for a ride because he was "a little irritable."
"I've been biking ever since," he said. "Mountain biking is awesome. It gets you outside. It gets you involved with nature. And we built a lot of trails here, and in so doing preserved the land, made the land better."
Bush is also playing a lot of golf, and will often golf and bike in the same day. He has, quite famously, taken up painting. He told CBS News' Charlie Rose that he paints almost every day for two to three hours. He told me he has been reading Dan Brown's Inferno ("It was a vacation book. Just ripped through it," he said), as well as a recently released book on Calvin Coolidge by historian Amity Shlaes, who is currently working at the Bush Institute.
And on the day that we rode 30 miles, he went back to his ranch house and "took a good nap" before hosting the 13 vets for dinner.
"Felt like a million bucks," he said.
Things are much quieter in Crawford, too. The Crawford Coffee Station and the Yellow Rose souvenir shop across the street ("Bush gifts," "Western gifts," as well as guns and ammo sold there) were both hubs of activity when Bush was president. Now both shops are closed.
The back roads to Bush's ranch, after you pass Waco, go on for some time, cutting through miles of open farmland. It feels like the middle of nowhere, because it is. I had hitched a ride with a Warrior 100K volunteer, Jack Sparkes, on the ride's first day. In the predawn twilight, he steered his truck through the one-stoplight downtown and off Route 317.
A firefly veered toward the windshield as we rounded a bend. A few minutes later, we drove past the triangle of grass where anti-war activist Cindy Sheehan had protested against Bush after her son, Army Spc. Casey Sheehan, was killed in action outside Baghdad, Iraq, in 2004.
The memory of Sheehan's protest was as fresh as anything else that made Crawford hop whenever Bush vacationed here during his eight-year presidency. Sparkes mentioned it, as did McKinnon when I rode past the spot with him the next day.
And for Bush himself, the wars in Iraq and Afghanistan remain fresh memories. They were, of course, the reason he was hosting the ride.
I asked Bush if he felt responsible for the injuries suffered by the men he was hosting and riding with.
"Well, to a certain extent you can't help it, because had I not made decisions I made, they wouldn't have been in combat," Bush said. "On the other hand, every one of these men were volunteers. None of them are angry. They themselves don't blame anybody. And so I believe strongly that the decisions I made were the right decisions, you know? I knew going in that there were bad consequences to war. That's why, if people study my decision, they would recognize I tried to solve the problems diplomatically."
That last is, of course, a controversial view. Many believe Bush made up his mind to go to war after the 9/11 attacks and simply went through the motions of building a coalition and bringing the matter to the United Nations to pacify critics.
But it is clear that Bush is relaxed and at peace in his post-presidency, not haunted by demons of self-doubt or driven by an urge to endlessly litigate his most controversial choices. There is a slight defensive crouch to his 2010 book, Decision Points, and to his library, which lays out the information he had as he confronted different challenges and asks visitors to make their own decisions. He seems to mean it, however, when he says that people will reach their own conclusions and that he doesn't mind if they still disagree with him.
Bush still searched for a few more words when it came to the individual men and women who had suffered often gruesome injuries in the two wars.
"You know, I don't feel sorry for them, because they don't feel sorry for themselves," he said.
Out on the mountain bike trail, I found myself behind Dan Gade, a 38-year-old Army major who lost his right leg up to the hip when he was hit by an improvised explosive device in Ramadi, Iraq, on Jan. 10, 2005.
As the riders ahead of us got tangled on an uphill section, bringing the peloton to a halt, Gade grumbled about stopping on an incline. He didn't complain often, but for someone riding with one leg, getting held up on a climb was a challenge. The group ahead moved on, and soon Gade scooted off ahead of me, bouncing up and over bumps and ridges and around the bend, pedaling with only his left leg.
Gade is a dominating figure, both on and off the bike. His wounds were the most visibly dramatic of any rider in the group, and his intellect and eloquence stood out as well. Gade earned his master's and his Ph.D. in public policy and public administration after he was wounded, and now teaches political science and public policy at the U.S. Military Academy in West Point.
He was almost bursting to talk and expressed his ideas clearly and colorfully -- as when he compared the debate between right and left over the military to an Afghan game played on horseback, in which a dead goat is, in essence, a football, and each team tries to get it across the other's goal line.
"They carry it on horseback, and then somebody else will run their horse into that guy, and he falls off and drops the goat. It's actually a real thing," he said.
"But the soldiers in our society, the wounded warriors, become the dead goat in this game between the left and the right. The left has a natural inclination to view them as victims, like, 'Oh, you poor thing, you got sent to war against your will and now you're maimed, and so because you're maimed, society should take care of you forever and you're a victim.' And that's dead wrong.
"On the other hand, the right has the same problem, where they say, 'Oh, because you served, in whatever capacity, in whatever job, whether you were a file clerk or an infantryman, because you served, because you put on your uniform, a uniform, you're a hero.' And the problem with that isn't that it honors people who served, because that's great," Gade said. "Look, I mean, if you're a file clerk, you're serving your country and that's super. But the term 'hero' should be applied very carefully, selectively, to people who are truly heroes.
"So for instance, with respect to myself and my very serious injuries, I don't use the term 'hero,' and I don't like it when others do. Because I was a soldier doing a hard job, but for which I volunteered, knowing the consequences and knowing the potential consequences, and I went and did my job, and I got seriously injured. But being seriously injured doesn't make me a hero any more than it makes me a victim," Gade said. "And so I just think that it'd be great if both sides could take a step back -- you know, put the dead goat down -- and say, 'Let's treat these people for who they are, for what they are. And let's not pretend that everybody's a hero. And let's certainly not pretend that everybody's a victim, because neither is true. They're both caricatures.'"
For Bush, riding mountain bikes with the veterans is sharing with them what has been, for him, an important escape from burdens and concerns. But helping veterans readjust to civilian life is also one of the top priorities for the former president and his institute.
George W. Bush with Army Sgt. 1st Class Billy Costello (center), a Green Beret who lost his right leg above the knee when he stepped on an IED in Afghanistan's Kandahar Province in 2011. Photo by Paul Morse/The Bush Center
Gade said he once heard then-President Bush tell a group of injured veterans, "I personally made the decision that got you in your lives to where you are today, and my government is going to do everything it can to make it right."
Bush is aiming to push veterans aid efforts away from a focus solely on sending money to those in pain, toward a goal of helping as many as possible stand on their own two feet, be they flesh or metal.
An undercurrent flowing through remarks by Bush and others during the three days was a concern that returning veterans not be turned into charity cases, whether injured in the body or the spirit. During a press conference, the former president said the Bush Institute's "first focus is on helping vets find jobs."
"I mean, after all, these men and women have shown incredible courage, they've understood what it means to accomplish a task, and they'll be great employees," Bush said, the 13 wounded warriors standing on either side of him. "And so that's what we're doing at the Bush Center. It's all aiming to make sure that the outpouring of support that is pretty predominant in our country is channeled in a way that is effective."
I asked him about that comment the next day when we spoke.
"Yeah, see here, one of my concerns at the Bush Institute is that the outpouring of support for our vets, while impressive, could be misguided," he said.
He talked for a moment about making sure that financial donations go to organizations that are spending money on veterans, not overhead, and that are having a real impact. Then he talked about post-traumatic stress disorder.
"If you talk to some of these vets, if they level with ya, they'll say one of our biggest concerns is that PTSD is viewed as a disability and employers don't want to hire a disabled person. So one of the things we're going to try to do is help destigmatize the injury," Bush told me.
Of the 13 veterans invited to the ride, only four of them had visible wounds (Gade, who also rode last year, was not one of the designated veteran riders for 2013). A number of others listed PTSD as an official diagnosis.
Army Sgt. 1st Class Manuel Colon, 39, was out on patrol with an Afghan Army unit in Lwara, Afghanistan, in 2004 when improvised explosive devices injured several of the Afghan soldiers.
"When you're talking about coming back and trying to figure out body parts to specific people that are still alive, they're yelling and all this stuff, and putting them all down and trying to figure out what was going on. The burning of the skin, the smell, the blood," Colon said. "That one specific thing just kind of sticks to my mind over and over again."
"Can PTSD be treated? I believe possibly," Colon said. "I'm not a doctor. But it all depends on the individual themselves … How much did they endure? How much was implanted in their mind that just can't be erased? And some of us are dealing with it better, and some of us are not dealing with it that well."
At a dinner in Waco with the veterans and all the other riders the evening of the first day, Bush was in rare form. As he ran through the list of sponsors and donors who helped fund the event, he stopped at the mention of Emergent BioSolutions, a biopharmaceutical company headquartered in Rockville, Md.
"I was trying to figure out what Emergent BioSolutions are. I wonder if that's the stuff you put on your rear before you ride," Bush said, to laughs. "Anyway, I'm glad you're here."
Then each of the 13 veterans said a few words.
Army Staff Sgt. Michael Morabito talked about returning from Iraq, after suffering "severe burns" and spinal cord injury during an attack in Ramadi in 2004, for which he received the Purple Heart. As with others I had heard discuss being wounded, the most poignant moment came when he described how his own children viewed him as he tried to overcome his injuries.
"I went down a dark road. But my wife and my kids pulled me out," Morabito told the group inside the banquet hall. "My kids were always looking at pictures of Daddy being active, Daddy doing this. And it was one of those days, 'Hey, Dad, how come you're not doing this with me?'"
His voice trembled. "We went and bought some bikes, started riding, and the rest is history. And that's what brought us here this weekend."
A few minutes earlier, another veteran had come to tears when I asked him how he had lost his right leg below the knee. He told me the toughest part of his recovery was "crawling across the floor in front of my kids" soon after coming home from the hospital.
In a video from last year's bike ride, Gade told the story of his then-3-year-old daughter asking him to play Legos with her soon after he returned home, when he was in a wheelchair. He said he couldn't, and his little girl turned and said under her breath, "My daddy can't do anything." Gade got down right then and played with her.
After the veterans spoke, Bush stood up and thanked them.
"So here's what strikes me: not one ounce of self-pity," he said declaratively. "What an interesting lesson ... No self-pity, just courage and a desire to move on. So we thank you very much for your stories. Thank you for sharing."
Then he added, "Looking forward to kicking your ass tomorrow." The room broke up in laughter.
Bush introduced the night's entertainment, Texas country singer Pat Green, who sang for about a half hour. Green ended with his hit "Wave on Wave."
"Mile upon mile, got no direction,
We're all playing the same game,
We're all looking for redemption,
We're just afraid to say the name."
The lyrics held meaning for veterans seeking to overcome their own fears, memories and past struggles. There was also something for a onetime-alcoholic ex-president looking to make good on his promise to help the men and women who, when he said go, went and then came back maimed. I looked over at Bush. He was nodding his head vigorously to the beat.
This story appears in Issue 53 of our weekly iPad magazine, Huffington, in the iTunes App store, available Friday, June 14.
Support HuffPost
The Stakes Have Never Been Higher
Before You Go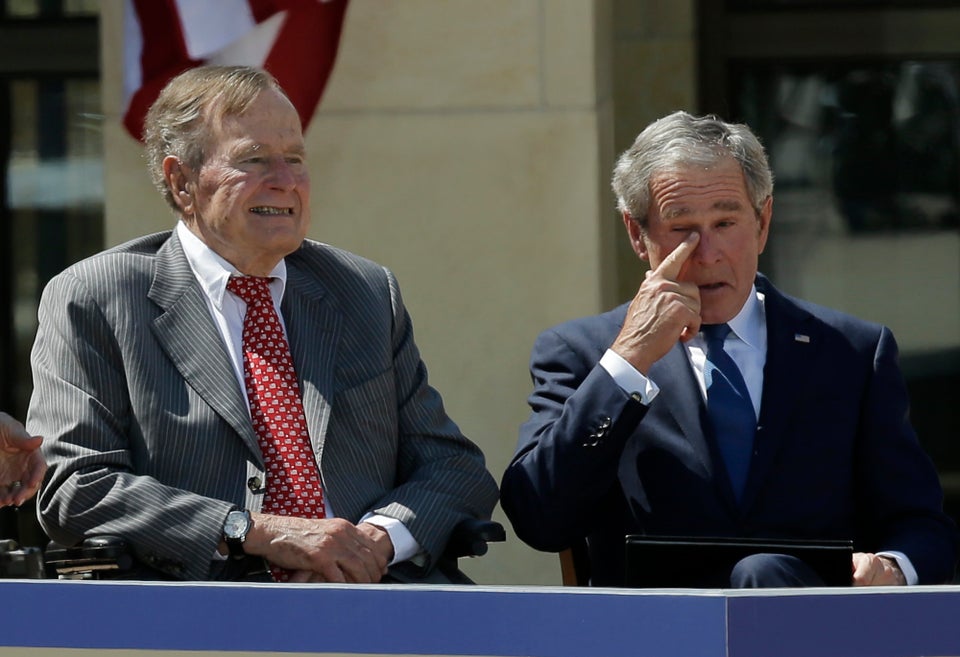 George W. Bush Presidential Library Ceremony
Popular in the Community