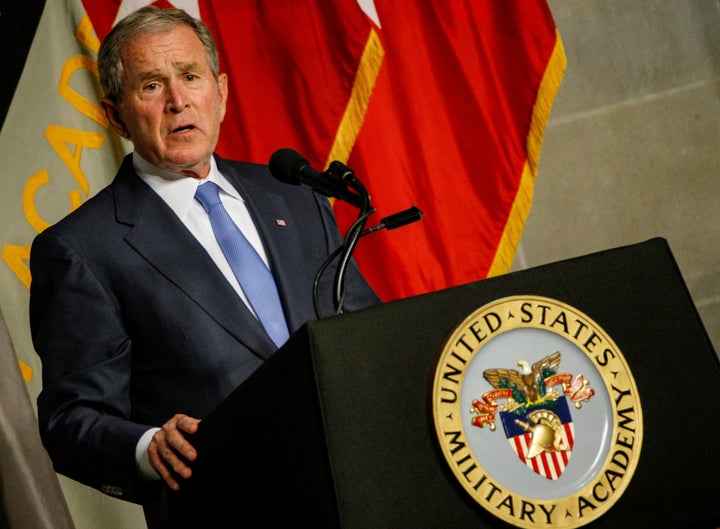 The Trump era has offered no shortage of unusual partisan shifts. Trump voters now hate the NFL. Evangelical Christians no longer find personal immorality to be a deal breaker in their politicians.
And, as a new survey finds, former president George W. Bush is no longer persona non grata among Democrats.
A 51 percent majority of the party now holds at least a somewhat favorable view of Bush, according to a new YouGov/Economist survey, with just 42 percent still viewing him unfavorably. The share of Democrats who give him the most negative rating possible, "very unfavorable," isn't much higher than the percentage of Trump voters who say the same.
Another poll released Wednesday, from Fox News, finds somewhat more mixed opinions, with 48 percent of Democratic voters viewing Bush favorably and 46 percent unfavorably.
Bush's newfound bipartisan popularity is a remarkable change from his tenure as president, when he was loathed by the left and broadly unpopular in the nation as a whole. Democratic approval of Bush dropped to as low as 4 percent during his final year in office.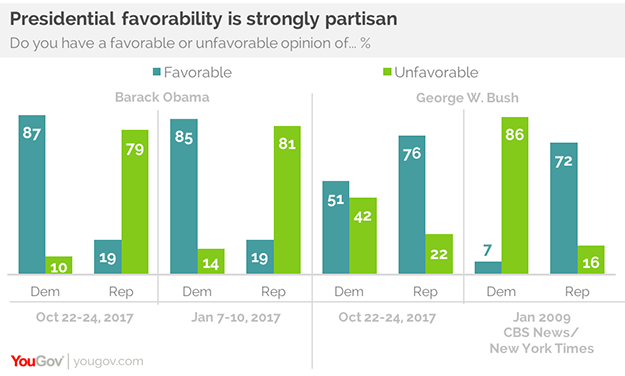 They also have a common enemy. Bush, who stayed largely on the sidelines of politics during President Obama's tenure, has emerged to seemingly criticize Trump, if not by name.
"We have seen our discourse degraded by casual cruelty," he said at a policy seminar earlier this month. "We've seen nationalism distorted into nativism, forgotten the dynamism that immigration has always brought to America."
Bush owes some of his newfound goodwill, however, simply to the passage of time: Most modern presidents see their images burnished to some extent after leaving office.
As data from Gallup makes clear, Democrats' opinions of Bush started rising well before the Trump era (maybe it was the dog paintings), but appears to have taken an additional recent upswing. In spring 2009, after Bush had left office, just a tenth of Democrats rated him favorably; by 2013, that number had risen to 24 percent. In July 2016, as the most recent general election kicked off in earnest, a third of Democrats held a favorable opinion of Bush. By this summer, according to Gallup, 41 percent did.
The YouGov/Economist poll consisted of 1,500 completed interviews conducted Oct. 22-24 among U.S. adults, using a sample selected from YouGov's opt-in online panel to match the demographics and other characteristics of the adult U.S. population.
Support HuffPost
The Stakes Have Never Been Higher
Popular in the Community