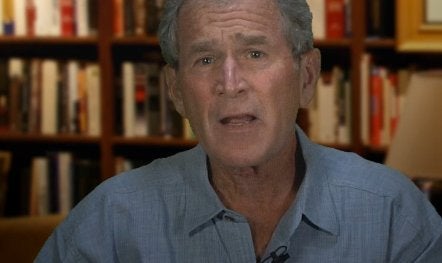 Former president George W. Bush on Thursday took to Facebook to deliver what he deemed to be his "inaugural address" on the social media website.
In a video posted just one week after Bush signed-up to join the site, the former president alerts his supporters that while he "may be done with politics," he's "not done with policy."
For Bush, life after the White House includes raising money for earthquake relief in Haiti alongside his presidential predecessor Bill Clinton, time spent writing his forthcoming memoir, and work related to the establishment of the George W. Bush Institute in Dallas, which is currently under development.
"Serving as president was the honor of a lifetime, and I will always be grateful for the opportunity to represent the nation I love," Bush said of his new post-presidential life, before joking, "Retirement isn't so bad, either."
Popular in the Community