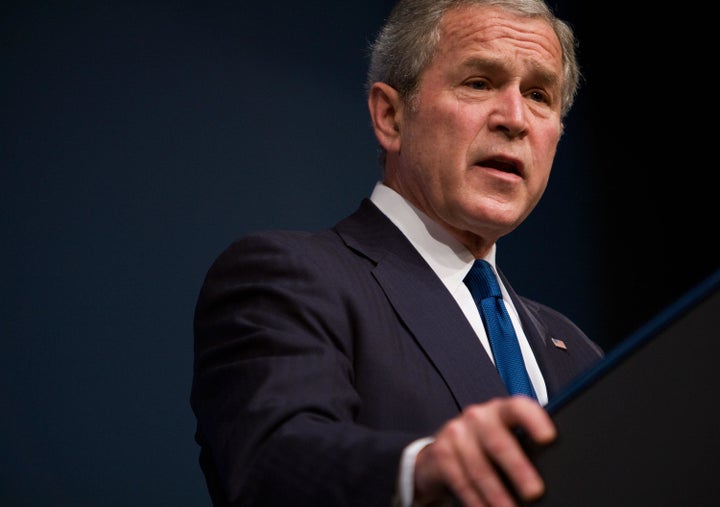 Though he's been critical of President Donald Trump and has mostly kept out of the political spotlight since leaving office, former President George W. Bush is scheduled to start fundraising for Republican candidates this week in an effort to keep the party's majority in Congress. 
In a series of private fundraisers detailed by Politico on Tuesday, Bush will campaign for "a few key candidates," as described by his spokesman Freddy Ford. The flurry of activity is somewhat of a surprise, since Bush has made few public appearances or comments about the midterm elections outside of campaigning for his cousin, Republican Colorado gubernatorial candidate Walker Stapleton.
Starting on Wednesday, Bush will hold a fundraising event for second-term congressman Will Hurd, whose Texas district Trump lost in the 2016 election. Hurd has criticized Trump for being easily manipulated by Russian President Vladimir Putin. 
On Friday, Bush will go to Florida to stump for Gov. Rick Scott, who's running for a Senate seat in a tight race against Democratic incumbent Sen. Bill Nelson. Though Scott was an early supporter of Trump, he's diverged from him on key immigration, tariff and health care issues and toed the line throughout his swing-state election.
On Sept. 19, Bush will be the lead speaker at a fundraiser in Fort Worth for North Dakota's Senate candidate Kevin Cramer, who is running against Democrat Sen. Heidi Heitkamp.
The next day, Bush will hold a fundraiser in Dallas for Rep. Pete Sessions, who is running in another close race against Texas Democrat Colin Allred. The district they're vying for was won by Democratic presidential nominee Hillary Clinton in the 2016 election. 
Next month, Politico writes, Bush will host fundraisers for Senate candidates Josh Hawley of Missouri, the state's attorney general hoping to unseat Democratic incumbent Sen. Claire McCaskill, and Mike Braun of Indiana, who will face off against Democratic Sen. Joe Donnelly.
HuffPost has reached out to Bush's team for more information on these fundraisers and will update this story accordingly. 
REAL LIFE. REAL NEWS. REAL VOICES.
Help us tell more of the stories that matter from voices that too often remain unheard.