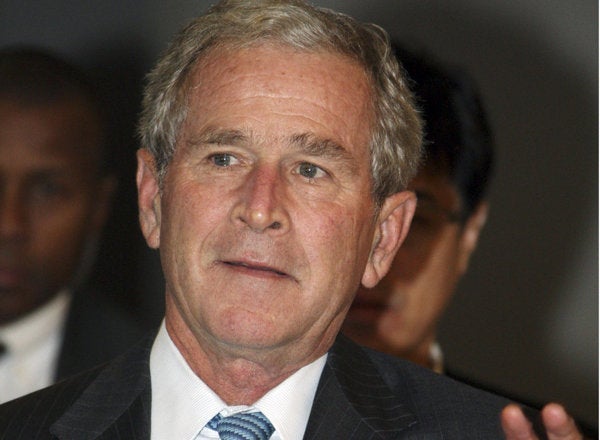 WASHINGTON (AP)-- Former President Bill Clinton is busy on the campaign trail, helping candidates in races from Florida to Washington state. His successor, George W. Bush? Holed up in Texas.
Bush left office deeply unpopular and sour on domestic politics. After leaving Washington and returning to Texas, he has kept a low profile, working on his memoir and appearing only occasionally at paid speeches. Aides say he has no plans to be a figure in this year's elections, which could see major gains for the GOP.
Republicans, who paid electoral costs in 2006 and 2008 for Bush's unpopularity, are hardly clamoring for the 43rd president to join them on the campaign trail. After all, an Associated Press-GfK poll last month found 55 percent of all Americans have an unfavorable opinion of Bush and 51 percent blame him for the economic crisis that began on his watch.
While he enjoys popularity with base conservatives, Bush is not necessarily an in-demand figure for candidates trying to fault President Barack Obama and his fellow Democrats for the economic mess. Republicans across the nation are trying to lay the blame for 15 million out-of-work Americans at Democrats' feet.
Republican strategists are quick to say they respect the former president but add they are not begging him to join candidates at rallies. Bush's unpopularity was one of the chief reasons Sen. John McCain's presidential bid in 2008 failed, as then-candidate Obama's allies painted the Arizona Republican as a mere third term for Bush.
Since leaving office, Bush has written a memoir, set to be published after the Nov. 2 election. "Decision Points" will be released on Nov. 9 with an initial printing of 1.5 million copies - the same run Clinton enjoyed for his memoir.
For his part, Clinton has emerged a popular figure for Democrats. Since leaving office in 2001, the president has repaired his image and used his star power to raise millions of dollars for developing countries and for Democrats. Clinton's schedule has him visiting Kentucky, Nevada and his home state of Arkansas on behalf of Democrats in tough races.
Popular in the Community