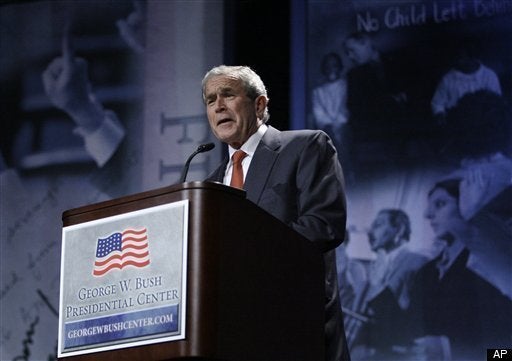 The George W. Bush Institute -- the "action- oriented think tank" that is part of Bush's Presidential Center -- will co-produce a public television show hosted by its executive director, Ambassador James Glassman, in a rare convergence of public broadcasting and a partisan research organization.
"Ideas in Action" will premiere in February and will be co-produced by Andrew Walworth, who produces PBS's "Think Tank." Glassman, the former Undersecretary of State for Public Diplomacy under President Bush and one-time moderator of CNN's "Capital Gang Sunday," will lead a discussion on public policy issues in front of a live audience at Southern Methodist University in Dallas. He will remain executive director of the Institute.
The show will be distributed by Executive Program Services (EPS) to public television stations nationwide, including many PBS affiliates. Beginning in January, EPS will also begin distributing repeats of "Think Tank," currently distributed by PBS.
PBS confirmed that host Ben Wattenberg is leaving "Think Tank" and Walworth said an announcement will be made in the new year regarding the future of that program.
Glassman told the Huffington Post that they've filmed two episodes of the new show, "Ideas in Action," thus far.
The first episode, a discussion on pay for performance in education, includes one panelist from the George W. Bush Institute and panelists from the Economic Policy Institute and the Progressive Policy Institute.
"The idea is to discuss a difficult issue with a balanced panel," Glassman said.
The Bush Institute has a special focus on education policy -- along with economic growth, global health, human freedom and a women's initative -- but Glassman said the shows will tackle other topics as well. The second episode, for instance, highlights the use of online tools by dissident groups, such as those active in Iran.
It is questionable to say the least for a public television station to air a show produced and moderated by the George W. Bush Institute; one could easily imagine a conservative uproar if a similar show were produced by, say, the Clinton Foundation.
But Walworth cautioned not to jump to conclusions about the show based on the Institute's involvement.
"The Hoover Institution had a show on," Walworth said, citing the conservative think tank's "Uncommon Knowledge," which aired from 1997 to 2005.
"The proof will be in the pudding," he said. "When you see the shows, they're balanced, they're fair and Jim's got a long track record on TV. I've been in this business for 25 years, I've had many talk shows on PBS. I think the proof will be in the pudding."