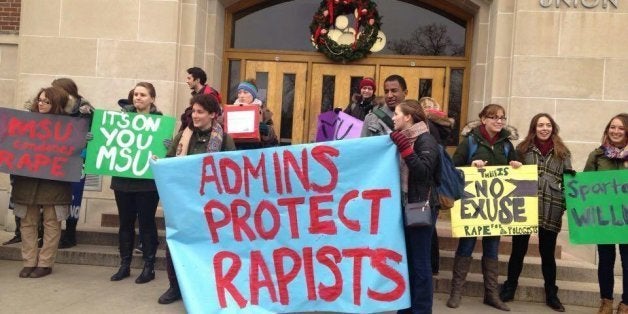 Backlash is mounting against Michigan State University for its refusal to cancel a graduation speech by a writer critics call a "rape apologist."
On Wednesday, U.S. Sen. Debbie Stabenow (D-Mich.) added her voice to others objecting that the East Lansing college will host Washington Post columnist George Will, who has made controversial comments about sexual assault.
Will wrote a column in June that was seen by many as dismissive of victims of sexual assault. In the piece, which he has since defended, he suggested current rape statistics may be inflated and said colleges are seeing more victims because they treat victimhood as "a coveted status that confers privileges."
"As a Michigan State alumna, I am deeply disappointed that George Will is being honored this weekend," Stabenow said in a statement regarding Will's speech Saturday. "His statements on sexual assault are inaccurate, offensive and don't represent the values of our state or MSU."
Will did not immediately return a request for comment from The Huffington Post.
Students also held a peaceful sit-in for more than three hours in the administration building as several police officers stood by, MSU senior Emily Kollaritsch, one of the event organizers, told The Huffington Post.

Courtesy UltraViolet.
MSU President Lou Anna K. Simon issued a statement Tuesday saying the columnist, who will also receive an honorary humanities degree, was selected as speaker before he made the remarks in June. She reiterated that his appearance would not be canceled, even as she disavowed his comments and said the school would work to better support victims of sexual assault.
"Great universities are committed to serving the public good by creating space for discourse and exchange of ideas, though that exchange may be uncomfortable and will sometimes challenge values and beliefs," she wrote. "Ultimately, I believe in the strength of adhering to our values. We cannot trade one for another."
Simon's response wasn't satisfactory to student Kollaritsch. She told HuffPost she was sexually assaulted as a freshman, and after three years of fighting to get her school to take rape seriously, Will's presence on campus feels like a step backward.
"[MSU] has a serious rape problem. It has for years," Kollaritsch said. "It is on them to try to address rape culture. ... This is the opposite. It is not making a better environment for students, not making a culture of consent."
It was particularly galling, she said, that victims who were graduating Saturday, including some friends, would not be able to celebrate finishing school normally.
"Their graduation, leaving MSU, is marked by their rape now, just the remembrance of it," said Kollaritsch.
The controversy comes as MSU's handling of sexual assault cases in general receives scrutiny. On Tuesday, the school released its first annual report on sexual misconduct, showing 174 cases had been reported to school authorities between August 2011 and August 2014; 47 of those were investigated to determine if there was a violation of MSU's sexual assault policy.
Of those, 41 cases were closed, and in 23 closed cases, investigations found policy violations. Throughout the three-year stretch, seven individuals were expelled, four were suspended, four withdrew without the option to re-enroll and four received probation and other sanctions (the last four did not involve allegations of rape).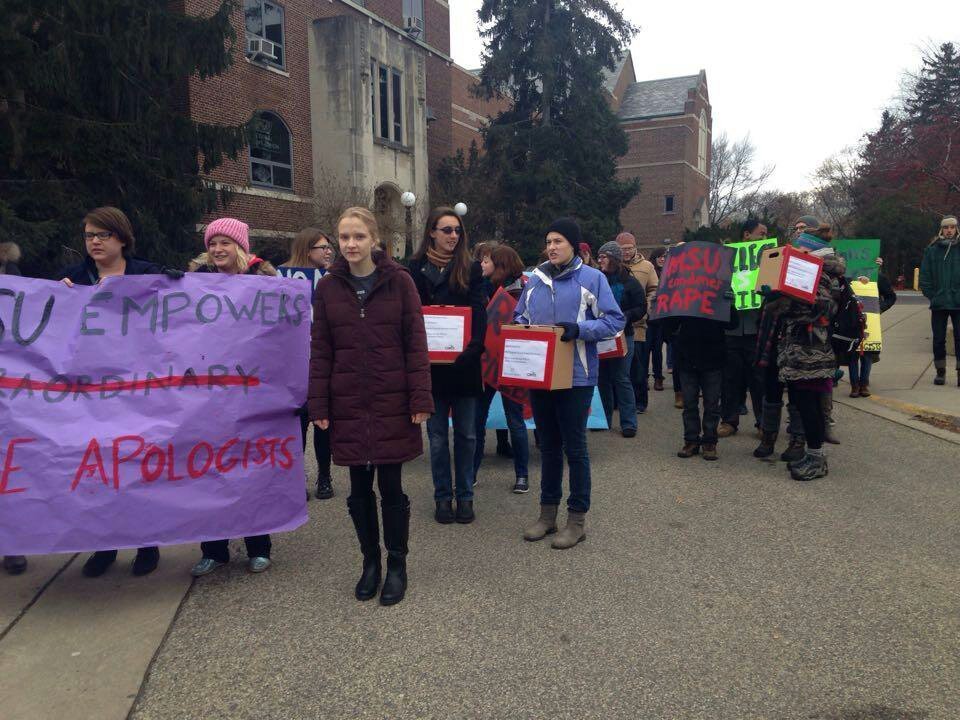 Courtesy UltraViolet.
As of October, there were two open federal Title IX investigations against MSU -- one from 2011 and another from earlier this year. Among other issues related to gender discrimination, the 1972 regulation gives victims a recourse when they believe their schools have mishandled cases involving allegations of sexual assault, sexual harassment and rape. There are open Title IX investigations against more than 80 schools nationally.
A protest is planned to begin at 8 a.m. Saturday, ahead of Will's 10 a.m. speech at the undergraduate degree ceremony at the Jack Breslin Student Events Center. More than 800 people on Facebook have said they plan to attend.
Kollaritsch said an alternate event is planned for graduating sexual assault survivors who do not want to attend their commencement. Spokesman Jason Cody said the school's Counseling Center is available for students who need support.
A task force will convene a town hall early next semester to address Will's speech and other issues related to sexual assault.
REAL LIFE. REAL NEWS. REAL VOICES.
Help us tell more of the stories that matter from voices that too often remain unheard.
BEFORE YOU GO