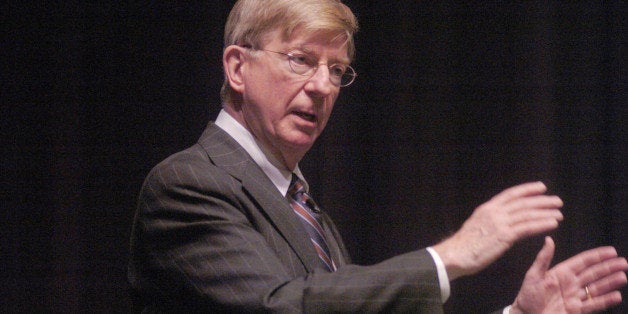 Will, a Pulitzer-Prize winning writer, was scheduled to speak at the annual Elizabeth Hubert Malott Public Affairs Program at the progressive, all-female Scripps College, according to the Claremont Independent, a student news outlet for the Claremont Colleges.
The Washington Post columnist wrote in June about a sexual assault case at Swarthmore College. In the column, he appeared to reference rape survivors as "especially privileged young adults" and suggested "victimhood [is] a coveted status that confers privileges."
Will's writing quickly sparked outrage online from sexual assault survivors, and Will says his speaking engagement was yanked away due to the June column.
"It was in the works and then it wasn't in the works," Will told the Claremont Independent. "They didn't say that the column was the reason, but it was the reason."
Scripps, which is part of the Claremont Colleges consortium, holds the Malott speaking program to invite guests with whom the campus community may largely disagree with. Past speakers include conservative columnists Charles Krauthammer and Peggy Noonan.
Will had also questioned the validity of sexual assault statistics, like many conservative pundits have done, without taking into account the underreporting of rape. He defended his column in an interview with C-SPAN stating, "When dubious statistics become the basis of dubious and dangerous abandonment of due process, it's my job to step in and say, 'Everyone take a deep breath.'"
Representatives for Scripps College were not immediately available to comment.
UPDATE, Oct. 8: Scripps President Lori Bettison-Varga issued a statement to the campus confirming Will was not invited to speak at the college because he "authored a column questioning the validity of a specific sexual assault case that reflects similar experiences reported by Scripps students":
The issue of sexual assault is complex, serious, and personal to Scripps students. The College has worked on a continuing basis to provide the resources and support to build students' trust and create a safe and secure campus environment. Scripps College has embraced a "yes means yes" policy, and we have spent the past several years working with our partner institutions to build a shared understanding of consent throughout the Claremont University Consortium community. We continue to work on ways to advance a productive dialogue on the issue of consent that we hope will further the community's awareness and support.

We invited George Will to speak as part of our Elizabeth Hubert Malott Public Affairs Program because he is a prominent conservative commentator, and we believed our community would benefit from the healthy intellectual debate that has been the hallmark of the program since 2006. Over the past eight years, the Malott Public Affairs Program has diversified the educational environment for our students by featuring conservative thought leaders in a widely publicized and well-attended event series. We do not shy away from bringing strong conservative viewpoints into our community.

Sexual assault is not a conservative or liberal issue. And it is too important to be trivialized in a political debate or wrapped into a celebrity controversy. For that reason, after Mr. Will authored a column questioning the validity of a specific sexual assault case that reflects similar experiences reported by Scripps students, we decided not to finalize the speaker agreement.
Related
Popular in the Community