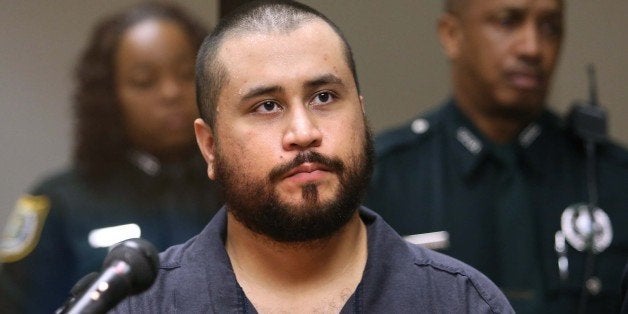 "They didn't raise their son right. He attacked a complete stranger and attempted to kill him. Sybrina Fulton and Tracy Martin did everything they could to capitalize on her son's death. She was never a mother figure to him. Tracy Martin couldn't have cared less about their son. He treated him like a dog without a leash." -- George Zimmerman
Yes, the only true American hero of the 21st century, at least in his own mind, is in the news again. During an interview with The Daily Beast, Zimmerman unloaded on the parents of the kid who he shot and killed and walked away from as clean as a whistle. Seriously, this guy is made of Teflon. Nothing sticks.
Like a bad case of Herpes, this guy won't go away. Showing the same integrity and respect he has displayed in every instance since his celebrity birth, he chooses to not only sell the gun he used to shoot the unarmed teen carrying a dangerous bag of Skittles like it's a historical treasure; he now walks across the kid's grave to attack the grieving parents. He's a class act.
But in my mind he's more than that. There's one aspect of the confrontation between Zimmerman and Martin that seems to fall under the radar of the mainstream media. Did this 29-year-old, 220-pound man really get the crap kicked out of him by a scrawny 17-year-old, 140-pound teenager?
We've all heard the audio of that faithful night and the high-pitched screams for help. Zimmerman readily proclaims that was his voice. Really? So not only is he admitting that a little kid beat him like a red-headed step child, but the teen made him scream like a five-year-old girl?
Where I'm from (Sand Mountain, Alabama), I don't know one man who would have admitted to that, even if it was true. Even if the judge explained that by not claiming the feminine cries of help would likely end in a murder conviction, the guys I know would say, "That's fine, Your Honor. But that sure as hell wasn't me."
Several friends have explained to me that Martin, although a skinny teen, was several inches taller than Zimmerman. I guess these friends never watch boxing. They never match up fighters by height, only weight. Having a few inches on your opponent means nothing. But an 80-pound weight advantage is monumental.
Personally I don't know a guy who weighs over 200 pounds who couldn't toss a 140-pound teenager across a yard. But George Zimmerman, who fancies himself some kind of tough guy, readily admits that he was so weak, so terrified, and so overpowered by this little kid, that he had no choice but to protect himself from this menace. Where I grew up we had a word for guys like this. It starts with the letter "P" and ends in "Y" and can refer to a member of the feline family.
We'll never know what really happened that night. Only one person knows for sure. But there are only two possibilities. Really -- only two. Either Zimmerman is lying, which makes him a cold-blooded murderer, or he's telling the truth, which makes him the biggest wuss to ever walk the Earth.
I hope whoever buys the gun adds that inscription to the plaque.
Calling all HuffPost superfans!
Sign up for membership to become a founding member and help shape HuffPost's next chapter