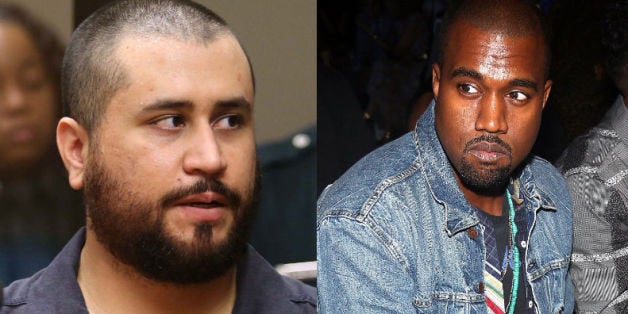 George Zimmerman apparently wants to get in the boxing ring with Kanye West because of the rapper's alleged altercations with "defenseless people."
During a phone conversation with The Huffington Post, Celebrity Boxing promoter Damon Feldman, who's behind the Zimmerman boxing match, revealed that someone from West's camp reached out to his company.
"All these rappers are saying that they want to fight [Zimmerman]," he said. "So, we'll see who comes on board."
The promoter says Zimmerman is willing to square off against the "Yeezus" star.
"He's entertaining the thought of it," Feldman told HuffPost. "He's boxing-training every day, he said. He's open to fight anybody, but we'll pick whoever is best."
A representative for West was not immediately available for comment.
Feldman, who would not specifically confirm TMZ's report, says various people, including Michael Lohan, The Game and DMX, have been interested in getting in the ring. He plans to hold a press conference next week to announce the final opponent. The match will happen on or before March 15.
Although Feldman is planning the event, Zimmerman told RadarOnline.com the boxing match was his idea. He has supposedly been going to the gym to do "boxing-type training for weight loss." The proceeds from the upcoming match will reportedly go to an animal rescue group.
"Boxing isn't new to me. It's something I had picked up well before the incident and it's something that I liked, I enjoyed, and I kept up with it and I was able to lose a tremendous amount of weight and get a healthy lifestyle," Zimmerman told Radar. "I don't have a preference [on opponent] as long as it goes to charity, doesn't matter to me. Hopefully someone that won't hurt me too bad! If I had my top three I'd say Papa Smurf, the Easter Bunny and maybe the Michelin Man."
In July, Zimmerman was found not guilty for the killing of unarmed 17-year-old Trayvon Martin, whom he shot during an altercation on Feb. 26, 2012. The case ignited race issues across the nation.
Correction: While Florida's "Stand Your Ground" law has come under scrutiny in the wake of Trayvon Martin's death and George Zimmerman's subsequent acquittal, Zimmerman did not assert a "Stand Your Ground" defense at trial as previously insinuated. We regret the error.
Popular in the Community