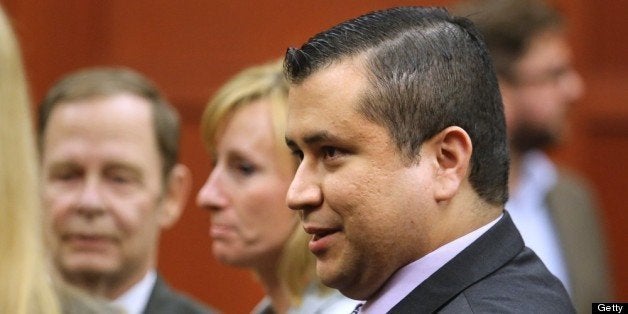 George Zimmerman just walked away a free man, but the family of Trayvon Martin, the 17-year-old he killed, may still yet see Zimmerman on a witness stand.
The 29-year-old former neighborhood watch volunteer was acquitted Saturday of all criminal charges in the 2012 shooting of Trayvon Martin, an unarmed black teen who was walking home from a convenience store.
After O.J. Simpson was acquitted of murder in the deaths of his ex-wife and her friend in 1995, the families sued the football star in civil court. A jury held Simpson liable for the deaths and awarded them $33.5 million dollars.
Though the victims' families received almost none of that money, many considered it a symbolic victory for them. They got to see Simpson try to explain himself under oath. They also prevented him from profiting from his notoriety.
However, a civil trial would offer the Martin family two big advantages: They might be able to force Zimmerman to testify, and the burden of proof is much lower.
To win in a criminal trial, prosecutors need to prove their case beyond a reasonable doubt. Plaintiffs in a civil case do not have that burden.
"The standard of proof in a civil case -- by a preponderance of the evidence -- is much lower than the standard in a criminal case," Anne Bremner, a Seattle lawyer and legal analyst who has been closely following the Zimmerman case, told The Huffington Post.
Bremner has handled several high-profile civil cases, including those involving Mary Kay LeTourneau, a Washington schoolteacher who was imprisoned for having sexual intercourse with a student, and missing Utah mom Susan Cox Powell.
According to Bremner, additional evidence could be admitted in a civil case, and information about Zimmerman's prior run-ins with the law might be brought up. This would likely include the admission of a 2005 motion for a restraining order Zimmerman's ex-fiance filed, alleging domestic violence.
"You always get more information in a civil case," Bremner said.
While Zimmerman exercised his right not to testify at his criminal trial, a civil case could compel him to take the stand and explain what happened on Feb. 26, 2012 –- the day he shot and killed Martin.
"Zimmerman will have to testify unless he can take the Fifth, as there are the possible federal criminal charges. But by the time of a civil trial, any federal charges should be resolved. And, there are plenty of areas of questioning that will not implicate the privilege. There is [also] the possibility of the judge giving an instruction that the jury can draw a negative inference from any invocation," Bremner said -- meaning if Zimmerman doesn't testify, the jury would be allowed to consider that absence in a negative light.
Crump, the lawyer for Martin's family, did not immediately respond to a request for comment from HuffPost on Monday.
"They are going to certainly look at [a civil suit] as an option. They deeply want a sense of justice. They deeply don't want their son's death to be in vain," he told ABC.
Zimmerman has remained in hiding since his acquittal, and has not commented on the verdict or on the possibility of a civil suit. His brother, Robert Zimmerman Jr., who has spoken publicly on George Zimmerman's behalf, did not respond to a request for comment.
If a civil suit is filed against Zimmerman, it is unlikely the Martin family will ever recover a substantial amount of money from Zimmerman. He has reportedly been unemployed since the shooting, relying on donations received via his website and on earnings from a book that was written about him by a family friend. However, some lawsuits are not filed to secure monetary compensation.
"It isn't about the money," Bremner said. "It is about justice and accountability. No amount of money will bring [Trayvon Martin] back … Sometimes justice delayed isn't justice denied."
Calling all HuffPost superfans!
Sign up for membership to become a founding member and help shape HuffPost's next chapter
BEFORE YOU GO
PHOTO GALLERY
Trayvon Martin Crime Scene Photos