Zimmerman, the ex-neighborhood watchman who was acquitted of the murder of 17-year-old Trayvon Martin, attracted the media's attention once again when he listed an 18 by 24 inch canvas on the online market place on December 16. The painting showed a waving blue flag adorned with the text "God, One Nation, With Liberty And Justice For All."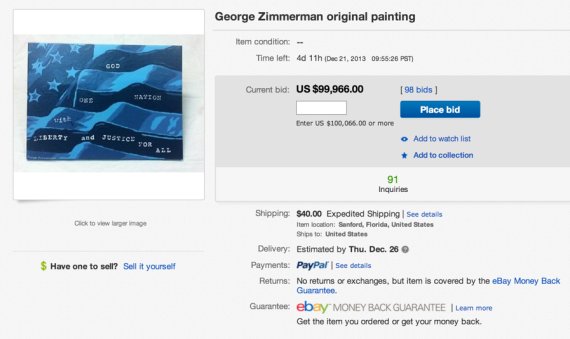 Zimmerman pledged to hand-deliver the painting to anyone in the continental U.S. According to Time, the winner -- one of 96 bidders -- has not been disclosed.
The eBay listing was accompanied by this message from Zimmerman:
"First hand painted artwork by me, George Zimmerman. Everyone has been asking what I have been doing with myself. I found a creative, way to express myself, my emotions and the symbols that represent my experiences. My art work allows me to reflect, providing a therapeutic outlet and allows me to remain indoors :-) I hope you enjoy owning this piece as much as I enjoyed creating it. Your friend, George Zimmerman."
Related
Popular in the Community