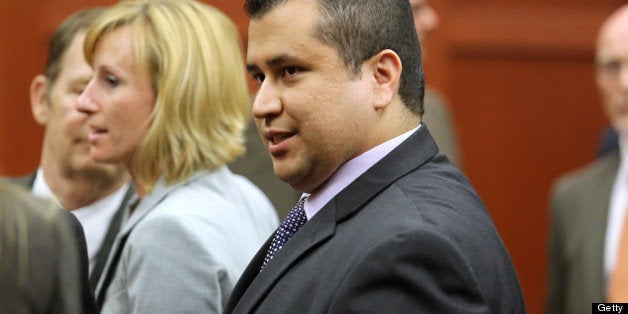 Americans are divided over whether they'd have found George Zimmerman guilty of a crime in the shooting of Trayvon Martin, according to a newHuffPost/YouGov poll. But the survey reveals a stark divide between black and white Americans over the outcome of the case.
Forty-one percent of respondents to the new poll said that they would have voted to find Zimmerman not guilty if they were on the jury, while a combined 38 percent said they'd have found him guilty of one of two crimes, including 15 percent who said they'd have voted to find him guilty of murder and 23 percent guilty of manslaughter. Twenty-one percent said they weren't sure.
On Saturday, Zimmerman was found not guilty of all charges by a jury of six women who could have found him guilty of either charge. He had been charged with second-degree murder in the 2012 shooting death of Martin, 17, who was unarmed and walking through a Florida neighborhood to a home where he was staying. He encountered Zimmerman and after an altercation, Zimmerman shot Martin, later claiming he acted in self defense.
Asked which of four words best described their response to the verdict, respondents were closely divided between positive reactions (22 percent were "pleased" and 19 percent were "relieved") and negative ones (27 percent were "disappointed" and 13 percent were "angry").
Black respondents were much more likely than white respondents both to say that Zimmerman was guilty of a crime and to express disappointment or anger over the verdict.
Among black respondents, 75 percent said that they would have found Zimmerman guilty of a crime -- 39 percent said guilty of manslaughter, while 36 percent said guilty of murder. Among white respondents, only 34 percent would have found him guilty of one of the two crimes.
The dominant emotion expressed by black Americans over the not-guilty verdict was disappointment, which 53 percent of black respondents said was the word best describing their feelings about the acquittal. Another 25 percent said they were angry, 11 percent said they were relieved, and 5 percent said they were pleased with the verdict.
As a recent Gallup survey showed, the verdict came amid a national environment where many young black men in particular feel they're not given a fair shake by the legal system. The Gallup survey released Wednesday was conducted June 13-July 5, before the verdict was announced, and found that 17 percent of black adults and 24 percent of black men under age 35 said they have been treated unfairly by the police just in the past 30 days.
But the racial divide was not the only one revealed by the new HuffPost/YouGov poll. Fifty-seven percent of respondents over age 65 said that Zimmerman should have been found not guilty, while those under age 30 said they would have found Zimmerman guilty of either murder or manslaughter by a 47 percent to 29 percent margin. And women were more likely to say that Zimmerman was guilty of a crime, 44 percent to 32 percent, while men said by a 50 percent to 33 percent margin that they'd have found him not guilty.
Almost half of Americans in the new survey (48 percent) said that they believed the media's coverage of the trial was biased against Zimmerman, while 12 percent thought coverage was biased in his favor and 18 percent said it was not biased.
But whether the media's coverage was fair or unfair, news of the trial reached almost every poll respondent. Sixty-eight percent said they had heard a lot about the trial, 26 percent had heard a little, and only 6 percent said they had heard nothing at all.
The HuffPost/YouGov poll was conducted July 15-16 among 1,000 adults, including 105 black respondents, using a sample selected from YouGov's opt-in online panel to match the demographics and other characteristics of the adult U.S. population. Factors considered include age, race, gender, education, employment, income, marital status, number of children, voter registration, time and location of Internet access, interest in politics, religion and church attendance.
The Huffington Post has teamed up with YouGov to conduct daily opinion polls. You can learn more about this project and take part in YouGov's nationally representative opinion polling.
Popular in the Community