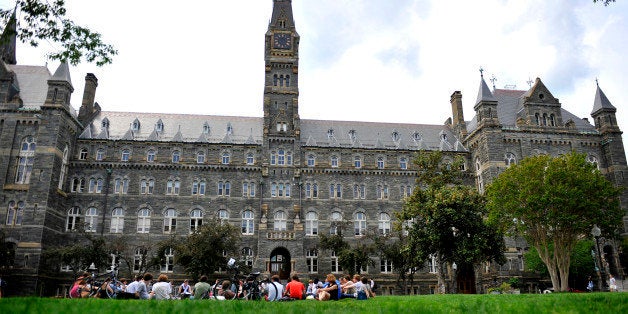 A student group recently launched a condom delivery service at Georgetown University, and is getting a somewhat unexpected response from the school.
Any student at Georgetown can fill out a form online requesting free condoms for their event or party from H*yas for Choice, and then either pick up the condoms or have them delivered. For several years, the student organization has advocated for access to contraception and birth control on campus.
Abby Grace, a sophomore and vice president of H*yas for Choice, said the group would pass out condoms in a "free-speech zone" on campus in the afternoons, but students frequently hinted that they aren't usually in demand as much just after lunch. Georgetown, like many universities, maintains such a zone where it allows students to promote political or ideological causes with minimal interference by the school. However, condoms and other forms of birth control are not sold in on-campus stores at Georgetown, the nation's first and oldest Jesuit university.
Georgetown and many other Catholic universities sided with Boston College administrators in the controversy, but Georgetown's leadership doesn't plan to intervene with H*yas for Choice's program.
"H*yas for Choice is not an organization with access to university benefits and does not use university resources," said Rachel Pugh, director of media relations at Georgetown. "We respect the rights of our students to join outside groups as individuals and believe this activity falls within that context."
Grace attributes the group's ability to escape sanctions to Georgetown's free speech rules.
The university has walked a fine line between permitting contraception to an extent, while blocking it in other ways, citing Catholic teachings. In July, the administration announced that the university's health insurance plans would cover contraception for the first time, but that the insurance company contracting with the university, rather than the university itself, would pay for it.
"In light of Georgetown's continued refusal to promote contraception as a method of safe sex, the presence of H*yas for Choice on campus is invaluable to the promotion of safe sexual practices among the student body," the Voice's editorial said.
At the first party where the organization provided condoms, roughly 30 of 40 were taken in one night. The group made two deliveries at other parties soon afterwards, and were told "both went very well," said Grace.
"I think that it's very unlikely that the people who picked up condoms there did it as a joke," she said. "Since the closest place to purchase condoms is eight blocks away, there is a legitimate need on campus."
H*yas For Choice gets its condoms from numerous sources including Washington, D.C.'s health department, the Great American Condom Campaign, Planned Parenthood and from guest speakers. It usually provides the same brands available at local drug stores.
The student group's goal is to ensure students have access to contraception at any time, said Laura Narefsky, senior and president of H*yas for Choice.
"Unless the university changes its policy -- which we think is extremely unlikely -- H*yas for Choice will continue to serve as the only place to get condoms on campus," Narefsky said. "We will continue providing these services to the community as long as there is demand. Ideally, our programs will ensure that no student will ever find themselves in a position where their health or safety could be compromised."
Calling all HuffPost superfans!
Sign up for membership to become a founding member and help shape HuffPost's next chapter
BEFORE YOU GO
PHOTO GALLERY
Most Beautiful Colleges, According To Newsweek, College Prowler